CTO Craft Con - Winter 2021
About this event
CTO Craft Con Winter 2021
Join us for the 3rd CTO Craft Con held over four days from the 8th to 11th November 2021 between 4pm and 7pm UK time.
Packed with idea sharing, real life case studies, how tos, lessons learned, giving you hard earned knowledge, and experience from these leading technology and engineering minds.
Each day covers a key topic canvassed from our 7,000+ members:
Monday, Nov 8th – Hiring
Tuesday - Nov 9th – Learning & Development
Wednesday - Nov 10th – Strategy & Alignment
Thursday - Nov 11th – Stress & Burnout
Speakers and Panelists
More to be announced shortly!
Erica Lockheimer - VP of Engineering – LinkedIn Talent Solutions
Cal Henderson - Co-Founder and CTO at Slack
Tanisha Barnett - Senior Director of Engineering at Mailchimp
Simon Wardley - Researcher, Creator of Wardley Maps
Juan Pablo Buriticá - SVP Engineering at Ritchie Bros.
Ellen Wong - Director Of Engineering at Calm
Nik Silver - Software Engineering Leader
Hung Lee - Curator of Recruiting Brainfood
Nick Tune - Principal Consultant
Pooja Brown - SVP of Engineering at Stitch Fix
Candy Stanley - People, Talent & Culture - Consultant / Advisor
Shannon Hogue - Global Head of Solutions Engineering at Karat
Joel Chippindale - CTO Advisor and Coach at Monkey's Thumb
Dr Lee-Jon Ball - CTO at Easol
Linda Davidson - Global Transformation, Technology, Operations at Choreograph
Emma Hopkinson-Spark - Chief of Staff at 101 Ways
James Routledge - Founder at Sanctus
And many more!!
Register now
Four Days of Amazing Speakers. Join the conversation, and network with CTOs, Technology and Engineering leaders from some of the world's most successful startups and scale ups.
Actionable Insights and Guides
Radically improve your career growth and build on leadership and management skills - learn how the best engineering leaders plan and populate teams, foster a culture of learning and continuous growth, build alignment by communicating a clear strategy, and help teams deal with periods of stress and burnout.
An Incredible Crowd
Join hundreds of CTOs, VPs of Engineering, Heads of Development, Technical Directors – and everything in between. CTO Craft is a collaborative mentoring community that is about helping our members become better leaders, sharing ideas, best practices and about building connections.
Continue the Conversation
Join over 7,000 other CTOs and engineering leaders in the free CTO Craft Slack community, where we'll host additional discussions and Q&A with the speakers. All the sessions will be recorded and available to ticket holders after the event.
About our Sponsors
The reason we can afford to run this conference so cost effectively for you is due to the great Sponsors that we work and partner with. You can choose to attend each day individually or all 4 days and CTO Craft Members get a discount of course!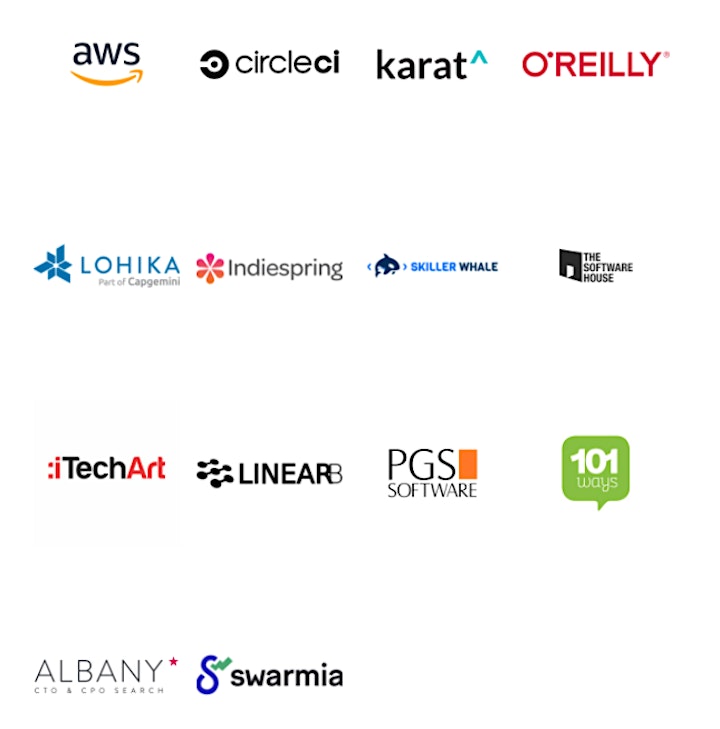 CTO Craft is a mentoring and coaching community for technology leaders around the world, focusing on supporting technologists in their leadership growth. The community numbers over a thousand and provides 1:1 coaching, mentoring groups, an online community and events.
Date and time
Location
Refund policy
Organiser of CTO Craft Con - Winter 2021