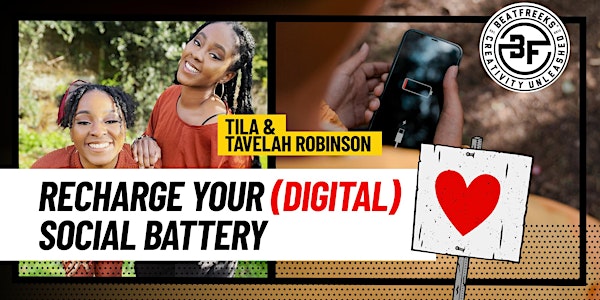 Ctrl, Alt, Empwr - Recharge your (digital) social battery.
A workshop for educators to better understand the impacts of social media on mental health in adolescents and the art of the digital detox.
About this event
According to this years' National Youth Trends report, 'The Social Snapshot', 40% of young people reported that the main reason for taking a digital detox was so they can spend more time doing things they enjoy. Hold on…Isn't social media something young people enjoy?
During lockdown, online was everything. It helped us keep in touch with the outside world. Baking, DJ sets, workout sessions... it was all up there for everyone to see. But then again, so was a major political shift, police brutality and a global discussion on race equality. It was a lot. Did you take a digital detox? Did you need one?
Join us with sisters and psychologists in training Tila and Tavelah Robinson in a workshop developed to help teachers to better understand the impacts of social media on mental health and the art of the digital detox. Here's some of the key topics we will touch on:
Threat Response Theory
Negativity Bias
Digital detoxing
How adolescents are affected differently to adults
Coping Mechanisms and Strategies
About Tila and Tavelah:
Tila and Tavelah are a twin duo, who have lived double lives as singer/songwriters and aspiring Psychologists for over 10 years. As children to parents who have collectively won Brit awards, sung backing for Peter Andre and Boyzone and played drums on Cee Lo Green's album, they then continued their family musical tradition by singing in musical collectives and as a duo since the age of 13 years old. They continued their passion for singing, including singing for the Queen and competing in the 'The Voice UK' 2014, where they reached the battle stages with Team Ricky. They now sing around the UK and perform at many venues in Birmingham. Tila is currently training as a Clinical Psychologist and, before her training, has worked within mental health services in Birmingham - supporting individuals with severe and enduring mental and physical health difficulties. Tavelah is training as an Educational Psychologist and worked as a teacher before her training. They both have experience working with children, adults and individuals with intellectual disabilities and are trained to deliver particular assessments and therapies.
Limited places available. Book your free place now before they are all gone!
For more information, contact Thea (Project Manager) at Beatfreeks: thea@beatfreeks.com