Cuba Solidarity Campaign Speaker! (Hosted by West Suffolk Labour!)
About this Event
'Cuba Solidarity Campaign' are a British organisation that campaigns against the inhumane and illegal 50 year old blockade of Cuba, for an end to the US occupation of Cuban land at Guantanamo Bay and to defend the Cuban people's right to be free from foreign intervention.
Cuba also has an impressive women's movement and since the revolution, women have made huge advances in all fields of life from health and education to politics and economic empowerment. Examples of the success for the revolution towards women's empowerment include:
- Women make up the majority of judges, attorneys, lawyers, scientists, technical workers, public health workers and professionals
- Cuba is ranked first in Save the Children's 'Lesser Developed Countries' Mother's Index
- With over 53% women MPs, Cuba has the second highest percentage of female parliamentarians in the world
- Women receive 18 weeks of full salary during paid maternity leave, followed by 40 weeks at 60%
- The 1975 Family Code states that women and men must share household and family responsibilities equally
- The government subsidises abortion and family planning, places a high value on pre-natal care and offers 'maternity housing' to women before giving birth
- 64% of university places are occupied by women
- Female life expectancy in Cuba is 80.45 years – higher than in the United States
We have been fortunate to be able to bring Natasha Hickman to give a talk on these issues, the campaign is quite busy with it being the 60th year since the revolution began! Over 400 unions are affilated to the campaign and we hope the evening will be popular with Labour members, Socialist organisations, union members and the general public, alike.
Get your FREE tickets asap! Donations in buckets on the evening, giving as little as a couple of quid or more - if you have it, (Not compulsory). There will also be refreshments - tea/coffee and biscuits and nibbles, (or even a bar if people show an interest in having a rum or something else!).
There will be also a raffle with all proceeds going directly to the CSC, so please bring some spare cash if you'd like to buy a ticket! (If you're feeling lucky!) :D
Hope to see many of you for what will be a night of inspiration and political education on one of the most famous revolutions and campaigns.
See you there ! :)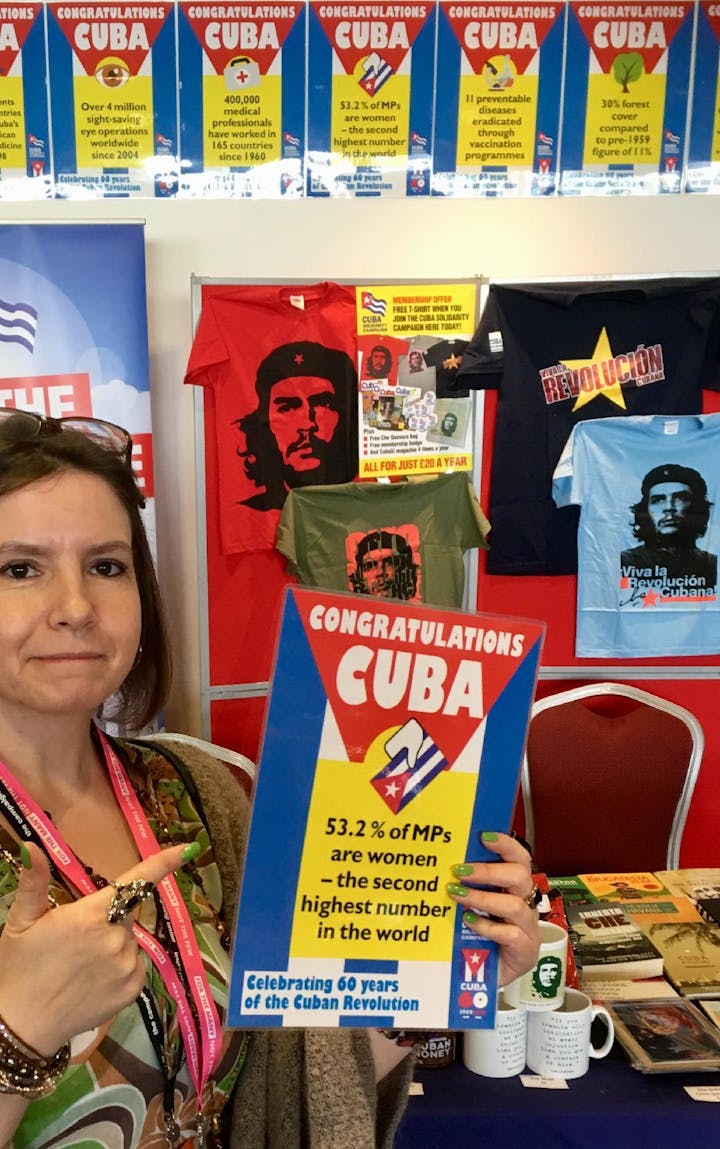 Cuba Solidarity Campaign stall at the Labour Women's Conference in Salford, February 2019!