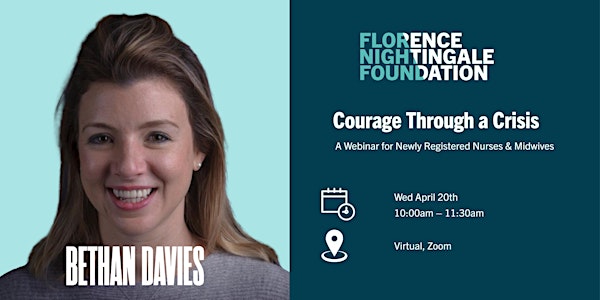 Cultivating Courage – A Webinar for Newly Registered Nurses & Midwives
Join us for: Cultivating Courage – A Webinar for Newly Registered Nurses and Midwives
About this event
As newly registered nurses and midwives, our ability to manage uncertainty and stress on a personal level is a key skill.
The ability to be kind to ourselves, to ask for help and set clear boundaries are critically important particularly following the impact of the pandemic., . Conversations about our emotional responses are crucial in helping us to navigate change constructively and collectively.
This interactive webinar, based on the research of Dr Brené Brown (suggest embedding link to her website https://brenebrown.com), provides tools and strategies to take action that can make a difference to our mental health and resilience, cultivating increased confidence and courage.
Key Takeaways:
Through attending this webinar, you will:
Challenge preconceptions and dispel the myths surrounding the concepts of risk, uncertainty, and emotional exposure
Cultivate courage and confidence building increased trust and psychological safety
Help clarify what you need to manage through this time of transition, and to ask for help
Understand the emotional responses to vulnerability and uncertainty and how to manage these constructively and empathetically
Feel empowered to have conversations around transitions to strengthen relationships and to help reduce anxiety
Learn practical tools and strategies to build and strengthen emotional resilience.
Bio:
Managing Director, Executive Coach & Facilitator
Professional Background: Bethan has over 15 years' experience within Tech and Finance sectors, working for Autodesk, Prudential and Munich Re in regional and global leadership positions, in the UK and Silicon Valley. She co-founded the Bravest Path to bring a different approach to developing individuals and organisational cultures, helping leaders take more smart risks, develop empathy, and deeply connect with their people to achieve audacious goals.
Approach: Bethan brings a warm, empathetic, and insightful approach, focused on how clients can leverage their strengths to support their development. She specialises in helping leaders be bolder, self-compassionate and authentic ,letting go of perfectionism and imposter syndrome, to build greater courage and confidence
Areas of Expertise: As an external leadership facilitator and coach, her recent work includes designing and facilitating global leadership programmes at Microsoft and BP, coaching senior leaders at Deloitte and Sanofi, and partnering with tech startups such as Wayve to develop their people leaders and top talent.
Having lived in San Francisco and facilitated multinational programmes in 15+ countries, she enjoys working across cultures and is quick to establish inclusive, appreciative, and stretching learning environments.
Client Work: Bethan's previous clients include Microsoft, Sanofi, Deloitte, CPA Global, Anglo American and BP
Donations
Thank you for participating in these completely free Webinars by our very special presenters.
FNF is a registered charity. We would welcome and appreciate any donation you may wish to make for which you can use the link here.