Cultivating Mindfulness, Compassion, Kindness and Positive Well-being
Event Information
Refund Policy
Contact the organiser to request a refund.
Eventbrite's fee is nonrefundable.
Join me to Pause and Breathe
About this Event
*NEW COURSE ALERT*
A life changing experience as you increase your well-being, sense of self, self-love and care and love and compassion for others.
As part of the exciting expansion of Butterflies Occupational therapy l am very proud to announce the first of our 8 week mindfulness courses aimed at you, the amazing parents.
Cultivating my own practice using compassion and kindness has been a positive game changer for me in the way l regulate my emotions, thoughts and actions. This has had a huge impact on my creativity, parenting, paid work and my general wellbeing.
What to expect….
Each week we will focus on different areas linked to mindfulness such as:
-Coming out of auto pilot and experiencing the world for what it is, developing daily gratitude and being more responsive rather than reactive.
-Gaining a deeper sense of awareness of the choices you make and how to change these choices if they are no longer serving you and your family.
-Bringing balance to your daily life, allowing yourself to have YOU time, exploring what this may look like, and building it into your daily routine.
-Thoughts are not facts, combating negative thinking patterns, feelings of low self-worth, and developing self-compassion.
-Changing habits and negative habitual patterns of behaviour.
-Exploring how to bring compassion and kindness to the people around you, this may have been a challenge during these difficult times.
-An investment in YOU and your life, a change in your thinking patterns, habitual negative behaviours and joining a community of like-minded people.
1.5-2 hours a week TIME OUT, investing in yourself. It is so important to look after ourselves as when we are at our best it has such a positive effect on the people around us.If you're not OK, they won't be OK.
What are you waiting for?
The first course is starting on the 9th March 2020 and will run for 8 weeks.
This is the absolute perfect time to do something for yourself because simply, you deserve to give yourself some self-care and fill your cup back up...guilt free!!
What are you waiting for!!??
The course is around 2 hours a week and held from 7.30-9.30pm every Tuesday for 8 weeks.
The cost includes:
-2 hour group sessions for 8 weeks.
-Work booklet,
-MP3 downloads to support the development of your practice at home,
-10% off subsequent courses.
-Creation of a supportive dedicated facebook / WhatsApp group
For more information contact me directly at
jenny@butterfliesot.com
www.butterfliesot.com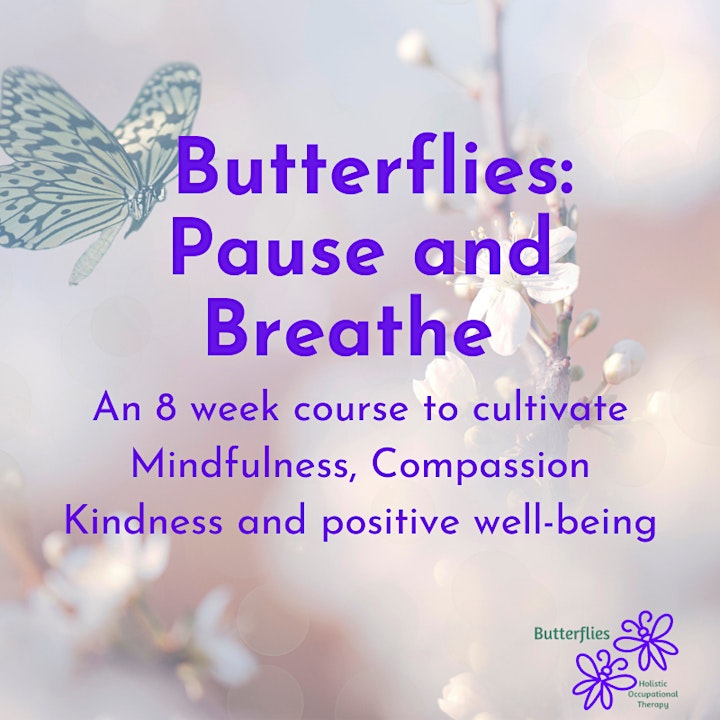 Date and Time
Location
Refund Policy
Contact the organiser to request a refund.
Eventbrite's fee is nonrefundable.