Cults, racism, doublespeak and the search for justice
Description
Cults, racism, doublespeak and the search for justice
A one-day conference exploring two important issues - extremist political cults and how to combat them, including a discussion of possible legal remedies; and an update on the institutional barriers faced by the Jeremiah Duggan campaign.
FRIDAY 22nd MAY, 20015
9:30am – 4:30pm
GARDEN COURT CHAMBERS
57-60 LINCOLN'S INN FIELDS
LONDON WC2A 3LJ
Hosted by the Justice for Jeremiah Campaign
Jeremiah Duggan was a University of London student studying in Paris when he died in Wiesbaden in unexplained circumstances 12 years ago. The British inquest, to be held on the 19, 20 and 21st May 2015, will examine how and under what circumstances Jeremiah met his death. The purpose of this symposium is to look at the wider context of extremist political cults, their manipulation of language and recruitment practices, and how they can be fought, including possible legal remedies, as well as to provide an update on the Duggan case by his family – in their attempts to secure a full, rigorous and honest investigation from the German authorities.
The morning session will focus on the issue of coded racism and right-wing extremist cults.
Speakers will include (alphabetical order):
Dr Masoud Banisadr, Ex-member of Mujahedin-e-Khalqh (MeK), a Revolutionary Islamic-Marxist organization that changed into a political cult, independent author;
Chip Berlet, American investigative journalist with extensive knowledge of coded anti-Semitism and radical right movements;
Erica Duggan, mother

of Jeremiah Duggan;

Hugo Duggan

, father of Jeremiah Duggan;

Professor Matthew Feldman, co-director, Centre for Fascist, Anti-fascist and Post-fascist Studies, Teesside University;
Liz Fekete

, Director of the Institute of Race Relations and head of its European research programme;

Steven Hassan, Leading mental health counselor and author of books on mind control, Freedom of Mind;
Dr Alexandra Stein

, Educator, writer in the social psychology of ideological extremism, Birkbeck, University of London.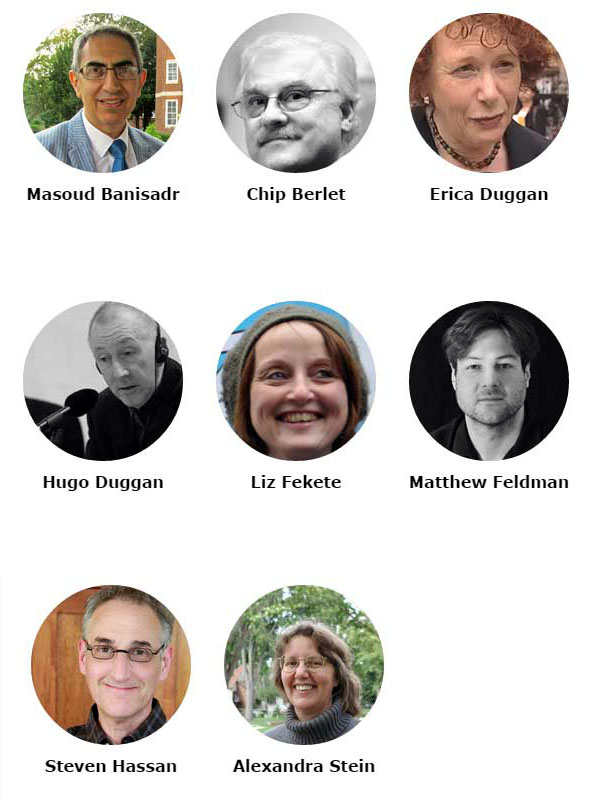 PROGRAMME OF EVENTS
9.00- 9.45am: REGISTRATION AND COFFEE
9.45-10.00am: WELCOME ADDRESS,
LIZ FEKETE, HEAD OF EUROPEAN RESEARCH PROGRAMME, INSTITUTE FOR RACE RELATIONS (IRR)
10.00-11.15am: PANEL 1
Prof. Matthew Feldman: "Some features of 'Doublespeak' and right-wing extremist rhetoric today"

Chip Berlet: "Radical Right Demonisation, Conspiracy Theories, and Racist Violence"
11.15-11.30: COFFEE BREAK
11. 30-1.15pm: PANEL 2
Steven Hassan: "Undue Influence: Brainwashing, Mind Control, and how it all works."

Dr Masoud Banisadr: "Al Qaeda, Daesh (IS, ISIL), MeK, and political cults: How they recruit and change ordinary young people into a human bomb."

Dr Alexandra Stein: "Prevention before Recruitment - Where do we begin?"
1.15 -2.00: LUNCH BREAK
2.00- 3.30: PANEL 3
Erica Duggan: "The 12 year Struggle for Justice"

Hugo Duggan: "Lessons Learnt and Justice for our Son"

Serdar Kaya, German Attorney in Criminal Law for the Duggan family: TITLE TBC
3.30-4.30: CONCLUSIONS AND DISCUSSION FORUM
See also www.justiceforjeremiah.com and www.irr.org.uk.
PARTICIPANTS
In alphabetical order :
Dr Masoud Banisadr, PhD
The son of a prominent Iranian family, he entered radical political activity in 1978 while pursuing his postgraduate studies in Engineering-Mathematics. Then, he was 24 happily married with a one-year-old daughter. The group he affiliated with, the Mojahedin-e Khalq (MeK), played a prominent part in the mass demonstrations and paramilitary activity that led to the 1979 overthrow of the Shah. After MeK's failed uprising in 1981, it changed into a clandestine terrorist group and Rajavi, MeK's leader, and many high-ranking members, escaped to France. Soon MeK underwent a radical transition into a cult and by the late 1980s, MeK members were compelled to divorce their spouses, give up their children and live celibate for the rest of their life. In 1986, Banisadr became the representative of the group to UN agencies and human rights organizations, and later their representative in the US, acting as a sort of unofficial ambassador of MeK. He escaped MEK in June 1996 and later wrote a memoir of his experiences entitled Masoud: Memoirs of an Iranian Rebel (2004) and has written many articles about cults and their mind manipulation, including his 2014 book, Destructive and Terrorist Cults: A New Kind of Slavery.
Websites:
RIDC (Research Institute on Destructive cult)
https://www.facebook.com/DestructiveCults
Chip Berlet
American investigative journalist and independent scholar with extensive published studies of coded anti-Semitism and extreme right wing-movements, especially neo-fascists and the LaRouchites. He is also research analyst, photojournalist, scholar, and activist specializing in the study of extreme right-wing movements in the United States. He also studies the spread of conspiracy theories. Since the 1995 Oklahoma City bombing, Berlet has often appeared in the media to discuss extremist news stories. He was a senior analyst at Political Research Associates (PRA), a non-profit group that tracks right-wing networks.
Berlet, a paralegal, was a vice-president of the National Lawyers Guild. He has served on the advisory board of the Center for Millennial Studies at Boston University, and currently sits on the advisory board of the Defending Dissent Foundation. In 1982, he was a Mencken Awards finalist in the best news story category for "War on Drugs: The Strange Story of Lyndon LaRouche," which was published in High Times. He served on the advisory board of the Campaign to Defend the Constitution.
Bibliography HERE.
Websites:
http://chipberlet.blogspot.co.uk/
http://www.publiceye.org/berlet/
Erica and Hugo Duggan
In 2003, Jeremiah Duggan, the son of Erica and Hugo Duggan, died in suspicious circumstances after participating in LaRouche organization events in Germany. The German authorities decided it close the case. It took years of legal battles to have the case investigated. The OLG Frankfurt (Higher Regional Court) ruled in 2012 that the police had failed and ordered that an investigation take place as a matter of urgency, including possible "collective harming." The results have been disappointing. Erica has sent a letter to President Angela Merkel accusing the State of Germany of Institutional Racialism, but no answer has yet been received. The Jewish Board of Deputies have also written to complain to the German President about how the same detective who failed to investigate twelve years ago has been brought back to deal with the investigation. In theUK, the first Inquest in 2003 ruled that Jeremiah had died "in a state of terror." The second Inquest into the case was opened in 2011 and is scheduled to take place from 19 to 21 May 2015. The Justice for Jeremiah Campaign supports an attempt to work through the law in the interest of Justice, to expose the dangers that threatened Jeremiah. Much has been uncovered about the dangers of the LaRouche organization, a vehemently anti-British, anti-Semitic cultic network.
Media: http://larouche-danger.com/html/media.html
Websites:
http://justiceforjeremiah.yolasite.com/
http://justiceforjeremiahcampaignupdate.blogspot.co.uk/
Director of the Institute of Race Relations and head of its European research programme. She has worked at IRR for 30 years. She writes and speaks extensively on aspects of contemporary racism and fascism, refugee rights, EU counter-radicalisation and anti-terrorist policies and Islamophobia across Europe and is author of A suitable enemy: racism, migration and Islamophobia in Europe published by Pluto Press. Liz was part of the CARF Collective, and an expert witness at the Basso Permanent People's Tribunal on asylum and the World Tribunal on Iraq. She is currently an associate of the International State Crime Initiative at King's College London.
Professor Matthew Feldman
Matthew Feldman is Professor in the History of Modern Ideas at Teesside University. As the co-director of the Centre for Fascist, Anti-fascist and Post-fascist Studies since its launch in July 2013, he has been a leading commentator on the far-right in Europe and the US, past and present. His academic work has recently focused upon 'lone wolf terrorism' and intellectual constructions of the far-right. He has (co-) organised 9 international symposia on the far-right; published 15 books (including co-editing the 5 volume Fascism: Critical Concepts with Routledge), and more than 40 articles, and co-edits Wiley-Blackwell's Modern Ideologies and Faith. With Paul Jackson, he is the editor of the recent volume, Doublespeak: The Rhetoric of the Far-Right since 1945. He has testified on far-right extremism for the Crown Prosecution Service, the Home Affairs Select Committee and has consulted for Britain's policing services All-Party Parliamentary Groups; he has also worked with the Home Office, the Ministry of Justice, and the Department of Communities and Local Government.
Bibliography HERE.
Steven Hassan, M.Ed. LMHC, NCC
Steven Hassan is a former cult member and mental health professional who has been educating the public about mind control and destructive cults since 1976. He is author to the critically acclaimed book Combating Cult Mind Control: The #1 Best Selling Guide to Protection, Rescue, and Recovery from Destructive Cults (1988, 1990 and newly released 2015 edition), Releasing the Bonds: Empowering People to Think for Themselves (2000), and Freedom of Mind: Helping Loved Ones Leave Controlling People, Cults & Beliefs, Second Edition 2013. As a Nationally Certified Counselor (NCC) and Licensed Mental Health Counselor (LMHC), Hassan is the author of three books that have received extensive praise from former cult members, families of former members, clergy, cult experts, and psychologists. He has also co-developed "Ending the Game", a non-coercive curriculum designed to educate and empower commercial sex trafficking victims. He conducts training for law enforcement officials and mental health professionals worldwide. He has appeared on CNN, 60 Minutes, NPR, Good Morning America, The Today Show, Larry King Live, Oprah, Dr. Drew, and many other programs. PeopleMagazine,USA Today, Newsweek, The New York Times, The Washington Post, The Wall Street Journal, Chicago Tribune, The Guardian, and dozens of other major publications and websites. Learn more about him at the Freedom of Mind Resource Center, Inc.
Bibliography HERE.
Website: https://www.freedomofmind.com/
Dr. Alexandra Stein, PhD
Alexandra Stein is a writer and educator specializing in the social psychology of ideological extremism and other dangerous social relationships. She is an ex-member of a political cult. Dr. Stein offers prevention education programs and materials to help people understand how to identify and protect themselves from recruitment to cultic or extremist groups. She also studies and teaches about positive social relationships and healthy social and personal networks that can oppose these dangerous relationships.
Bibliography HERE.
Website: http://www.alexandrastein.com/
Masoud Banisadr
Chip Berlet
Erica Duggan
Hugo Duggan
Liz Fekete
Matthew Feldman
Steven Hassan
Alexandra Stein