Cultural Anthropology for Beginners - Online Course
Sales Have Ended
Registrations are closed
We are sorry but this course is now fully booked. Please contact us for details about when it will run again. We look forward to hearing from you. Akkadium College Enrolment Team.
Event Information
Refund Policy
Refunds up to 30 days before event
Sales Have Ended
Registrations are closed
We are sorry but this course is now fully booked. Please contact us for details about when it will run again. We look forward to hearing from you. Akkadium College Enrolment Team.
Description
Cultural Anthropology for Beginners is a five-week online course that will introduce you to the concepts, theory and practice of cultural and social anthropology.
From definitions of cultural identity to the complexities of gender, race, religion and kinship, you will explore key concepts in the study of human societies and behaviour, and nurture a deeper appreciation for cultural diversity.
Course description
Drawing from a range of fieldwork case studies, we adopt a comparative cross-cultural perspective that challenges cultural assumptions. Our enquiry-based approach will help us to understand contemporary issues, such as war, conflict, and the interaction between global world systems and indigenous communities.
By introducing, applying and critiquing fundamental theories and methods of anthropological research, we will deepen our understanding of human society and begin to view the world through an anthropological lens.
We'll discover how anthropological theory complements and informs related disciplines like archaeology, and how anthropologists use research methods such as ethnography to study human behaviour, relationships and cultural practices. We will also find out where cultural anthropologists are working today, and how they are contributing to our understanding of the modern world.
Syllabus overview
The course runs for five weeks and will explore the following topics:
Module 1: What is anthropology? Essential concepts and ideas
Module 2: Doing anthropology: key research methods
Module 3: Marriage, family and kinship
Module 4: Belief systems: ritual and religion
Module 5: Sex, gender and sexuality





Learning outcomes
Upon completion of the course, participants should be able to:
Discuss key anthropological terms, concepts and practices;
Analyse a range of themes and concepts around marriage and kinship;
Compare religious ideas and ritual practices among different cultural groups;
Examine ethnographic case studies through the lens of a cultural anthropologist.


Prerequisites
This learning opportunity is open to anyone, and no prior knowledge or experience of anthropology is required. The only prerequisite is a healthy curiosity about the richness and diversity of cultures around the world, and a willingness to engage and contribute to course discussions.
The course is delivered completely online in a virtual learning environment (VLE), so you will need access to an internet-connected computer or mobile device, and basic computing skills. Our team will be on hand to give you both academic and technical support as needed.
Please note: to preserve the educational advantages of small-group teaching there are only ten places available on this course. We therefore recommend that you register early to avoid disappointment.


Your tutor
Dr. Mark Anderson will be your tutor and guide on this learning journey. Mark's interests embrace all aspects of cultural heritage, with specialisms in African archaeology, the anthropology of education, ritual and religion, and the formation of complex societies. He teaches archaeology and anthropology at the Oxford University Department for Continuing Education, and he is a Teaching Fellow at Imperial College London.
Mark is a Fellow of the Royal Anthropological Institute, a Member of the Chartered Institute for Archaeologists and a Fellow of the Society of Antiquaries of London. He is the author of Marothodi: The Historical Archaeology of an African Capital.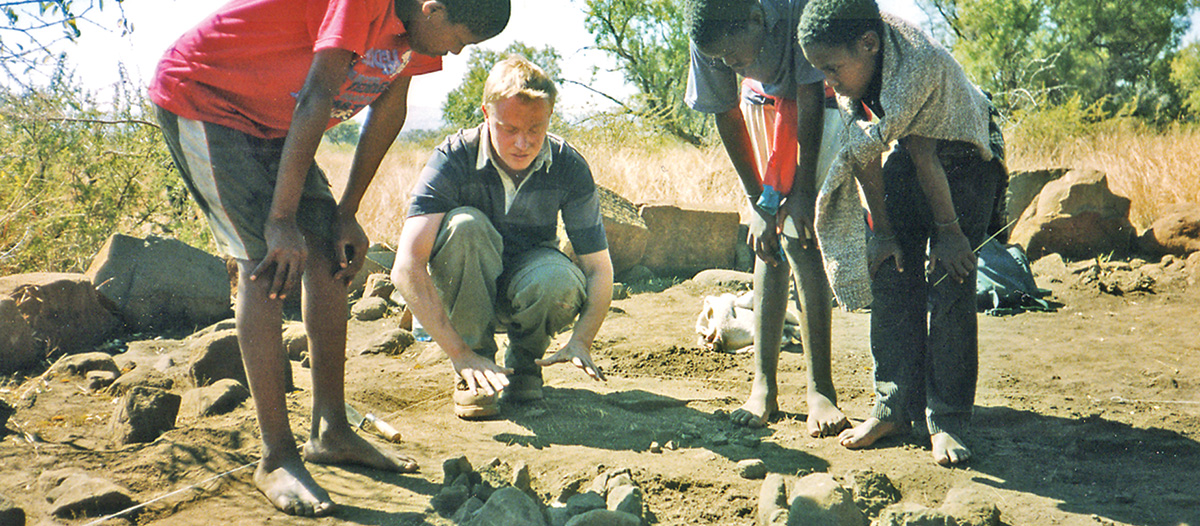 Date and Time
Refund Policy
Refunds up to 30 days before event