Cultural Change through Measurable Management - Darlington
Description
An introduction to 'Cultural Change through Measurable Management' is designed to show you how you can support your team leaders in getting the best from their people, leading to higher levels of performance and productivity. You will learn how your company or organisation can benefit from a solution of measures, resources and activities to improve leadership, develop teams and increase staff and customer satisfaction.
Robin Byrne, creator of Cultural Change through Measurable Management, will show you how Measurable Management translates your good intentions for your company (whatever its size or sector) into measurable outcomes whilst initiating change that is both sustainable and profitable. Companies and organisations worldwide have experienced measurable improvements in performance resulting in cost savings, increased productivity, improved efficiency and reduced waste.
Measurable Management:
Aligns the team behind key organisational objectives

Generates measurable, continuous improvements (cost savings, increased productivity, improved efficiencies, reduced waste, etc.)

Maximises and strengthens other quality initiatives (Lean, Six Sigma, TQM)

Facilitates a positive attitude for change within your workforce
Highlights of the programme:
Translates strategy into measurable outcomes

Overcomes resistance to change

Develops leadership and teamwork

Locked into your strategic objectives

Delivers results directly to the bottom line

A customer-focused approach to organisational development

Customer driven improvement

Management and leadership development

Develops a listening and involving style of leadership

Simple to understand and easy to implement, yet powerfully effective

Initiates change very swiftly in a controlled and focused method

A practical approach to business improvement through change management

Guaranteed return on investment



Robin will also describe how 'Measurable Management' went from its original creation in the UK to being nominated for the 2011 United Nations NGO Positive Peace Award in the United States (for its phenomenal ability to deliver positive outcomes for customers, employees and their organisations).
You will also have the opportunity to hear about Innovate2Succeed - a new, fully funded programme designed to drive business growth. Facilitated by Teesside University, this programme provides businesses with up to 9 days access to an experienced business growth specialist.
Tea and coffee will be available from 9.15am with the presentation beginning at 9.30am and concluding at 11am.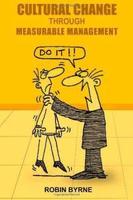 All attendees will receive a signed copy of Robin's entertaining and informative book 'Cultural Change through Measurable Management'.
About Robin Byrne
Robin originally ran operations for Xerox in the North East of England before he developed the Measurable Management programme and successfully implemented it with businesses like Arriva, NSK Bearings, Tarmac and Toshiba amongst many others.
An invitation from the University of South Dakota in 2002 took him to the States where he successfully rolled it out across America. The programme is today implemented in the US Air Force which stated that it was 'the most effective programme for making things happen that they had ever experienced'.