Location
Rich Mix
35-47 Bethnal Green Road
London
E1 6LA
United Kingdom
Description
** Advanced booking now closed.
There will be a limited number of tickets available on the door.
See you there! **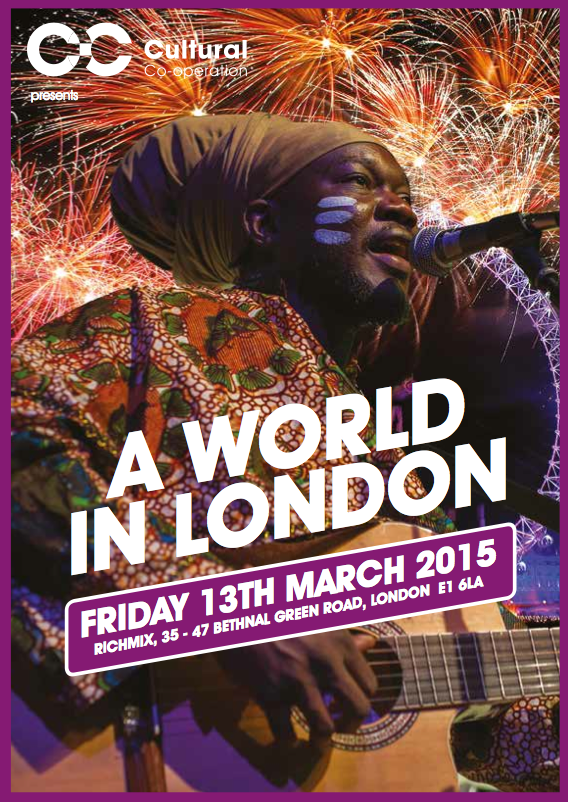 Cultural Co-operation presents A World In London: LIVE
A celebration of our cosmopolitan city at its creative best!
Hosted by DJ Ritu, mastermind and anchor of A World in London on BBC London Radio, Resonance 104.4fm and SOAS radio.
SOAS Sizhu Ensemble are exponents of the traditional Chinese music style that can be heard in the tea-houses of Shanghai. This truly international ensemble plays Sizhu music masterfully on silk string and bamboo wind instruments.
Kourelou creates a rousing musical patchwork of Greek and South Balkan roots with a contemporary twist and folk music from mainland Greece, Cyprus and the islands.
Mulele Matondo Afrika brings conscious Congo to life through hypnotic sounds and rhythms of the Twa communities and infectious guitar melodies that will get you dancing.
Catch these and many other multi-talented Londoners on the radio edition of A World in London every Wednesday! 6.30pm on Resonance 104.4fm and 4pm on SOAS Radio.
Cultural Co-operation
Bringing communities together through celebration of each other's heritage since 1987.
www.djritu.com
www.facebook.com/groups/SilkAndBambooSOAS/
www.kourelou.co.uk
www.mulelematondo.com
www.culturalco-operation.org