About this Event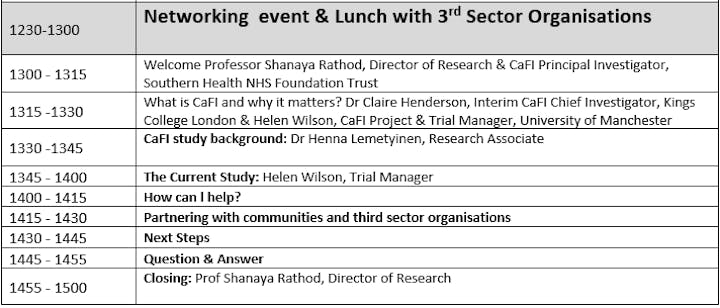 Southern Health NHS are pleased to invite service users, family members, carers, community members and healthcare professionals to an informal networking lunch event about a study called Culturally-adapted Family Intervention (CaFI).
CaFI, a new 'talking therapy', aims at improving the interventions we are able to offer to patients and families of African and Caribbean people (including Mixed heritage) who are experiencing Schizophrenia/psychosis.
African and Caribbean people in the UK are more likely than any other ethnic group to be diagnosed with illnesses such as Schizophrenia and psychosis. Yet their experiences of services are generally poorer and have worse outcomes!
We would love to establish links with organisations who work with African service users and/or their families.
For more info. please contact: ayaat.al-sudani@southernhealth.nhs.uk
The event is completely free and a lunch will be provided!
Follow us on Twitter: @cafistudy
sites.manchester.ac.uk/cafi/