Location
BBC Cymru Wales Central Square Broadcasting House
3 Central Square, Cardiff
Cardiff
CF10 1FS
United Kingdom
About this event
We are excited to announce the Culture Connect Wales (CCW) careers Fair - Opportunities for Ethnic Diverse Communities to Connect with the TV and Film Industry
The CCW Careers Fair is focused on bridging the gap between ethnic diverse communities and the TV and Film Industry.
@ BBC Cymru Wales Central Square Broadcasting House - 3 Central Square, Cardiff CF10 1FS
Thursday 30th June, 4 PM to 8 PM
CCW works with many partners in the industry and we are proudly sponsored by the Welsh Government, BBC Cymru Wales, ITV Cymru Wales, S4C and Channel 4.
Why you don't want to miss it:
Find jobs and opportunities in the TV & Film industry ✅
Connect with broadcasters (BBC, ITV, S4C, and Channel 4) ✅
Meet fantastic independent film Companies ✅
Find what's available in Wales ✅
Learn how you can develop your skills ✅
Attend workshops ✅
So hurry up and REGISTER your place before the booking is FULL!!
We are looking forward to seeing you at the Jobs Fair,
Team at Culture Connect Wales
Mae'n bleser gennym gyhoeddi Ffair Swyddi Cyswllt Diwylliant Cymru (CCW) - Cyfleoedd i Gymunedau Ethnig Amrywiol Gysylltu â'r Diwydiant Teledu a Ffilm
Ffair Swyddi CCW yw'r digwyddiad cyntaf erioed yng Nghymru sy'n canolbwyntio ar bontio'r bwlch rhwng cymunedau ethnig amrywiol a'r Diwydiant Teledu a Ffilm.
@BBC Cymru Wales, 3 Sgwâr Canolog, Caerdydd CF10 1FS
Dydd Iau 30 Mehefin, 4 PM tan 8 PM
Mae CCW yn gweithio gyda llawer o bartneriaid yn y diwydiant, ac rydym yn falch o gael ein noddi gan Lywodraeth Cymru, BBC Cymru Wales, ITV Cymru Wales, S4C a Channel 4.
Rhesymau i beidio â'i golli:
Darganfod swyddi a chyfleoedd yn y Diwydiant Teledu a Ffilm ✅
Cysylltu â darlledwyr (BBC, ITV, S4C, a Channel 4) ✅
Cwrdd â Chwmnïau Ffilm Annibynnol Ffantastig✅
Darganfod beth sydd ar gael yng Nghymru✅
Dysgu sut y gallwch ddatblygu eich sgiliau✅
Cael y cyfle i gymryd rhan mewn gweithdai✅
Felly brysiwch a CHOFRESTRWCH cyn i'r digwyddiad fod yn LLAWN!!
Rydym yn edrych ymlaen at eich gweld yn y Ffair Swyddi,
Tîm Cyswllt Diwylliant Cymru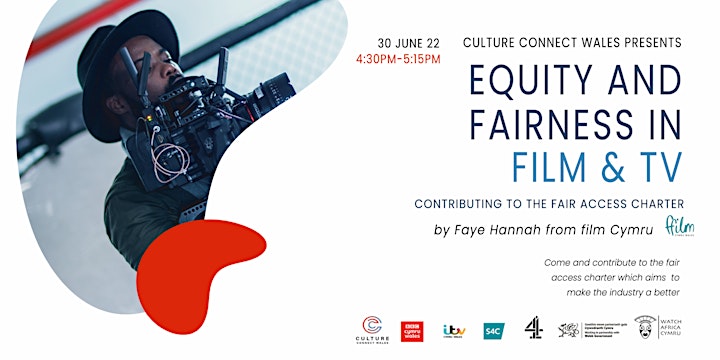 Ffilm Cymru Wales & Foot in the Door presents…
FAIR ENOUGH?
What would REALLY GOOD access to TV and Film careers look like in Wales?
Imagine it is June 2032…Ffilm Cymru Wales invites individuals and organisations to discover a Welsh Screen Sector in 10 YEARS where really good access is the norm. What do you think this looks like? What would 'good mean' to you? How does 'good' feel?
A facilitated interactive workshop that will explore the concept of 'Fair Access' to the Screen industry in Wales. We will collaborate and examine not what does not work now, but an exploration of what good looks like 10 years from now and what we have learned from working on the 'Foot in the Door' programme.
Come along and feed into development of a 'Fair Access Charter' shaped by industry and prospective industry talent and hear what 'good' looks like in the future for better recruitment and advertising, better progression and better opportunity. A sector for all.
Input to this workshop will feed into the development of a published 'Fair Access Charter' that will support understanding around how the screen sector can become 'Fair Enough'. #FairEnough? #FootintheDoor
Mae Ffilm Cymru Wales a Foot in the Door yn cyflwyno…
Ddigon Teg?
Sut fyddai mynediad DA IAWN i yrfaoedd Ffilm a Theledu yn edrych yng Nghymru?
Dychmygwch ei ei bod hi'n Fehefin 2032... Mae Ffilm Cymru Wales yn gwahodd unigolion a sefydliadau i ddarganfod sut mae Sector Sgrîn Cymru yn edrych mewn 10 MLYNEDD, lle mai mynediad da iawn yw'r norm. beth fyddai 'da' yn ei olygu i chi? Sut mae 'da' yn teimlo?
Gweithdy rhyngweithiol wedi'i hwyluso a fydd yn archwilio'r cysyniad o 'Fynediad Teg' i'r diwydiant Sgrîn yng Nghymru. Byddwn yn cydweithio ac yn archwilio nid beth sydd ddim yn gweithio nawr, ond yn archwilio sut mae da yn edrych 10 mlynedd o nawr, a beth rydym wedi ei ddysgu o weithio ar y rhaglen 'Foot in the Door'
Galwch heibio i gyfrannu at ddatblygu 'Siarter Mynediad Teg' sydd yn cael ei lunio gan y diwydiant a darpar dalent yn y byd diwydiant, ac i glywed sut mae 'da' yn edrych yn y dyfodol o ran gwell recriwtio a hysbysebu, gwell dilyniant a gwell cyfle. Sector i bawb.
Bydd mewnbwn i'r gweithdy hwn yn cyfrannu at ddatblygu 'Siarter Mynediad Teg', a fydd yn cefnogi dealltwriaeth o sut y gall y sector sgrin ddod yn 'Ddigon Teg'.
#FairEnough? #FootintheDoor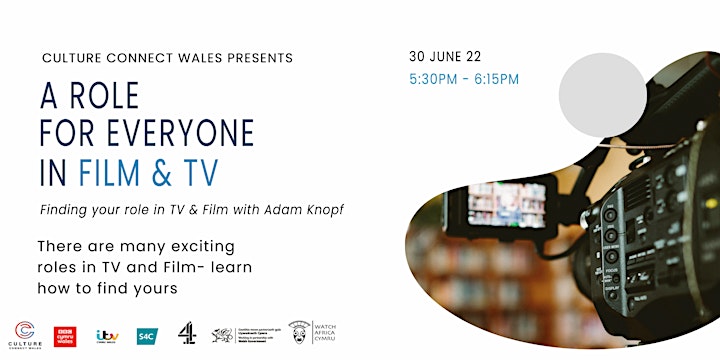 A role for everyone - Finding your role in TV & Film with Adam Knopf
This workshop talks you through the many roles that you can do in Film/TV set production. You don't need to be experienced, just have a great and positive attitude towards work and a keen interest in learning new skills.
The presenter Adam Knopf, (Producer) who has worked on many TV series - from Doctor Who (BBC) to Broadchurch (ITV), Marcela (ITV), War of the Worlds (Canal+/Fox), The One (Netflix), Lazarus (Sky), The Pact - will tell you all that you need to know, including how you can get your first opportunity, if you are inexperienced. And if you are already experienced, how do you get to the next level. You don't want to miss this workshop!
Rol i bawb – Dod o hyd I'ch rol mewn Ffilm a Theledu
Mae'r gweithdy hwn yn eich tywys drwy'r rolau niferus y gallwch eu gwneud wrth gynhyrchu setiau Ffilm/Teledu. Does dim angen i chi fod yn brofiadol, ond dylech gael agwedd wych a chadarnhaol tuag at waith a diddordeb brwd mewn dysgu sgiliau newydd.
Bydd y cyflwynydd Adam Knopf, (Cynhyrchydd) sydd wedi gweithio ar lawer o gyfresi teledu - o Doctor Who (BBC) i Broadchurch (ITV), Marcela (ITV), War of the Worlds (Canal+/Fox), The One (Netflix), Lazarus (Sky), The Pact - yn dweud popeth sydd angen i chi ei wybod wrthych chi, gan gynnwys sut y gallwch gael eich cyfle cyntaf, os ydych yn ddibrofiad. Ac os oes gennych lawer o brofiad yn barod, sut ydych chi'n cyrraedd y lefel nesaf. Dydych chi ddim eisiau colli'r gweithdy hwn!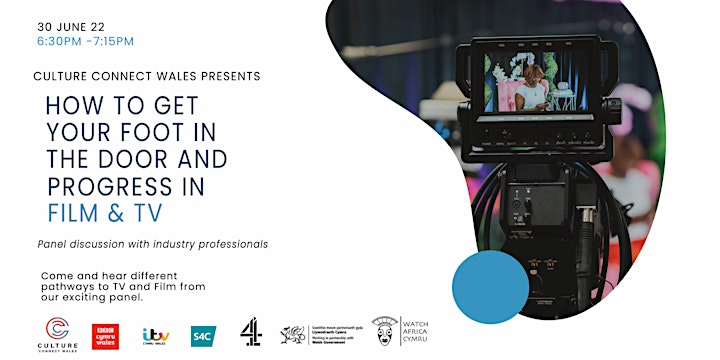 How to get your foot on the door & progressing in TV and Film
Panel discussion with industry professionals
This panel discussion led by some of the well known faces on TV and Film will explore various ways that individuals can get into the industry and using personal stories, it will highlight challenges and opportunities in the sector. This workshop will provide advice and give tips to participants on how they can make their mark and therefore career in the industry.
Sut i gael eich troed ar y drws a symud ymlaen ym maes ffilm a theledu
Bydd y drafodaeth banel hon dan arweiniad rhai o'r wynebau adnabyddus yn y diwydiant Teledu a Ffilm, yn archwilio gwahanol ffyrdd y gall unigolion fynd i mewn i'r diwydiant a thrwy ddefnyddio straeon personol, bydd yn tynnu sylw at heriau a chyfleoedd yn y sector. Bydd y gweithdy hwn yn rhoi cyngor ac awgrymiadau i gyfranogwyr ar sut y gallant wneud eu marc a chael gyrfa yn y diwydiant.