Culture Shift Lab Athens | Technology meets Art

Friday, 6 March 2015 at 17:30

-

Sunday, 8 March 2015 at 19:00 (EET)
Event Details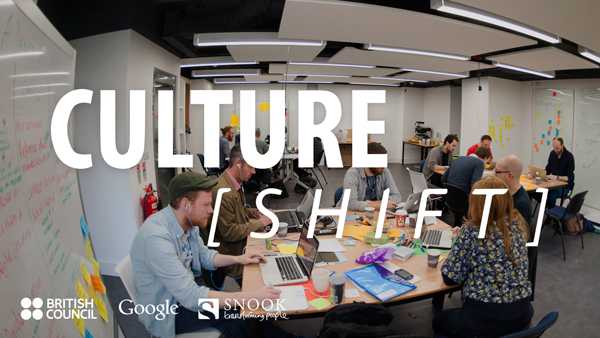 "Where technology meets arts" – Google



---
The British Council Greece, in collaboration with Snook and in partnership with Google and Future Library, are hosting a Culture Shift Lab in Athens across the 6th – 8th March 2015. It is to be hosted by the Media Lab of Ilioupoli Municipal Library. 
Research has shown that whilst a limited part of Greek society is aware and benefiting from digital technology, the adoption of online services is slower as compared to the European Average Rates. (source: Making the internet thrive in Greece. Costas Troulos, Elias Demian, Aggelos Tsakanikas, Dec 2012, Foundation for Economic and Industrial Research.)
The cultural sector in Greece, in particular, have not yet fully acknowledged the transformative impact the digital revolution is bringing to their sector and are still in the early stages of incorporating the digital use into their core corporate culture and strategy.
---
What is Culture Shift?

Culture Shift is a British Council programme. A Culture Shift Lab is similar to a hack weekend; where business ideas are generated and tested over a short period of time by designers, developers, innovators, individuals and groups from the local cultural sector.
Why Culture Shift?
Culture Shift Labs have been held all over the world; including Kenya, South America, South Africa and Egypt, helping stimulate cultural economies across the globe since 2011. Have a look at a video from Culture Hack Nigeria 2014, click here. The model has a proven track record of stimulating innovation in the cultural sector worldwide – and we now bringing it to Athens!
This is a relatively new concept to be run by the British Council Greece and we hope you will join us in seeking to stimulate cultural activity in Athens, and across the country.
Our Aims
We are aiming to develop a range of digital prototypes and ideas that will be presented to a panel of judges on the final day of the lab. Winners will be awarded prizes in order to allow them to continue further development of their concept.
Who should get involved?
Anyone! Though, we are particularly looking for people from the following areas, so please select the appropriate ticket in the form above:
Designers


(product, service, graphic, web, UX, UI, systems)
Developers


(web development, software development, coding, app building, hardware hacking, data)
Entrepreneurs/Innovators


(business development, strategy, marketing)
Cultural sector


(Artists, producers, cultural venue managers, festival directors, heritage organisations, libraries, museums)
How will it work?
The Culture Shift Lab is a free event. It will take place over three days and include ice-breaker sessions, guided workshops and free development time.
There will also be a number of flash talks from other digital innovators and leading figures within the cultural sector.
We are looking for people keen to share and collaborate on ideas who have an interest in the creative sector and digital technology.
The event will conclude with team pitches to a panel of selected judges, with prizes awarded to the ideas we believe could be developed further and have the potential to be successful. 
What are the challenges?
We want you to submit the challenges! What challenges and opportunities exist in the cultural sector across Greece? We will use these at Culture Shift Lab to allow participants to develop and respond with innovative ideas.
Have a challenge you want to submit, or want to find out more? Click here.
How do I sign up?
The event is free. You can reserve your space on Culture Shift Lab by registering for a ticket in the form above. A weekend ticket covers your attendance for the entire event, from Friday to Sunday.
We are currently finalising the programme and will send updates soon, but the plan is to run the Culture Shift Lab from Friday 6th March at 17:30 and finish with presentations on Sunday 8th March at 19:00. We will begin Saturday and Sunday sessions at 10:00.
We have found that participants usually stay late on Friday and Saturday evenings to work on developing their concepts, but it is not mandatory to do so.
I can't make the event!
Don't worry – we would still love for you to submit a challenge. You can also reserve a ticket for the speakers on Friday evening, and the presentations on Sunday afternoon! We will inform you of the speaker times over the next few weeks.

** If you have bought a ticket to attend the entire weekend, you do not need to sign up for another ticket here.
Please contact us if you have any further questions:
Maria Papaioannou
at the British Council
Photography: Ash Bird Photography
---
Follow the event on Facebook and Twitter using #CultureShiftAthens
---
About the organisers and partners:
British Council Greece
We have been working in Greece since 1939, offering a wide range of services and activities, and have offices in Athens and Thessaloniki. We work with the best UK and international artistic and creative talent to organise events and collaborative projects which link thousands of artists, organisations and audiences worldwide.
We partner with others in joint arts programmes and help develop creative leadership, professional networks and cultural educational programmes worldwide. Our high profile work in English, education and society, and the arts helps hundreds of millions of people worldwide to learn about and experience UK creativity and excellence. Millions of talented people of all ages – particularly younger people – engage face-to-face and online with us, learning English, developing new skills, experiencing life and studying in the UK, and obtaining UK qualifications.
Google
Google is a global leading online service company. Launched by two university students, the company now employees thousands of people, in offices around the world and its portfolio includes unique services and products such as YouTube, Adsense, Adwords, Android, Google Maps and Google Street View. In Greece, Google has a local office since September 2008, growing rapidly.
Snook
Snook are our innovation partners from the UK. Snook are an award winning design agency who specialise in design and innovation across the public and private sector. Over the last few years, Snook have supported British Council in running Culture Shift events in Nairobi and Cairo. They bring expertise across design, digital and business within the cultural sector.
When & Where

Media Lab of the Municipal Library of Ilioupoli (Future Library)
18 Nikomachou str (OTE building)
16341 K. Ilioupoli
Greece


Friday, 6 March 2015 at 17:30

-

Sunday, 8 March 2015 at 19:00 (EET)
Add to my calendar
Organiser
The British Council Greece and Google, in partnership with the Future Library and BIOS and in collaboration with Snook, are hosting a Culture Shift Lab in Athens.