Cultures of Difference: The Everyday Makings of Heteronormativity
Event Information
Location
Pembroke College
Thomas Gray Room
Cambridge, England CB2 1RF
Description
This is the registration page to the workshop "Cultures of Difference: The Everyday Makings of Heteronormativity".
The event is £25 for two days. Payment on arrival.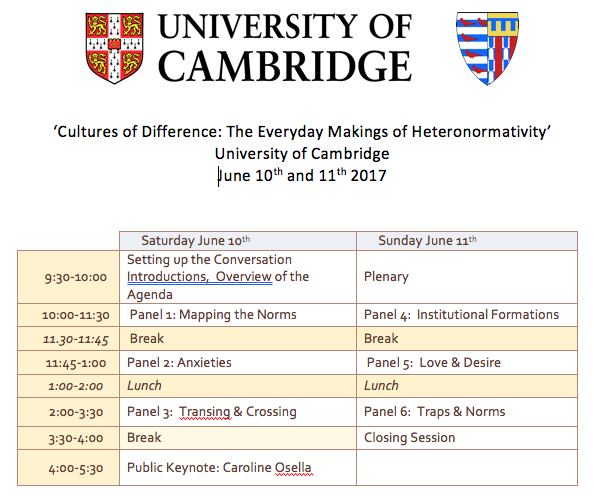 Any attempt to study heteronormativity involves multiple challenges, both theoretically and ethnographically.

Existing literature on heteronormativity most often investigates the topic with a focus primarily on queer sexualities, forgoing deep analysis of its various other workings.

Heteronormativity gains its privileges and coherency through public operations and the mutuality of public and private. This workshop will, therefore, examine this coherency and privilege, exploring through ethnographically driven presentations the operations and making of heteronormative devices in their material, affective, narrative, spatial and bodily elements. In this way, one is able to see how heterosexual culture simultaneously institutionalizes its narrative and normalcies, such that it operates in a way towards preserving its own coherency.
With a cross-cultural perspective, this workshop aims to convene around the everyday makings of heteronormativity as a way: a) to contribute to the conceptual formulation of the term, b) to bring forward the mundane operations of it in diverse contexts, and c) to establish heteronormativity as the focus of an ethnographic lens.
In order to understand the complexity of heteronormative social relations, it is important to examine ordinary makings of them. The panels in this workshop also aim to further develop a conversation between theories on ordinariness, banality and everyday life and those on gender and sexuality, with a particular focus on heteronormativity. It represents an attempt to discuss the ordinary makings of heteronormativity in order a) to contribute to the term itself, and b) to work out how it might be operationalised as a topic for ethnography.
Date and Time
Location
Pembroke College
Thomas Gray Room
Cambridge, England CB2 1RF