About this Event
We are delighted to host the next Cumbria Transport Group Annual Conference at Cumbria LEP Offices, Penrith.
Speakers
Philip Wanless - CBEN
NRG Fleet Services
Simon Evans - North West Traffic Commissioner
Plus questions with an expert panel
Where: Cumbria LEP Offices, Redhills, Penrith CA11 0DT
When: Friday 18th October from 9.30am - 1.30pm (includes a buffet lunch)
Book your free place now!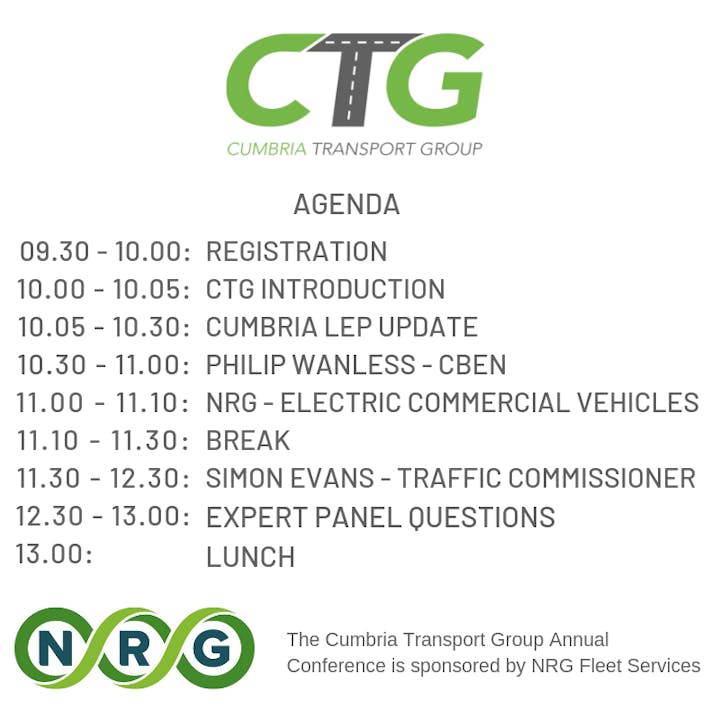 Who are the Cumbria Transport Group?
The Cumbria Transport Group (CTG) is a group of local transport businesses who have come together for common purpose. Representing freight and passenger transport industry views the group is made up of a range of Cumbrian based businesses and local government representatives.
Core themes of the group are:
Employment Opportunities
The industry nationally has a shortage of skilled people, particularly drivers. Cumbria is in the same position and the skill shortage is having a detrimental effect on the local economy. The CTG membership has opportunities for individuals who wish to work in the transport industry
Career & Skills Development
The industry has an age demographic that is very old and as such young people need to be recruited into the industry to bring fresh ideas and energy. CTG support Apprenticeship recruitment and career paths for young people. CTG members invest in their employees through training and development ensuring they have the skills to operate in the modern transport industry.
Influencing Policy
The CTG is made up of strong local businesses and as a group is able to influence policy and 'have a say'. The group representatives have years of experience and understand transport issues. CTG are a strong transport lobby group and will fight for local interests.
Underpinning the Cumbrian Economy
CTG are significant employers in their own right representing around 1,000+ employees. The transport industry locally underpins virtually every business activity in the county. A strong transport infrastructure allows the county to flex and grow when required. With huge plans for infrastructure and nuclear development in the future for Cumbria, CTG will play a significant part in supporting these plans.
We look forward to seeing you there!