#cumbrianchallenge Taster Walk - Berkhamsted, Chilterns, Sat 11 Mar 17
Description
Thinking of signing up for #cumbrianchallenge 2017? How about this taster walk around Berkhamsted and Ashridge Estate in the Chilterns on 11 Mar 17?
#cumbrianchallenge is one of Walking With The Wounded's flagship fundraising events. The next one is 13 May 17. The event itself is for teams of 4, and there is a choice of three routes: 10kms, 20kms, 30kms.
Want to learn what's involved?

Be inspired and energised?

Learn about the clothing & kit you'll need?

How to prepare yourself and your team?

How to look after each other?

Share great fund raising ideas?

And discover how doable and awesome the Cumbrian Challenge experience will be!
We are proudly supporting Walking With The Wounded by leading a series of taster walks around Southern England.
How does it work?
Although the #cumbrianchallenge itself in May 17 is for teams of 4, the taster walk is for any size of grouping.
We'll walk, talk, learn and laugh our way around a gently paced 15kms route through stunning countryside. We'll walk at a pace that allows everyone to talk comfortably. And we'll take plenty of stops to take in the views and discuss topics of interest – everything from clothing and kit, through basic navigation and first aid, to fund raising ideas. All walks have a pub or cafe half-way round. And the start/finish points are accessible by train.
Who is it for?
The taster walk is aimed at anyone considering signing up for #cumbrianchallenge. Family and friends are actively encouraged to come along too. They are your greatest supporters, and the taster walk will give them an insight to the Challenge as well as a great day out. And, of course, they may be so inspired that they too sign up for #cumbrianchallenge!
Where is the start/finish point? Where can I park? What about toilets?
We will be starting/finishing at the front entrance to Berkhamsted railway station. For car travellers there is a station car park as well as a choice of others a short distance away in the town. See map below.
From Berkhamsted our route will take us past Berkhamsted Castle and nothwards through fields and woodland to Ashirdge House. From there we'll walk along Prince's Riding to the Bridgewater Monument and the National Trust centre and cafe. After some lunch or refreshments (at additional personal expense) we'll loop southwards along the Ickneild Way and along the edge of Northchuch Common before dropping down to the Grand Union Canal and a final canal-side walk back Berkhamsted railway station.
There are toilets at Berkhamsted railway station and at the National Trust centre cafe half way round our walk. Otherwise, Mother Nature will provide.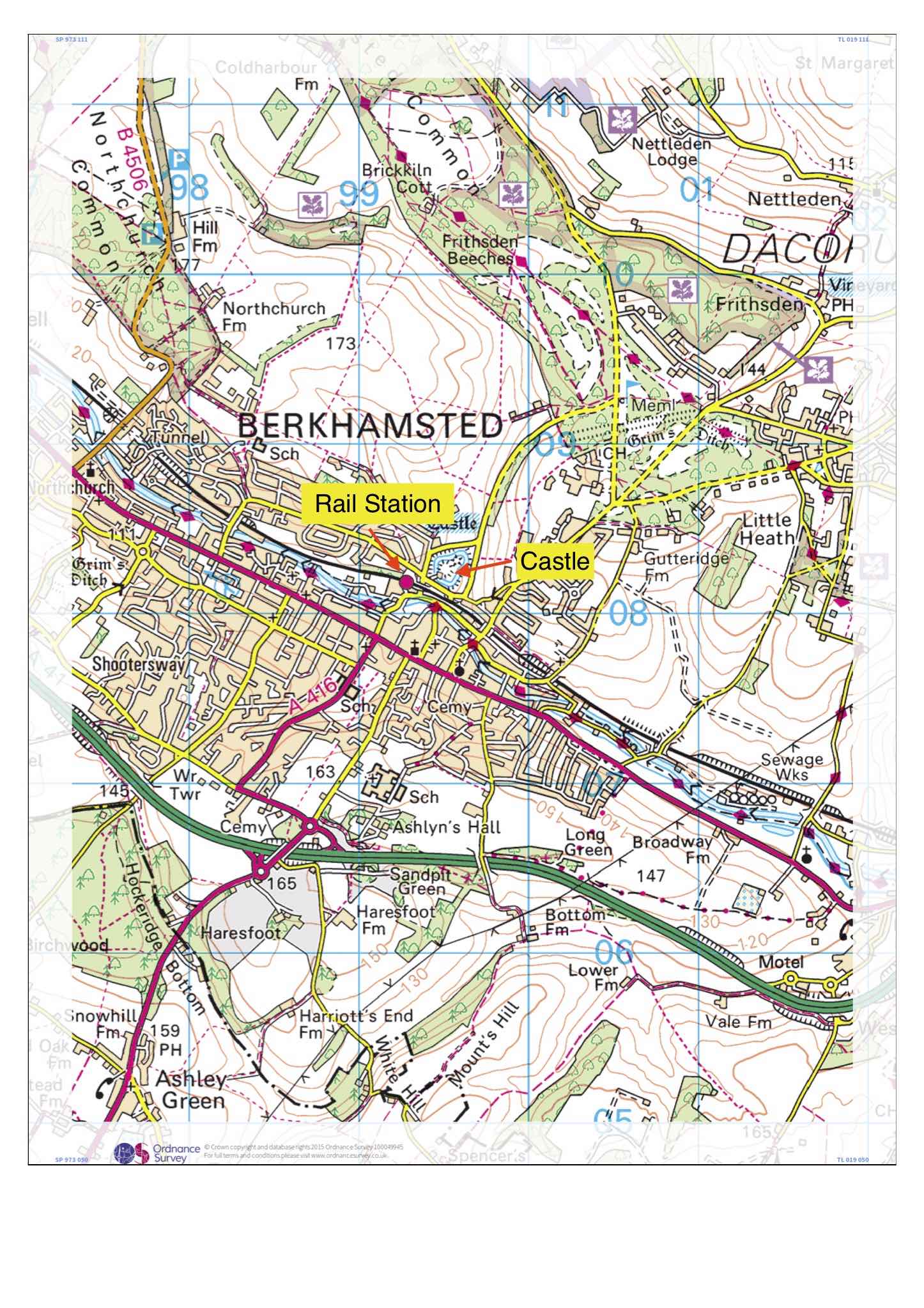 Who is looking after us?
Your leaders for this taster walk are highly experienced and qualified mountain leaders with outdoor first aid qualifications. We will always operate on a ratio of one leader per eight clients. You will be in safe hands.
Where can I contact the organiser with any questions?
Email: dave@freshairlearning.com
How fit do I need to be? How far are we walking?
The route is on well used paths throughout, with stunning rural, woodland, and canal scenery .

The distance is 15kms with a one short (15 minutes) ascent and descent. The route is otherwise generally flat.

We will be walking at a pace which allows people to talk comfortably, and we will be stopping regularly.

If you are in any doubt about your ability to undertake this walk, consult your GP and the organisers.
What clothing & equipment will I need?
Walking boots or sturdy footwear with good grip, and ideally ankle support. Wellies are not suitable.

Waterproof over-trousers and waterproof jacket.

A spare warm layer for stops.

Warm headgear and/or sun-hat/sun cream/lip salve according to weather forecast.

Your own snacks and water (1 litre recommended). We will stop at the National Trust centre and cafe approximately half-way around for refreshements and to refill as necessary.

Personal medication as required.

Small rucksack
Note that we are able to provide participants with a 15% discount code for their sole use at Cotswold Outdoor, one of UK's leading outdoor clothing and equipment retailers.
What about bad weather?
The walk will go ahead in all but the most extreme weather. The route may be modified to keep you safe and make the best of conditions.