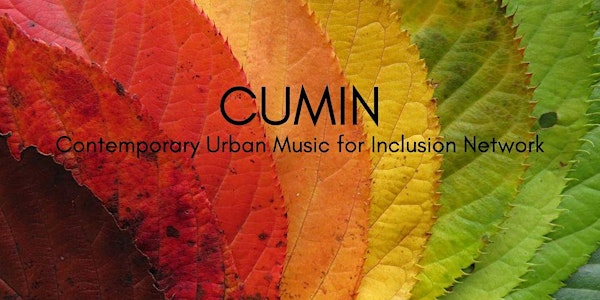 CUMIN online WORKSHOP1 and LAUNCH: 'Impact measurement and evaluation'
An online workshop to support impact measurement of social and/or educational projects that use contemporary urban music for inclusion
About this event
This online workshop is the launch event for CUMIN: Contemporary Urban Music for Inclusion Network. All are welcome!
CUMIN is a new AHRC-funded network designed to explore the barriers to social and educational recognition of contemporary urban musics of various kinds (hip hop, EDM, grime, house, techno and so forth) and the benefits which can arise from its inclusion in school curricula, social projects and any other context. Cumin promotes knowledge exchange amongst and between practitioners in educational/social fields, academics, policy makers and any other interested partners
The purpose of this online workshop is to explore the following questions: What can be achieved when contemporary urban music is included within social and educational projects? What are the impacts for specific groups of individuals (women, BAME people, school refusers, people with low levels of literacy and so forth)? How can this impact best be measured? What are the best methodologies for measuring impact? The participants will include leaders of educational and social projects, researchers with a specialism related to contemporary urban music and marginal groups, and researchers with a specialism in measuring impact in an educational context.
Hosted by the University of Cambridge, Arts and Creativities Research Group, this online workshop features a practical demonstration from Y? (NYC born Artivist and Educator who uses "Cypher Pedagogy" in order to impact, educate and empower clients and participants) and presentations from Ruff Sqwad Arts Foundation (music project led by Grime legends Prince Owusu-Agyekum (aka Rapid) and Ebenezer Ayerh (aka Slix)), Sonia Ilie (Cambridge University, on impact measurement), Inka Rantakallio (University of Helsinki), Ailbhe Kenny (University of Limerick) and others.
A Zoom link will be sent to you by email nearer to the date of the online workshop
Our website is currently under construction, but for more information about CUMIN, you can visit:
our Facebook page https://www.facebook.com/CUMIN-Contemporary-Urban-Music-for-Inclusion-Network-107523925141644
our Instagram https://www.instagram.com/cuminetwork/?fbclid=IwAR2xyO7nqWuvRwFWrZLRqBgT7SPUZjcvRqlupCjYTOPec2j_n5qWWU4_CN4
or our Twitter feed https://twitter.com/CUMINetwork?fbclid=IwAR0zs2Pg6NslA-nF_oAevTtlTNn93eMqQItjMkXsq936A1vUrODgNKfThyA
Pete Dale (PI) and Pam Burnard (Co-I)