CUriosity3: Sound in Art and Science

Wednesday, February 12, 2014 from 7:00 PM to 8:30 PM (EST)
Event Details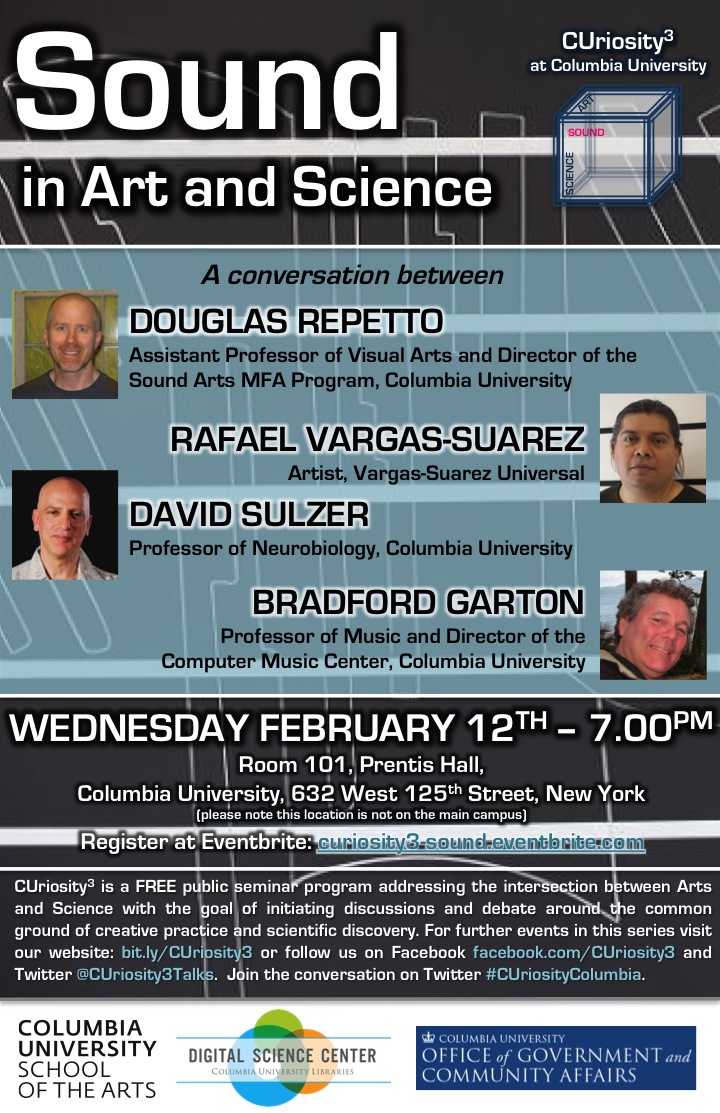 CUriosity3 is a public seminar program addressing the intersection between Arts and Science with a view to start interesting discussions and debate around the common ground of creative practice and scientific discovery. 
"Sound is a concept that transcends the sciences, from the oscillations and energy responsible for generating sound waves, to the perception of music by the brain. Artists can transform our understanding of such principles, by manipulating our experiences of sound and offering transformations into visceral artworks. Join us for short talks and an audience led panel discussion where we'll hear examples of how art and science converge through this fascinating medium."
For this session on "Sound" we are fortunate to have Julia Buntaine in the chair, of SciArt in America Magazine http://www.sciartinamerica.com/. As a practicing SciArtist with background in Neuroscience, she will lend her own insights into the discussion and field questions from the audience to the panelists.
The discussion part of the evening is open to all, with a chance to ask questions of our speakers about the goals of their research and practice, and how their approaches influence society at large.
The is event is held in partnership with the Miriam and Ira D. Wallach Art Gallery at Columbia University http://www.columbia.edu/cu/wallach/
Join the conversation on Twitter @CUriosity3Talks
For further events in this series visit: http://bit.ly/CUriosity3

Subscribe to the CUriosity3 mailing list* indicates requiredEmail Address *First Name Last Name

When & Where

Room 101, Prentis Hall
Columbia University
632 West 125th Street
New York, NY 10027


Wednesday, February 12, 2014 from 7:00 PM to 8:30 PM (EST)
Add to my calendar
Organizer
Columbia University School of the Arts - Office for Community Outreach and Education
CUriosity3: Sound in Art and Science