CUriosity3: The Brain in Art and Science

Thursday, March 13, 2014 from 7:00 PM to 8:30 PM (EDT)
Event Details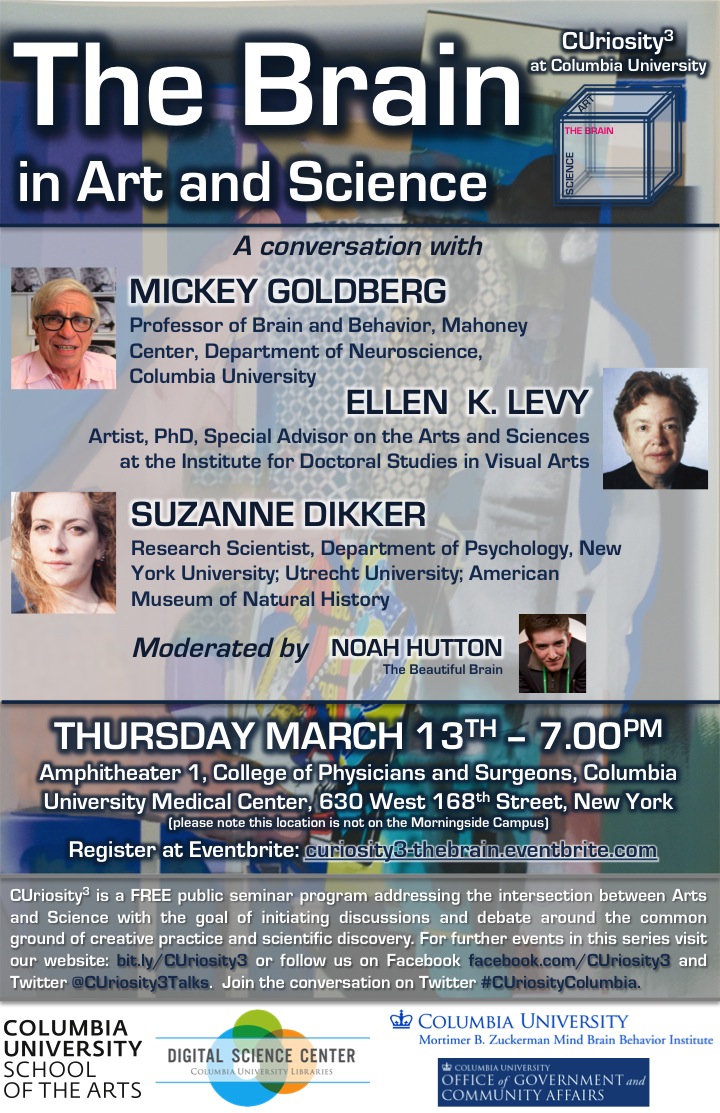 CUriosity3 is a public seminar program addressing the intersection between Arts and Science with a view to start interesting discussions and debate around the common ground of creative practice and scientific discovery. 
"Understanding how we perceive the world around us and process the raft of conscious and unconscious stimuli that bombard our senses is a source of constant inspiration and intrigue for artists and scientists alike. Join us for short talks and audience led panel discussion, where we will discuss our current understanding of the brain in relation to neuroscience phenomena such as "inattention blindness" and the "power of the mutual gaze"."
For this session on "The Brain" we are thrilled to have Noah Hutton in the chair, of The Beautiful Brain http://thebeautifulbrain.com/. With a passion for all things Neuroscience, Noah will lend his own insights into the discussion and field questions from the audience to the panelists.
The discussion part of the evening is open to all, with a chance to ask questions of our speakers about the goals of their research and practice, and how their approaches influence society at large.
Please note: You will be required to bring Photo ID in order to enter the venue.
Please enter via the William Black Building entrance, 650 West 168th Street where there will be someone present to direct you to the venue for the evening.

The is event is held in partnership with the Mortimer B. Zuckerman Mind Brain Behavior Institute at Columbia University http://zuckermaninstitute.columbia.edu/
Join the conversation on Twitter @CUriosity3Talks 
For further events in this series visit: http://bit.ly/CUriosity3 
For further events in March about the brain visit: http://www.columbia.edu/brainmonth2014

Subscribe to the CUriosity3 mailing list* indicates requiredEmail Address *First Name Last Name

When & Where

Amphitheater 1, College of Physicians and Surgeons
Columbia University Medical Center
630 West 168th Street
New York, NY 10032


Thursday, March 13, 2014 from 7:00 PM to 8:30 PM (EDT)
Add to my calendar