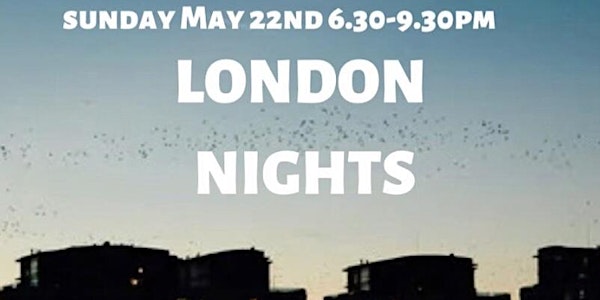 Curly Wordy Presents: London Nights: A Night of Spoken Word & Music
Location
The Goodness Brewing Co
Clarendon Yard
Unit 5a Coburg Road
London
N22 6TZ
United Kingdom
A night of with some of the capital's unforgettable spoken word and musical creatives.
About this event
Curly Wordy Present: London Nights - an unforgettable night of spoken word and music splendour
I am excited to announce that I will hosting a special spoken word & music event @thegoodnessbrew in Wood Green on Sunday May 22nd 6.30-9.30pm IN AID of my children's storybook bereavement campaign.
PLEASE NOTE tickets are offered as FREE but DONATIONS will be taken on the DOOR/ ON THE NIGHT and will go towards my 'Hurricane Brain' book campaign . Cash and card payments will be accepted on the night.
I am humbled to be joined by a stellar line up of poets and some musicians, who I respect and adore.
The throng of poets and creatives who have joined forces with me , Curly Wordy (@curlywordy) on this extravaganza of a night are, in no particular order,
Hollie Dee (@holliedee.poetry)
The Metaphorest (@themetaphorest)
Neelofer Nova ( @neelofer_Nova)
Casey AB (@casey_arturo)
Michelle Clarke- Campbell (@shoreasthetide)
Nick The Greek (@nickthegreekofficial)
Evie Blu (@evie_blu_)
Adisa (@adisa_tatoos)
Cleo Patterson-Ramsey (@cleo_patterson_)
Poet_RS (@poet_rs)
ZahraWritesPoems (@zahrawritespoems)
TygerSoul (_@tygersoul)
Patrick Evans ( @patsthetrick)
Plus some musical surprises on the night . YOU DO NOT WANT TO MISS THIS CREATIVE CREW UNDER ONE ROOF.
We will stand side-by-side all as a featured headliners because in truth, we all headline worthy.
We will offer you our words of tier so come and soak in the souls words
For every 2 books backed I will donate one to a London school, hospital, hospice and hospital. By attaining more funds I will be able to fully illustrate it back-to-back as well as explore turning the story into a show that could tour libraries and /or schools. For young children, pictures are so emotive and important in the process of connecting to a story so it will mean I don't have to cut corners
I will also ask each performing poet/ musician to nominate a local library, hospital, hospice or a school of their choice and donate to that setting too.
Why would you want to miss amazing spoken truth, music, pizza and freshly brewed beer on site at the @thegoodnessbrew Come join us for this 3 hour event that will be balanced with some intervals to chat to your neighbor
Deets
When : Sunday, May 22ndTime: 6.30-9.30pm Where The Goodness Brewing Co, Clarendon Yard, unit 5a Coburg Road, N22 Nearest tube :Word Green
Bring your pacemaker cos it gonna get you heart racing
#poetry #poetsofinstagram #poetsociety #poet #poetrycommunity #poetrylondon #spokenword #spokenwordpoetry #music #musician #live #liveaudience #woodgreen #london #whatsonlondon #brewingbeer #pizza #artist #londoncity