CURLYTREATS, the premier destination for the curly hair community.
About this Event
COVID-19 (Coronavirus) Announcement
Following the recent government advice relating to COVID-19 we have made the difficult, but considered decision, to postpone CURLYTREATS & reschedule to the Saturday17th April event.
Health & Safety is paramount, and it would not be ethical of us as a company to allow attendees, exhibitors, speakers and staff to attend knowing that the government has advised against mass gatherings in the UK amid the coronavirus outbreak.
Please see the FAQ section below for answers to your immediate questions for ticket support and exhibitor support.
Q: Is the event cancelled or postponed?
A: The event has officially been further postponed and rescheduled to 17th April.
Q: If I purchased a ticket for the event, what does this mean?
A: Your ticket is valid for the next event.
Q: Will I get a refund?
A: Unfortunately, you will not receive a refund, however, all tickets to this event can be used for the rescheduled date.
It is a difficult period for those affected worldwide. Our sympathies are with those who have been affected globally. We hope this situation recovers itself soon.
Thank you for your patience and continued support during this challenging time. We look forward to welcoming you to our next event.
WHY ATTEND?
Because who doesn't need some fresh natural hair inspiration?
An exciting and busy event, CURLYTREATS invites you to spend time in the conference sessions and masterclasses of interest to you; browse the popup shops in the expo and meet expert speakers; share experiences with thousands of other visitors at CURLYTREATS.
The CURLYTREATS is open to all – it is mainly a useful event if you are:
💚 In need of encouragement & inspiration on your healthy hair journey.
💚 Seeking hands-on training and knowledge from professional hairstylists.
💚 Transitioning from permed to natural hair or newly natural.
💚 Natural but a wearer of protective hairstyles, e.g. braids, wigs, weaves, etc.
💚 Seeking hair care education about how to grow healthy natural hair.
💚 A parent of a child with curls, coils, fro or locs.
💚 Thinking about giving up the harmful chemicals from relaxers.
💚 Learn about products ingredients from the brands & people who use them.
💚 A product junkie seeking discounted hair products and discover new brands.
💚 Seeking collaboration opportunities as a blogger, vlogger or influencer.
💚 Interested in celebrating your natural beauty.
FEATURED IMAGES FROM CURLYTREATS 2019
We welcomed over five thousand visitors at our Autumn / Winter edition of CURLYTREATS. On Saturday, October 25, 2019, visitors explored the expo, joined educational conference talks for adults, engaged in break-out sessions for young people, and boogied down to great music. Here's a few curated photos taken at the event. 💛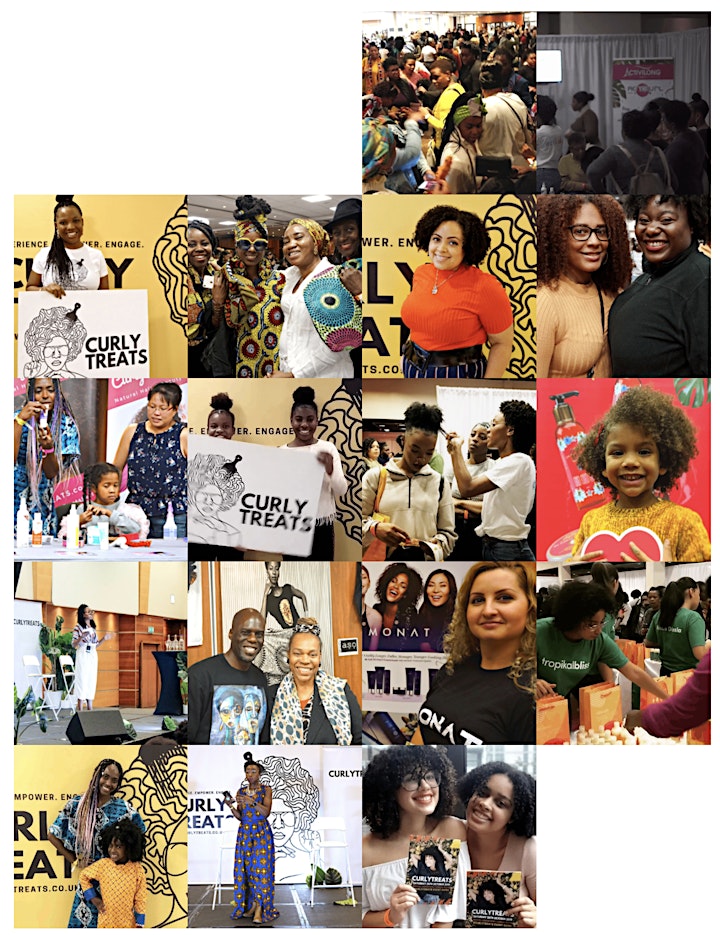 ABOUT
"Together we celebrate, together we empower" - Vinna Best, CEO
CURLYTREATS is a premier destination for the curly hair community.
Back by popular demand, the Spring / Summer edition of CURLYTREATS will take place on Saturday 31st October 2020 at NOVOTEL West London in Hammersmith. We commit to providing hair education to people who have an interest in natural hair care, health, styling and products.
Our mission is to provide transformational experiences where people can empower, educate, encourage and enhance each others lives.
CURLYTREATS creates experiences that uplifts and strengthens the natural hair community.
CURLYTREATS events offer a wide range of activities for visitors, including the expo, conference talks, break-out sessions and masterclasses.
Celebrating Curls, Coils, Afro Hair, And Locs Since 2013.
VENUE
Novotel West London, Convention Centre, London, W6 8DR 🇬🇧
VERSATILE LONDON EVENT SPACE DESIGNED TO IMPRESS
NOVOTEL West London is one of London's leading convention venues. Custom-built for large-scale national and international events, the NOVOTEL West London being self-contained is an ideal place to host exhibitions, conferences, meetings, product launches and trade shows of all sizes.
The CURLYTREATS will be held on the ground and first floors of NOVOTEL West London.
DON'T TRUST US! HERE'S WHAT THE PEOPLE HAD TO SAY
"It was really packed! There were a lot of people celebrating and loving our natural hair...There were a lot of local brands present, but the international brands were also there. Of course, we love us some curly hair tools & accessories so this was a good opportunity to buy them... Beauties we can tell you! There was such a great vibe, positivity and so much love 💕" - WE TALK BEAUTY NL
"Fab day out @curlytreats with these girlies who are embracing their curly natural hair and empowering each other with their hair journeys!" - JENNIFER LANCASTER
"Such a great day spent at @curlytreats discovering new brands and meeting other curly like minded people. Good to see @osocurly and @ukcurlygirl once again doing her thing 💓 lovely to meet @curleebox too for the first time after being a fan for so long. Can't wait for next year's edition." - CURLSNSTARS
'Thank you @curlytreatsfest @curlytreats for having me on Saturday! Really enjoyed my time there and got to see so many quality brands and curls in all their glory! The link between hair and nutrition often gets overlooked so it was my pleasure to be able to share all things health from the inside out amongst some hair and beauty legends!" - AMAEZE MSC ANUTR
"Today was super amazing, it was like london had been hungry for a good afro hair event for way too long! Well done @curlytreatsfest We learnt so much during the workshops and from the exhibitors!" - FAROUK JAMES
MOST FREQUENTLY ASKED QUESTIONS
You've got questions about attending CURLYTREATS. We've got the answers.
No Refunds