Networking for Business Professionals. We Humanize the online experience. Come and join us on the 15th December 2020, 12.30pm to 2:30pm.
About this Event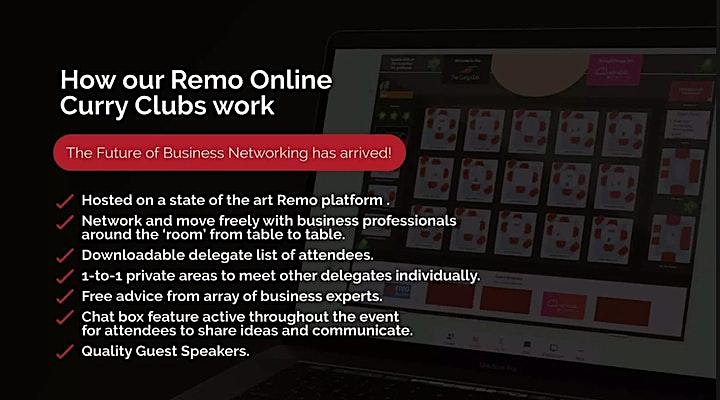 We're excited to be partnering with Women's Business Network Lancashire to bring you an online event. Tired of not being able to network due to COVID-19? We have brought you the perfect solution. Network across the country in the comfort of your own home with The Curry Club on REMO. Here you can:
· Creating Authentic Conversations.
· Driving Meaningful Conversations.
· Scaling Small Group Interactions.
· Talk To Whoever You Want When You Want On Small Tables Online
No geographic boundaries
Forget about those hours spent travelling. Forget about those long journeys to events.
We bring business connections to you. In the comfort of your own home, office, or chosen environment.
Expand your network. Meet businesses from across the whole of the UK without travelling
Move around tables freely in a virtual environment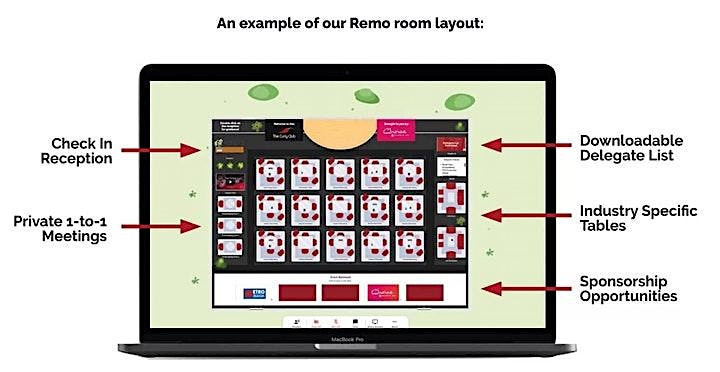 Women's Business Network Lancashire Blurb
Having adapted swiftly in March we have now seen the power in the connections made through WBNL.
Women's Business Network Lancashire will continue to meet on the 1st Monday of the month at 7pm on Zoom!
Thank you to everyone who is attending our Free online Virtual network meetings. For now we meet virtually using ZOOM, we have been meeting for over 13 years and due to our members and their support we have so far survived Covid-19. We hope you and your families are safe and well and managing to find a balance between life and work.
We have a huge range of business ladies as members and we don't advertise- we rely on our amazing WBNL ladies inviting other amazing ladies!
Thank you again to everyone who has attended our virtual networks and events. Our ladies have been offering their services for free to our members from DRU Yoga, Nutrition, Social Media for Business, Reiki, Laughter workshops, online safety for parents, Finance and several others. A huge thank you to all who have contributed their time. We are going to keep these free as long as possible.
Normally -Fun and networking with business women from all over Lancashire & Northwest. 1st Monday of every month we have speakers, raffle. Booking used to be essential to enable the chef to prepare the best meal possible. When allowed we meet at The Cavandish Arms on a Monday evening, the chef prepared meals to order and we had use of the whole building, there are several rooms, including a dedicated function room with screen and meeting space. This is a gem of a venue and we are very lucky to be able to be based here. We look forward to returning as soon as the pandemic allows and it is safe to do do.