Description
Putting customer experience at the heart of your organisation
CX Day a FREE to attend event and is part of the Customer Experience Association's global meet-ups, that are taking place across 20 countries.
This year, for the first time, Birmingham will host an event, bringing together subject matter experts and business leaders looking to learn more about the importance of customer experience.

Join over 100 execs, including delegates from Virgin Media, SKY, Direct Line Group, Accor Hotels and SSE at The Birmingham Repertory Theatre, where you will hear from expert speakers, see transformational case studies, engage in demonstrations, and get insightful information in the form of top tips and guides. The event will then finish with networking drinks, entertainment and canapés.

This year's event will feature the well renowned CEO of HomeServe Membership, Greg Reed, who will be speaking about the importance of bringing customer experience and employee engagement closer together. Following a 20-plus year international career in Banking, Greg now leads a business of over 3,000 People, with 2.1m customers and a turnover in 2017 of £326m. In 2016, GlassDoor recognised HomeServe Membership as one of the three best places to work in the UK; in the same year, the Institute of Customer Service judged HomeServe to have the most improved Customer satisfaction of any business in the UK services sector.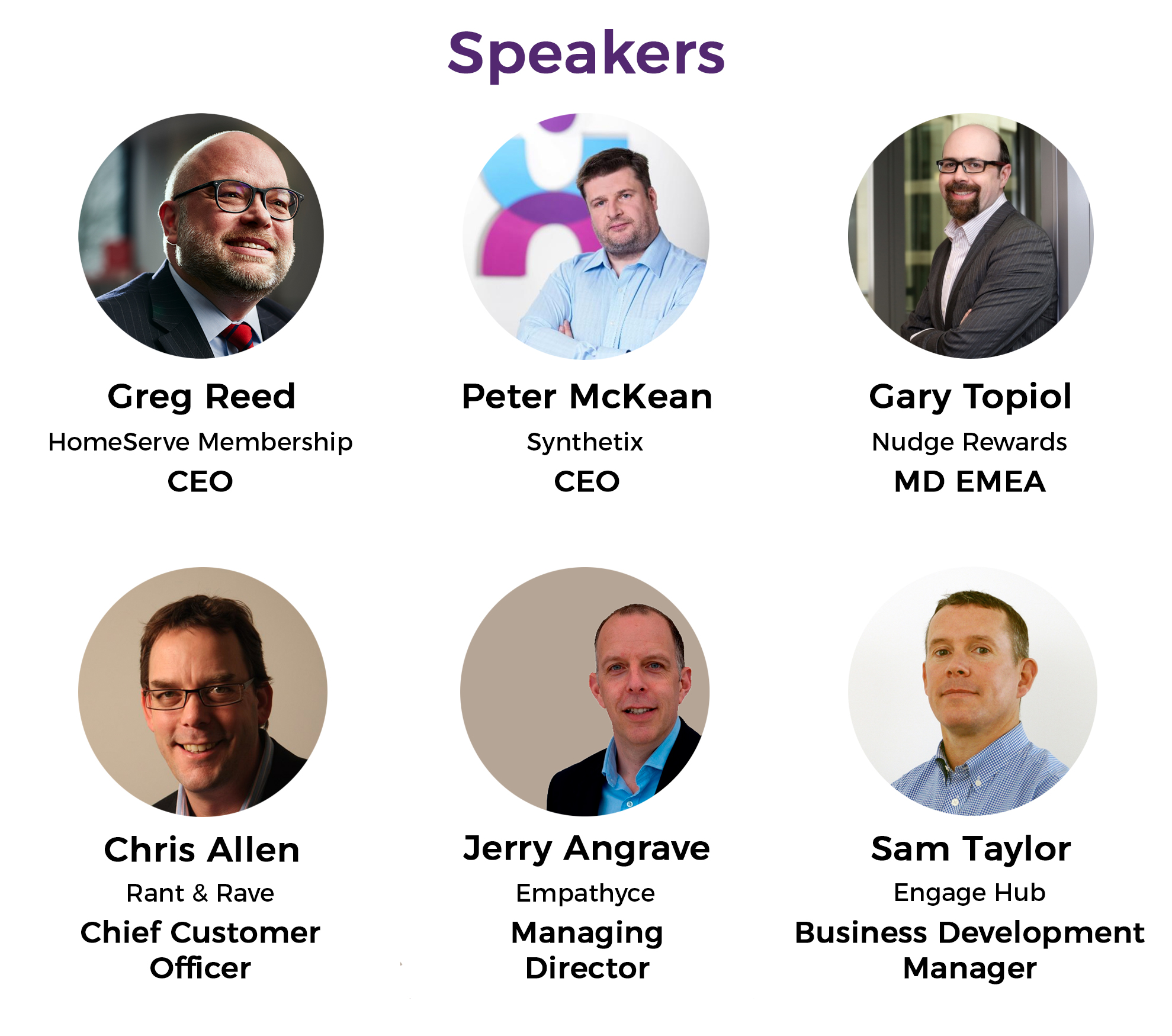 Greg will be joined by Gary Topiol, Founder of TopCX and Managing Director EMEA of Nudge Rewards. Gary will be speaking about how to engage a millennial workforce and empower them to deliver a great customer experience. As MD of Empathica and InMoment, he spent 10 years helping retailers to design, measure and improve their customer experience strategies. Having left InMoment in 2015, Gary founded TopCX to continue his passion for helping organisations to move past metrics and focus on what really matters - the customer.


Gary will be followed by Peter McKean, CEO of Synthetix. Peter's presentation will take a look in to the future: To Bot or Not - Are Virtual Agents the next big thing in Customer Experience? Peter has pioneered the development of AI-based Virtual Agents and Natural Language Processing for self-service, building a suite of powerful, knowledge-driven multi-channel customer service applications which are cloud-first and deeply integrated with each other to deliver great customer experiences.

Next up will be Chris Allen, Chief Customer Officer at Rant & Rave who will be telling us how to build exec and employee engagement, and drive change through the power of stories.
Chris is responsible for keeping Rant & Rave's clients raving; overseeing everything from the development and direction of their customer success strategy to their implementation processes, driving value, retention and satisfaction.
With more than 30 years' experience in the tech industry working for brands such as Medallia, NetApp, AT&T and NCR, Chris' extensive expertise and passion for software ensures that Rant & Rave put the customer at the heart of everything they do.

We will finally hear from Sam Taylor from Engage Hub. Sam will be telling us how technology can deliver highly personalised, connected experiences across multiple channels. Sam has over a decade of experience in successfully delivering cross-channel communications for the likes of Tesco, DPD & Barclays. He's passionate about working closely with organisations, helping them to deliver automated, data-driven customer experiences.

The event will cover the following topics:
The link between a great customer experience and organisational growth
How to get started with CX and be

successful

Bringing CX and Marketing closer together for amazing results
CX Transformation. What is it? is it relevant?
The future of customer experience - Innovation and Artificial Intelligence

Introducing the Customer Experience Club


Announcing Customer Spark
"If we can create a lot of positive energy from pulling together dozens of CX professionals, think about the power of pulling together thousands or tens of thousands of them. That's why we created Customer Experience Day."

- Bruce Temkin, Managing Partner & Customer Experience Transformist, Temkin Group


The Agenda
:
12:00 - 13:00 - Registration, Coffee & Tea and Networking

13:00 - 13:10 - Jerry Angrave, CXPA Representative
- CX Day Opening Remarks - Putting customers at the heart of your business

13:10 - 13:50 - Greg Reed, CEO, HomeServe Membership
- Bringing Customer Experience and Employee Engagement closer together

13:50 - 14:30 - Gary Topiol, Managing Director EMEA, Nudge Rewards
- How to Engage a Millennial Workforce & Empower them to deliver a great Customer Experience

14:30 - 15:00 - Coffee & Refreshments

15:00 - 15:40 - Peter McKean, CEO of Synthetix
- To Bot or Not - Are Virtual Agents the next big thing in Customer Experience?

15:40 - 16:20 - Chris Allen, Chief Customer Officer, Rant & Rave
- How to build exec and employee engagement, and drive change through the power of stories

16:20 - 16:35 - Sam Taylor, Business Development Manager, Engage Hub
- How technology can deliver highly personalised, connected experiences

16:35 - 16:40 - Gerry Brown, CXPA Representative
- Announcing Customer Spark

16:40 - 16:45 - Don Hales, Chairman, Awards International
- Customer Experience Awards 2018

16:45 - 17:00 - Yiannis Maos, CMO, ALCMY Studios
- Closing Remarks

17:00 - 18:00 - Networking, Drinks, Canapés and Entertainment
The event is being organised by ALCMY Studios on behalf of the Customer Experience Professionals Association (CXPA) and is being supported by Customer Experience Magazine and our sponsors Synthetix (www.synthetix.com), Rant & Rave (www.rantandrave.com), The Engage Hub (www.theengagehub.com) and Nudge Rewards (www.nudgerewards.com)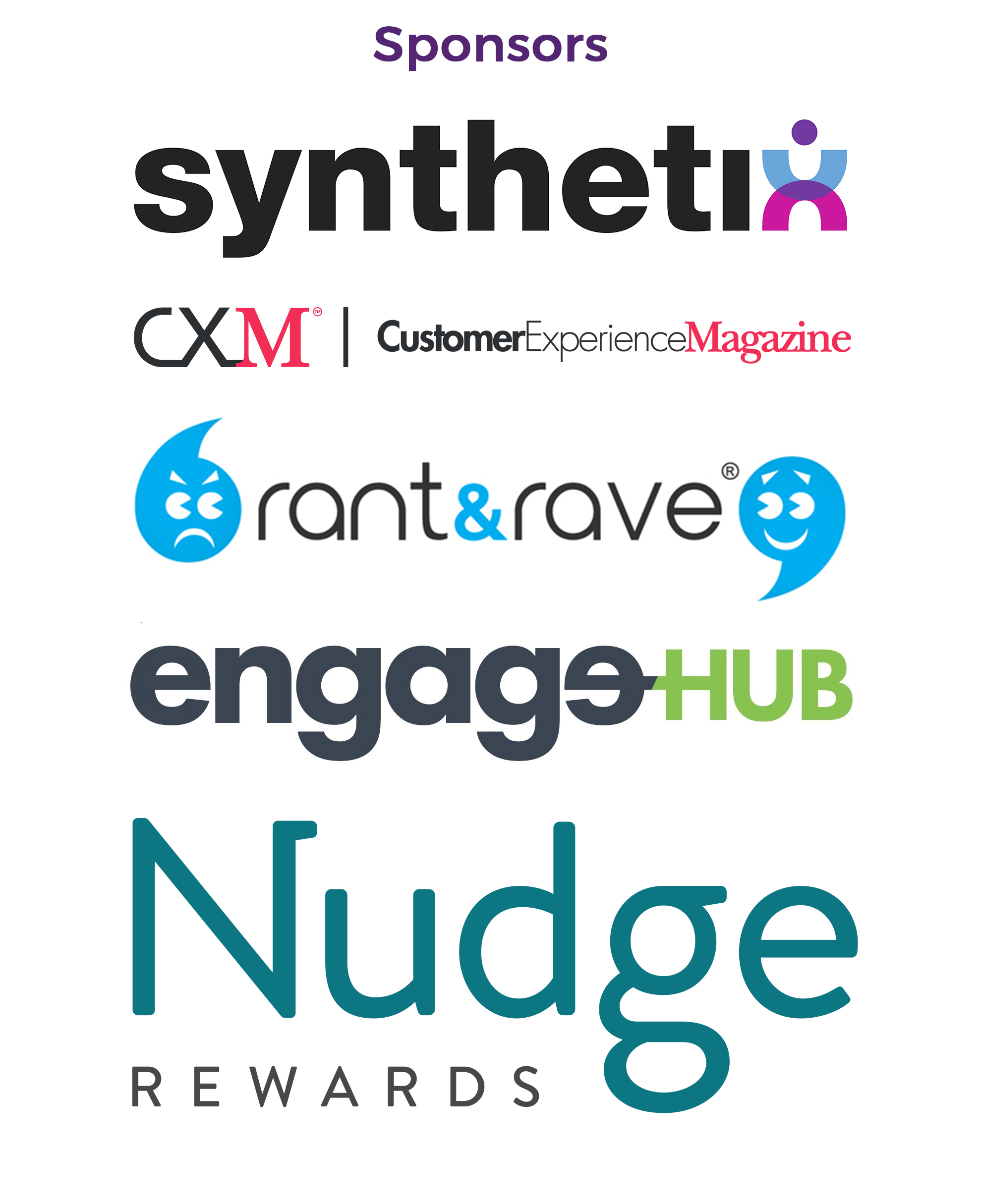 For press enquiries please contact Yiannis Maos: yiannis@alcmy.xyz