Cut Family Stress, Boost Energy & Create Time with Lorraine Thomas
About this Event
"Lorraine's interactive seminar is packed with energy, enthusiasm and expertise. It is a great opportunity to learn from the internationally renowned, Parent Coaching Academy and has made a significant difference to me as a mum and to my business. Lorraine involves everyone with her experience, knowledge and many practical techniques based on years of study and performance." Lara Mastine: Psychologist, Coach and International Speaker (Brazil)
Cut Family Stress, Boost Energy & Create Time - 7 Good Habits of Great Parents & Carers
As a parent today, we are under increasing pressure. There's always too much to do - and never quite enough mum or dad to go around. We're on the clock 24/7. Feeling tired and stressed, we often struggle to keep calm and be the parent we want to be. And our children struggle to manage the stresses and strains of daily life too.
Stress-management and mental health issues are having a huge impact on families worldwide. A recent Parent Coaching Academy (PCA) survey revealed, 9 out of 10 children and 9 out of 10 parents feel 'stressed ' daily. Only 1 in 10 young people believe their parents are a positive role model when it comes to handling stress well.
Young people are more anxious than ever with demands at school, at home and online. It can affect their physical and emotional health and wellbeing. It stops them sleeping. It drains their energy and self-esteem. Their struggle to manage feelings like anger, stress, fear and tiredness often results in tantrums and challenging behaviour at home.
This parent coaching masterclass will show you how to cut family stress, boost energy and create time. It's packed with easy-to-implement tools and proven techniques you can integrate into busy family life. It's an opportunity for you to build on your own skills - and share that expertise with your children. It will equip you to help them manage challenging emotions like anger, fear and sadness - then turn their stress into fuel .
Who will find it helpful?
Parents and carers
All coaches working with families
Teachers and school leaders who want to learn how to help children and young adults manage stress.
Education professionals who want to help parents support their child's stress-management when they are anxious about issues at school and home.
Health professionals, social workers and probation officers
HR professionals committed to offering working parents practical support
Counsellors and therapists
International professionals who want to pioneer a successful parent coaching programme in their countries
What will you learn?
This is your opportunity to reduce stressful situations at home and give yourself and your family more quality time together. During the course you will:
Learn the 7 good habits of great parents & carers to create a 'stress-free' family, boost energy and create time.
Discover countless practical tips and strategies to help your children develop confidence and resilience.
Learn how to establish great family habits in just one week.
Leave with your own personalised, 7-day action plan ready to put into practise with your family - confidently, calmly and consistently
Cut Family Stress, Boost Energy & Create Time - 7 Good Habits of Great Parents & Carers
Habit 1: Be a powerful and positive role model taking responsibility for your own emotions, practising effective '90-second stress-busters' with movement, moment and mindset.
Habit 2: Chatter matters - how to listen so children talk. Learn to manage challenging emotions with this proven 3-step plan - Engage, explore and empower.
Habit 3: Develop your child's 'inner resilience coach' and manage their 'inner critic'. Challenge limiting beliefs, nurture a growth mindset and handle 'perfectionist' tendencies.
Habit 4: Secrets of successful family routines. Talking so children listen and nurturing a 'problem-solving' family team with a 'can do' attitude. Team-building with gratitude for everyone's strengths.
Habit 5: Make sure your family get their essential 5-a-day - sleep, exercise, healthy diet, love and fun.
Habit 6: Create a healthy 'screen' ethos. Understand the impact of screens on stress levels and understand how 'screen-free' times have an immediate impact on time and energy.
Habit 7: Boost energy and create 100% time to 'connect', be present and have fun. Creating family memories that last forever and equip your child with the resources to climb life's mountain with energy, enthusiasm and happiness.
About your host: Lorraine Thomas, the UK's first, and leading, parent coach
Author, 'Super Coach Arty vs The Shadow', 'The 7-Day Parent Coach', 'Get A Life', 'The Mummy Coach' and 'Brilliantly Behaved Toddler'
Chief Executive, The Parent Coaching Academy
Ambassador, International Positive Education Network and Thrive Global
National media spokesperson for launch of Disney's 'Inside Out' as resilience expert
Parenting expert Tesco, WebMD, Toddle About and Sunday Times
International speaker with clients in USA, Brazil, Asia and throughout Europe
Clients include Morgan Stanley, Deloitte, Microsoft, Disney, Lego, Savlon*, Barclay's Bank, Novartis, Tesco, Bank of America Merrill Lynch, Oasis Academies, Schools Trust, Council of International Schools
*Download Savlon's Skin is for living in: a new guide written in collaboration with Lorraine Thomas. It will help you nurture your child's adventurous spirit and growth mindset.
"Lorraine's training has impacted on me and my clients in Saudi Arabia. Lorraine has inspired me to become a parent coach for people with special needs and given me the confidence to make a difference. Her message is strong, 'Impossible says I'm Possible', 'Together we are stronger', 'I'm here to serve you'. With her generosity, kindness and positivity, she'll make a difference in your life as much as she did with me. I'm truly honoured to be her student, learn and train with her. She is amazing." Dima Alghamdi, Coach (Saudi Arabia)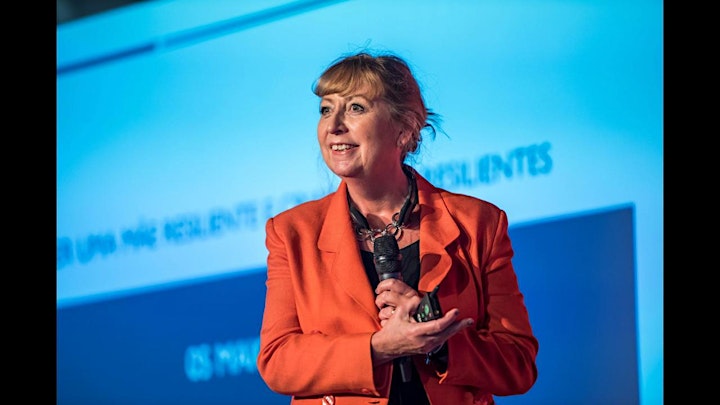 Book your ticket now, to join Lorraine Thomas at The Holiday Inn Kensington Forum on Saturday 21 March 2020 from 10.00 - 16.30hrs.
Tickets are limited so book early to avoid disappointment!