About this Event
Dedicated to International Women's Day, Cute Owl Promotions and FemFriday will bring you some of the most exciting and unique acts from around the UK with a plethora of various musical instruments and genres. Cute Owl are nomadic non-binary promoters who put on the most cutting edge and highly individual acts in different locations in the UK. The festival organized by FemFriday at Latest Music Bar last year was sold out so hurry to get your tickets!
tAngerinecAt
Nothing is quite like a hurdy-gurdy. The tone of the rare instrument is a bit like that of a viola, a bit like an accordion, and more than a little like an analog synthesizer on an otherworldly setting. But while the hurdy-gurdy is associated with folk dances and medieval courts, in the hands of a master, it can make music that's strikingly modern. Eugene Purpurovsky of tAngerinecAt is a musician like that, and the hurdy-gurdy is the hand-cranked engine that powers the duo's remarkable sound.
tAngerinecAt matches the Ukranian-born Purpurovsky's hurdy-gurdy, voice, provocative lyrics, and production with the sound transformation, synths, bagpipes, and ethereal whistles and recorders of musician and sound designer Paul Chilton. Originally formed in Ukraine, where Chilton lived and studied music and the band has historical and musical roots, tAngerinecAt are now based in the UK. Both artists contribute samples, ambient noises, and processed beats that evoke DIY techno, raw punk rock, and spectral folk traditions in equal measure.
Many Kettles, the pair's fourth album, casts a particularly dark spell. This is electronic music with a furious human pulse: a bold dance in the face of cruel authority that evokes "the feeling of a rave in a mausoleum" as Ben Knight LeftLion put it. It's also an outlet for Purpurovsky's fiery statements of intent. The singer and hurdy-gurdy player has plenty to say about the parlous state of the world; "I Don't Want To Be A White Master," the kickoff track on the album, is a furious rejection of the rising global culture of fascism and cruelty. Through tAngerinecAt, Purpurovsky strikes back at oppression of all kinds – class, cultural, economic, ethnic, gender, and interpersonal – and invites the listener to join the resistance.
They have four independently released, successfully selling albums that have had airplay on BBC 2, BBC 3 and BBC 6. The band has toured internationally in Ukraine, UK and Russia.
🌟"tAngerinecAt have been playing gigs at the Adelphi long before they were tAngerinecAt! Even back in the days of their previous incarnation of Dark Patrick, they were always Adelphi favourites.
During our 35 years of running a fully independent underground music venue, we've come to terms with the fact that our most important mission is 'to move music forward as an art form' and tAngerinecAt fill that description whole heartedly.
They are not background music that you hear on the radio whilst you move things along a conveyor belt, do the washing up or try and cop off to.
They are music that you listen to and for it subsequently "feel" to and get transported by.
With the added bonus of always generating a dance floor and a room full of happy sweaty people.
Plus, how often do you get to rave to a Hurdy Gurdy?!
True one of a kinds, a delight to work with and always a top choice for any billing." - Mat Oliphant. Manager at The New Adelphi Club (the legendary venue that recently won the 2019 Outstanding Achievement and Contribution to Grassroots Music Venues Award, where bands such as Radiohead, Pulp and recently Fatboy Slim played)
🌟"Watch out for: tAngerinecAt... this is some of the most powerful music I have heard in a long time..." - LOUDER THAN WAR
🌟"I've never seen someone play a hurdy-gurdy so punk..."
- DEVIL'S DYKE NETWORK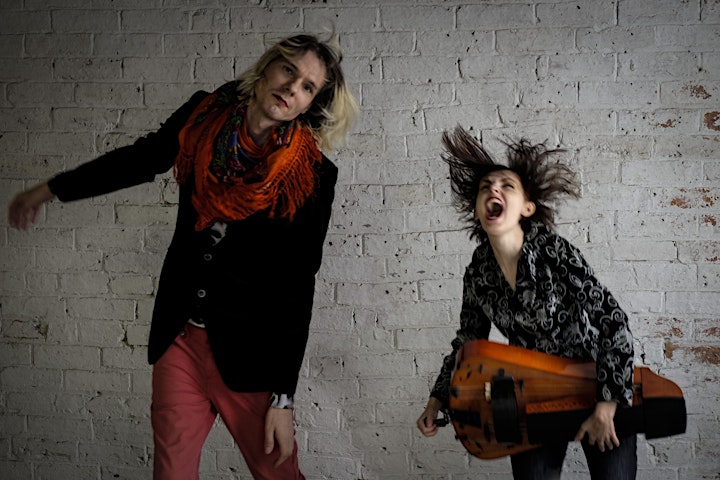 SHE ROBOT
Bristol
Edgy, raw, beatbox and bass driven sensual sounds, layered to perfection to create a mesmerising performance which is powerful yet ethereal.
Award winning loop artist Suzy Condrad effortlessly juggles instruments (voice, guitar, glockenspiel, autoharp, thumb piano, bottles) and genres with a dynamic and arresting one woman show which has amazed and delighted audiences from Shambala to Boomtown Fair, Bearded Theory to Beautiful Days. Dancehall, ska, doo wop, folk and electro collide with blistering beats and haunting, sublime vocal gymnastics to take you on an ever-looping journey which balances real-time loop juggling against timeless songwriting.
​
🌟A seasoned performer and authentic underground artist who has written and self-produced three albums and established herself as a leader in her field, winning the title of Boss Looping UK Champion (2011).
🌟"Very clever. A fine piece of loop pop" - Janice Long, BBC Wales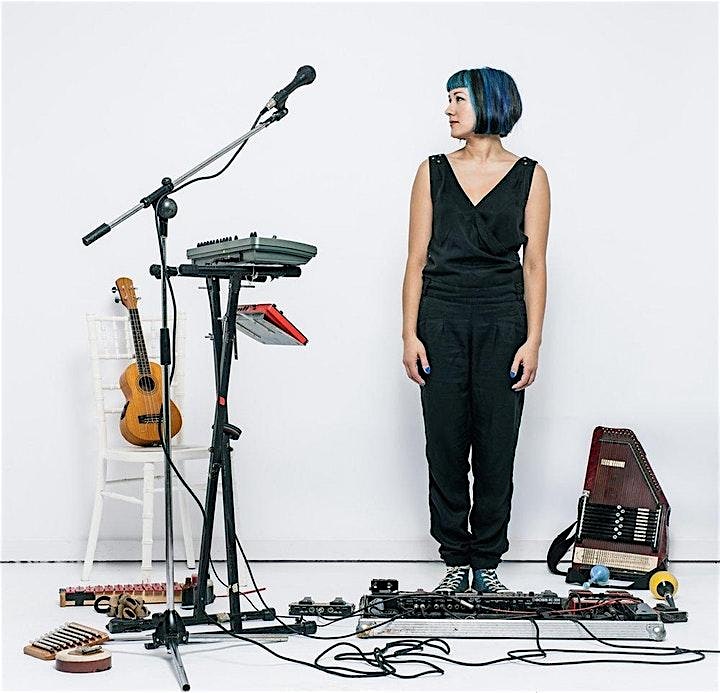 GREENNESS
Greenness is an indie psych-folk band featuring English musician and producer Graham Pratt and French singer-songwriter Cess Frangi.
Greenness have been performing regularly in and around their adopted home of Brighton (including Fringe Festival, The Alternative Escape, VegFest, Oxjam, Sofar Sounds...) as well as a sell-out event at London's iconic Royal Albert Hall (Collide Festival), national tours, several shows across Europe and an appearance at San Francisco's historic Sacred Grounds.
Their live performance, as a duo or with a full backing band, aims to create an immersive and emotional journey through the use of various acoustic and electronic instruments, field recordings of wild animals and poetic lyrics carrying a deep message.
🌿"An absolute revelation, combining a French pop sensibility with the sort of avant-garde vocalising Tim Buckley used to excel at." - Brighton Source
🌿"The panache of a 60s French film, with modern synths and guitars [...] Greenness hypnotised the crowd into submission, using the power of sound."
- Headlights and White Lines
🌿"This Brighton duo incorporates elements of folk, psych-rock and the natural world around us to craft transfixing and beguiling subtle bangers." - Latest 7
🌿"Beautiful, versatile vocals with a Grace Slick resemblance."
- Nat's Life Blog
🌿"Electro-acoustic duo Greenness from Brighton are a revelation, with Cess' awesome voice superbly complemented by Graham's distinctive guitar work."
- The Morning Star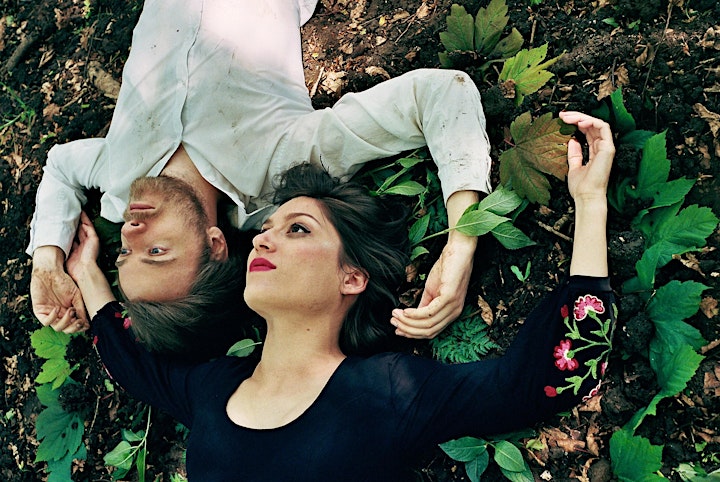 RIOTMILOO
Riotmiloo's musical roots come from riotgrrrl's screams and protest. She started as the lead singer of the London garage punk band Venom Seeds (2003-2008) before showing strong interest in industrial and electronic sounds.
In 2015, Riotmiloo released her first concept album 'La Pierre Soudée', a careful selection of past and present real life stories documenting women's political and social suffering in the world.
Magazines worldwide noticed her strong vocal and her intense stage presence, delivering a live cathartic and hypnotic rhythm and noise experience. The music creates an emotional journey ranging from dark ambient soundscapes to powerful rhythm and noise supporting a vocal delivery that is in turn melancholic or intense. Visuals add another layer to reinforce her message courtesy of the haunting double exposure photographic work of Jessica Hosman.
🌟"Riotmiloo shines brightly with her razor-sharp, confrontational and socio-political lyrics." - Dark Entries
🌟"We can hear the throat-grabbing cry of fear […] as if it could choke you at any moment." - Luminous Dash
🌟"Launching herself onto the ground, several times, showing a commitment to the music which nearly removes her black silk dress..." - Artrocker
🌟"The singer will make you choke on her demonic fury." - N16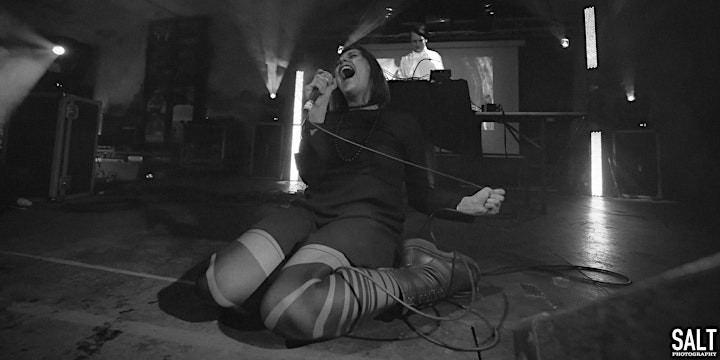 Bee & Jackrabbit
Bee & Jackrabbit are an alt-folk duo based in Brighton, combining indie acoustic guitar and classical cello creating a uniquely moving sound. They are known for their infectious chemistry onstage, thoughtful and observant lyrics, layered harmonies and hypnotic guitar/string arrangements.
"Their music and lyrics manage to conjure images and thoughts much grander than the sum of their parts, with the kind of introspective nobility that could serve as the soundtrack to your life flashing before your eyes during your final moments". - Jimmy Volts, XYZ magazine
🌟"A beautiful E.P; deep rich vocals, dark humour, memorable melodies, cathartic honesty. Murray's music is the kind that will transcend and enrich in a live setting" - Britz N Beatz magazine
🌟"Creative, reflective lyrics put to equally accomplished music" - Lisa O'Connor
🌟"A brilliant songwriter, every lyric and song was relatable and easy to listen to" - InTune Music Blog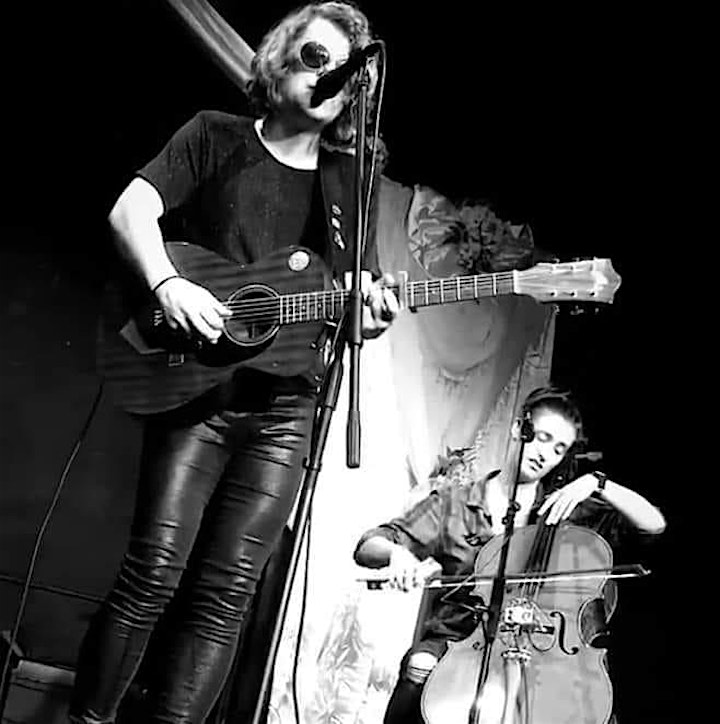 R.DYER
R.Dyer uses loop pedal, musical saw, saxophone, noseflute, found sounds, homemade instruments and household objects to combine baroque pop songs with improvised performance. Influences include: Owen Pallett, The Books, Shooby Taylor, The Hidden Cameras, musique concrete, Jonathan Richman and Harpo Marx.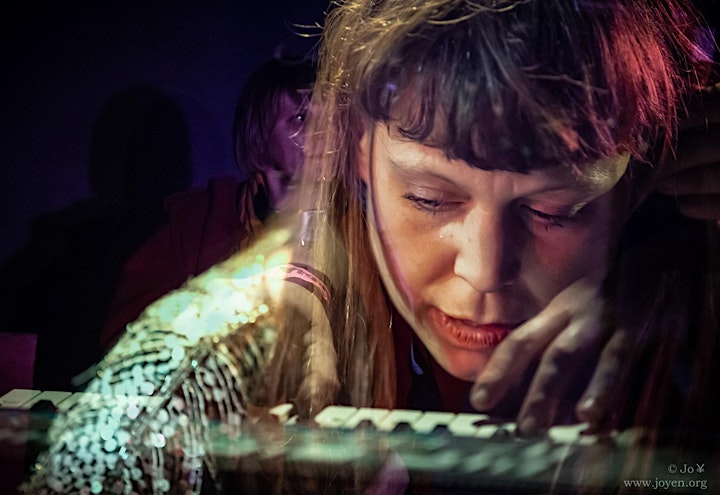 SUN // AIR
Indie Brighton-based three-piece. The band emerged at the end of summer when bassist, percussionist and all-round music wizard Ben met singer-songwriter Hind. They were later joined by Charlie whose dreamy guitar complements the warm and unique vocals.
ACCESSIBILITY
16 +
The venue is down a fairly long flight of steps.
____________________________
Latest Music Bar, 14 - 17 Manchester Street, BN2 1TF Brighton
6pm | £5/6 ADV / £8 OTD |