Description
Axe Throwing for CIOs and other IT leaders fed up with the status quo.
What will you get?
Four lightning Cloudsprawl talks, a heated debate, a bit of grub, an hour to throw axes at a wall, and then the pub.
17:00pm – Lightning Talks
18:00pm – Head to Whistle Punks
18:15pm – Start Throwing Axes
19.45pm – Trophy & Awards (with Grub)
20:00pm – Pub & more Grub
What we'll be talking about?
Talk 1: Solving the Cloud Sprawl issue - Paul Orrock, CTO, Digital Craftsmen

Talk 2: Serverless. Bullshit or silver bullet? - Danny Waite, CTO, Furnace

Talk 3: My datacentre and I: a (chronic) love story - Michel Drescher, CTO, CloudStrato

Talk 4: Good Governance Starts Here - Frank Bennett, Deputy Chair, Cloud Industry Forum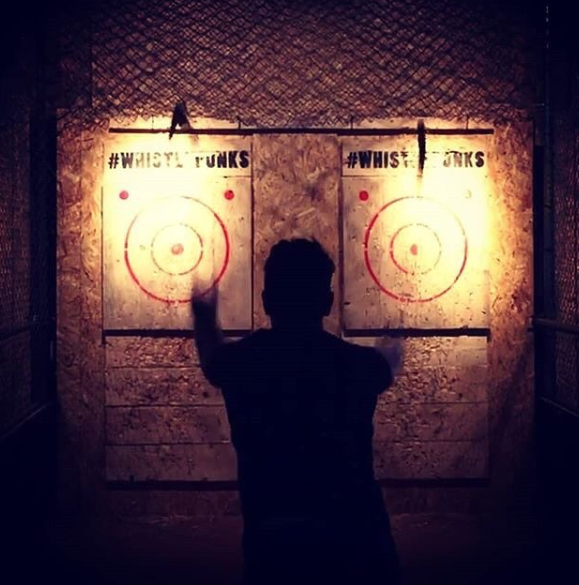 Why should you attend? You need to get out of the walled garden for an evening.
To learn, you need to be in an environment where you aren't hassled by pushy sales people, handing out your business card to freelance executive coaches or having champagne thrown over your shoes. The point of these events is to elevate our collective knowledge on topics that drive change within our respective organisations and to have some reference points for a network driven by peer engagement, topic experts that don't waffle on and to have a sounding board for when the complexity is unmanageable.
Event Details
Where? Meet us at China Works Offices, 100 Black Prince Road, Vauxhall - SE1 7SJ for the first hour of lightning talks and debates.
We will start the evening with a short welcome, followed by four lightning talks and a moderated debate with our panel of speakers. There will also be a chance for Q&A at the end of the talks. The information discussion will cover points related to understanding (and fixing) cloud sprawl issues, creating a change management database in line with a governance strategy, understanding how to get out of an ageing datacentre when you're already invested up to the hilt and a bit of future-speak on Function-as-a-Service and whether or not it makes sense for organisations to throw in with it.
Then we'll head to: 'Cutting Through Complexity' part of the evening @ Whistle Punks, Arch 25, 73 Bondway, Vauxhall - SW8 1SQ for axe throwing.
This is a therapeutic axe throwing session at Whistle Punks near Vauxhall. Don't worry – there's an axe tutor on site to teach us the mastery of axe throwing. What better way to bring alive the idea of cutting through costs and complexity in the cloud than by throwing axes at the situation?
Whether you're in it for the peer wisdom or you just want to throw axes at a wall as a Professional Development Plan, we look forward to welcoming you! Drinks and food are also booked so you won't get hungry, and at the end of the evening, there's a winner trophy to take home for the top axe throwing champion. All you have to do is register here and we'll let you know the details.
Be quick as there are only 20 spaces available.
The boring bit: Only one ticket per person. No alcoholic drinks will be served at Whistle Punks. There are no cash alternatives. We take no responsibility for any harm caused to yourself during the axe throwing (or as a result of you learning interesting tactics in the lightning talks to take back to your board). You will need to sign up for our free Cloud Cost Assessment to secure the ticket delivered in partnership with CloudHealth, the leading provider of multi-cloud management insight. After the axe throwing, we may or may not head to a local pub and provide a first round of libations to you. You can't show up for just the axe throwing; you must attend the lightning talks first.
Organiser of Cutting Through Cloud Complexity: An Axe Throwing Masterclass
Who are we?
We are Digital Craftsmen, a cloud services and security provider in London. We're putting on a series of special events – invite only – for senior IT leaders to learn from their peers and keep their finger on the pulse of transformative topics within cloud, security, governance and change management.