Cwis gwybodaeth gyffredinol yn yr iaith Gymraeg | Welsh language general knowledge quiz
About this event
Dewch lawr i ganolfan Gôl am gwis gwybodaeth gyffredinol. Bydd hon yn weithgaredd cymdeithasol ble cewch chi ffurfio tîm a chystadlu erbyn timoedd eraill. Cewch gyfle i gymdeithasu gyda siaradwyr Cymraeg Casnewydd. Cofiwch ddod a phen neu bensil. Bydd diodydd ar gael i brynu yn y ganolfan.
Come down to the Gôl center for a general knowledge quiz. This will be a social activity where you can form a team and compete against other teams. You will have the opportunity to socialize with Newport's Welsh speakers. Remember to bring a pen or pencil. Drinks will be available to buy at the centre.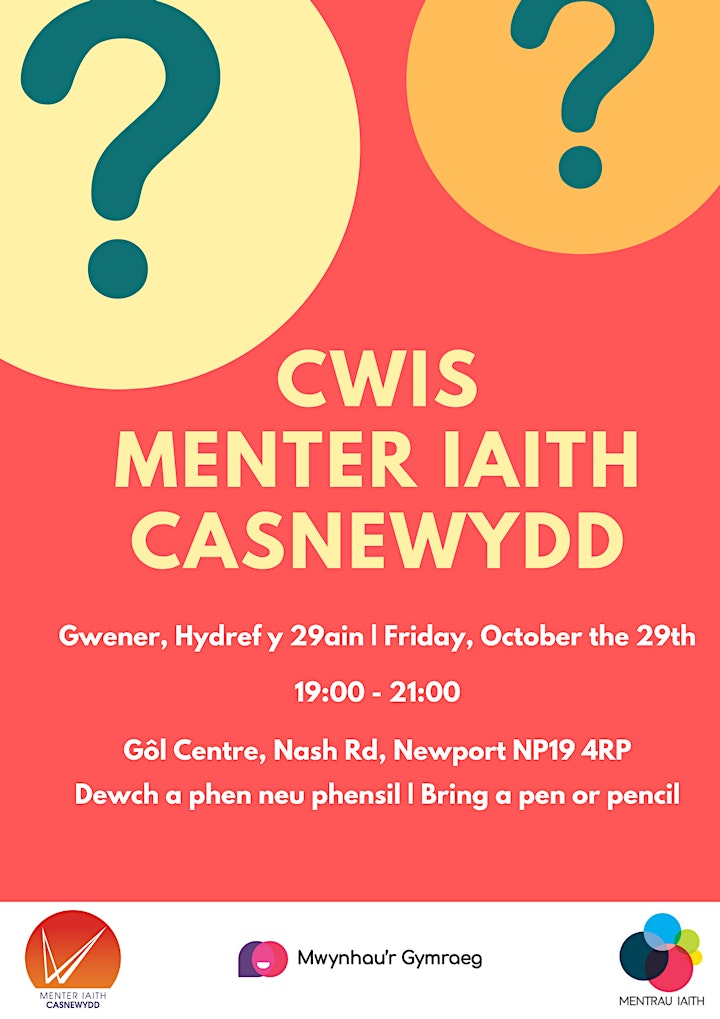 Organiser of Cwis y Fenter
Nod Menter Iaith Casnewydd yw cynyddu defnydd y Gymraeg gan blant ac oedolion Casnewydd a'i gwneud yn iaith sy'n rhan o wead naturiol y ddinas gan alluogi pobl Casnewydd i fyw a gweithio yn y Gymraeg.
Menter Iaith Casnewydd's aim is to increase the use of Welsh in Newport by children and adults and make it a language that is part of the city's social fabric by enabling people to live and work in Welsh.