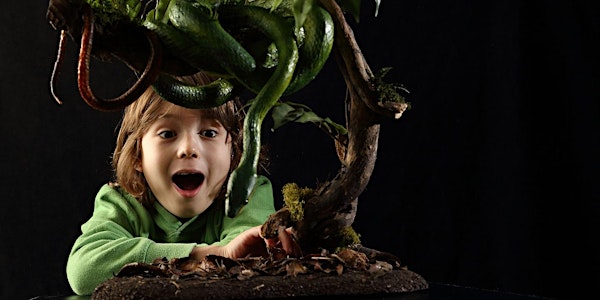 Cwrdd â'r Nadroedd | Hissy Handling Sessions
Location
National Museum Cardiff
Cathays Park
Cardiff
CF10 3NP
United Kingdom
Description
Hoff o nadroedd? Dewch draw i un o'r sesiynau cyffwrdd arbennig yn yr Amgueddfa!
Caiff y sesiynau eu cynnal gan ofalwyr nadroedd profiadol a brwdfrydig, sy'n berchen ar nadroedd eu hunain. Byddant yn dod ag amrywiaeth o nadroedd gyda nhw, fel neidr ŷd a boa gyffredin, a bydd cyfle i chi gydio yn y creaduriaid hynod. Mae'r gofalwyr nadroedd hefyd yn llawn gwybodaeth am gynefin ac ymddygiad y nadroedd hyn.
Mae'r sesiynau cyffwrdd yn digwydd am 11am, 1pm a 3pm ac yn costio £5 y pen. Mae tocynnau ar gael o Eventbrite. Dewiswch docyn ar gyfer sesiwn Gymraeg neu Saesneg.
Cynhelir sesiynau 11am ac 1pm yn Saesneg, a bydd y sesiwn 3pm yn Gymraeg.
Fel y nodir, £5 y pen yw cost y sesiynau cyffwrdd, nid £5 y plentyn.
Cynhelir y sesiynau cyffwrdd yng Ngofod Dysgu Clore nid yn yr arddangosfa.
Cofiwch fod nadroedd, fel pob anifail arall, yn cael dyddiau gwael. Allwn ni ddim sicrhau y bydd pob neidr ar gael ar gyfer pob sesiwn. Nid yw unrhyw un o'r nadroedd hyn yn wenwynig. Mae'r risg o gael eich brathu gan neidr yn isel iawn, ond mae'r gofalwyr yn hynod brofiadol ac yn nabod y nadroedd yn ddigon da i leihau'r risg hwn. Dylech olchi'ch dwylo ar ôl cyffwrdd yn y nadroedd.
Mae'r digwyddiad hwn yn rhan o'r arddangosfa Nadroedd!
Mae rhai staff yn siarad Cymraeg, rhai'n dysgu ac eraill yn siarad Saesneg yn unig. Cadwch lygad am y llinynnau Iaith Gwaith sy'n dangos pwy yw pwy. Os ydych chi'n dysgu Cymraeg, rhowch gynnig arni!
Sylwer: nid yw'r pris hwn yn cynnwys mynediad i arddangosfa 'Nadroedd!' Ewch i dudalen yr arddangosfa am fwy o fanylion ynghylch cynnwys a phrisiau.
*******************************************************************
If you're a fan of these slippery serpents then why not come to one of our special snake handling sessions in the Museum?
These shows are presented by experienced and passionate snake handlers who own many of their own animals. They will bring a variety of snakes into the handling session, such as a corn snake or boa constrictor, and you'll have an opportunity to handle these magnificent creatures. The handlers also have a wealth of knowledge about their habitats and behaviour and will share some of their fascinating knowledge with you.
Handling sessions at 11am, 1pm and 3pm and cost £5 per person. Tickets are available on Eventbrite. Please choose a ticket in your language of choice for that day.
The 11am and 1pm sessions will be English speaking and the 3pm session will be Welsh speaking.
Please note: Handling sessions are charged per person, not per child, as there is limited capacity.
Handling sessions take place in the Clore Learning Space not in the exhibition.
Please note that snakes are like any other animal and can have their bad tempered days so we can't guarantee that all will be able to be handled on the day. None of the snakes that will be in the show are venomous. There is a very low risk of being bitten, but the handlers are all very experienced and know their animals well enough to absolutely minimise this risk. You should wash your hands after touching the snakes.
These sessions support our summer exhibition 'Snakes!'
Please note this charge does not include entry into the 'Snakes!' exhibition. See exhibition page for further details about content and charges.