Customer Experience and Big Data + Visit to Proximus Art Collection (CX Brussels)
About this event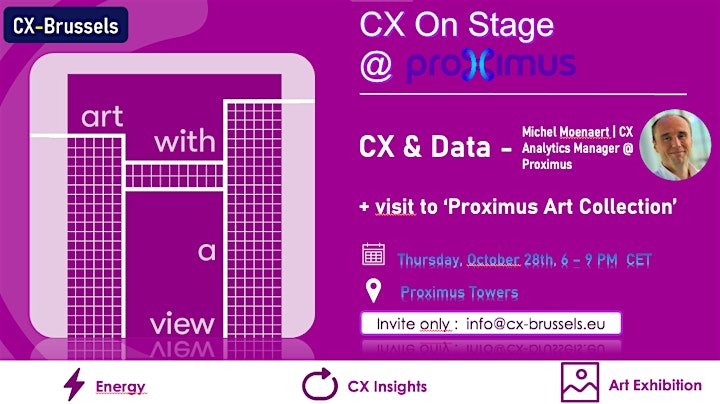 Please note that the physical event is open to CX Brussels members only.
On Thursday 28th of October, CX Brussels will hold its general CX-event at the Proximus towers in Brussels.
We are very pleased to announce that Michel Moenaert, CX Analytics Manager at Proximus, will guide us through the data challenges that every company faces with large volumes of customer related data. How to handle and process these data to get actionable insights and use them to improve the overall customer experience, will be the topic of the evening.
The keynote will be followed by an interactive discussion.
➡️ Our members will also get the chance to visit the Proximus Art Collection, which is celebrating its 2️⃣5️⃣ years.
We'll be able to discover this remarkable collection of temporary art 🖼 and conclude the evening with a nice reception. During which you will have a magnificent view over the city of Brussels.
We would like to thank the CX-team of Proximus who made this possible: Fatima Dqaichi, Michel Moenaert, Jean-Marc Audoux, Annick Daix and also Sylvie Digard.
👉 if you're not yet a CX-Brussels member and want to know more on this event and our activities: 📧 info@cx-brussels.eu
Hosted by Jonathan Daniels and Frederic De Vrieze
Organiser of CX and Data at the Proximus Towers(Hosted by CX Brussels)
Founders of CX Brussels. 
We're passionate about Customer Experience. We are looking for others who share our passion and want to learn here in Brussels.