Description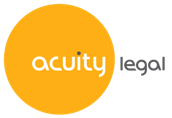 Join us at this free event to hear from the experts!
Dr Kerry Beynon, Partner, Acuity Legal
Kerry specialises in data protection, IT/IP and commercial law. A member of the Chartered Institute of Arbitrators, Kerry is also a solicitor-advocate with higher rights of audience in both the civil and criminal courts. Kerry has the benefit of the Certified EU General Data Protection Regulation Practitioner qualification awarded by IBITGQ and accredited to ISO 17024.
GDPR: a can of worms or a catalyst for change and innovation?
The presentation will cover the main changes brought in by GDPR; the risks of non-compliance; and the opportunities in working towards compliance.
Damon Rands CISSP Is an experienced cyber security expert, with over 25 years working in the Information technology industry. Having worked in development, support and installation he has helped companies across the United Kingdom build secure systems and implement best practices to protect their intellectual property and private information.
Specialising in;
Ethical Hacking 

Risk analysis 

Cyber Essentials Certification
Digital Foot Print Analysis
Security Awareness Training
The Big Bad Wolf
We all know, information security is more important than ever, the reports of destructive and disruptive hacks affecting business are a daily occurrence and as a result Information Security is so much more than just IT.
The presentation will look at the types of real-world threats that all businesses encounter daily, from using public wifi to competitor hacking. We will explain the initial steps to take in-order to best protect your company.
Please note that this event is open to all, you do not have to be a NatWest customer to attend.
All information used in this presentation you are registering for relating to CyberCrime and GDPR is produced by WolfBerry Cyber Security, Acuity Legal and NatWest for information purposes only and is for the sole use of the attendees at the presentation.
Whilst we feel this topic is beneficial to business owners, the views and information have not been issued by NatWest. Any views expressed in the presentation are not necessarily those of NatWest and should not be viewed as individual advice or as a recommendation. You should seek independent advice in respect of issues that are of concern to you.
To the maximum extent permitted by law we expressly disclaim all representations, warranties, or assurance of any kind, expressed or implied, that are made to the accuracy or completeness of the information contained in this presentation and no member of NatWest accepts any obligation to update or correct any information contained herein.