About this Event
In response to recent global developments, as well as from a basic best practice point of view, financial sector firms need to continuously refine their crisis and incident management, business continuity and disaster recovery plans, improving and adapting them as needed. EVOLVE 2020: Rethinking Operational Resilience for Financial Services has been put together to help the industry to attain these objectives whilst at the same time offering a platform for key practitioners to share ideas and concerns. This virtual event series comprises a set of topical operational resilience related webinars taking place over the summer, culminating in a unique, 3-day comprehensively researched virtual event on October 5th, 6th & 7th.
The series will enable C-suite executives and senior managers to benefit from real life case studies which will help them understand how operational resilience is, now more than ever, an evolutionary process hinging on industry cooperation, inter-jurisdictional and international dialogue and mutual support. This will allow industry leaders to embed resilience thinking into their strategies and change management frameworks, so as to protect and sustain their core business services as we adjust and adapt to the "new normal".
ABOUT THIS WEBINAR: CYBER SECURITY & RESILIENCE
The Schedule
Starting time 2:00 pm (BST)
Duration: 90 minutes
2:05 pm
Moderator's introduction:
Cyber Regulation and Resilience, the Impact on financial services (and other sectors)
The global cyber regulatory environment is getting tougher, setting the direction of travel of cyber security and resilience.
Cyber is a complex risk, what challenges do all FS institutions face in managing the risk.
How do boards focus on oversight and assurance of cyber risk to improve organisational resilience?
What happens if you don't get it right?
Kevin Duffey, CEO, Cyber Rescue Alliance.
2:20 pm
Panel discussion:
The future of operational resilience within the financial sector: cyber-resilience, cyber-security, data breaches and emerging threats
Improving international collaboration on threat intelligence and incident reporting in the times of crisis: what can the Governments and industry partners do to disrupt and prevent them?
Innovation and cyber security: security testing, data breaches and new challenges.
Removing the cyber fear factor and developing the right culture in the era of COVID-19 and after.
Automation, innovation and digital disruption: overcoming new risks and challenges: systems upgrade, investments in IT, software testing.
An overview of COVID-19 related and other malicious activities in the UK and globally.
Lessons from the recent pandemic: the importance of collaboration and communication.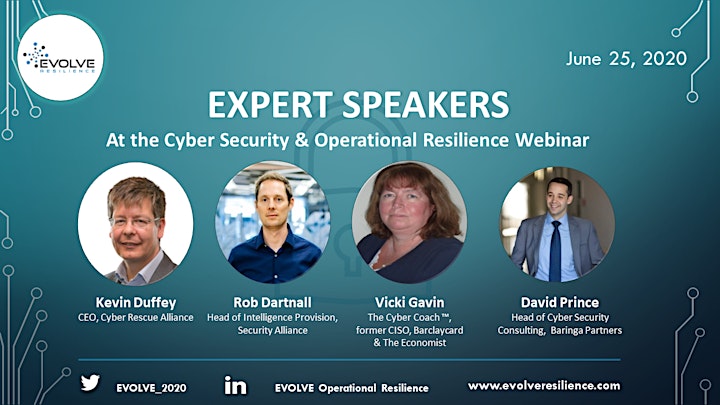 Panellists:
Kevin Duffey, CEO, Cyber Rescue Alliance.
Vicki Gavin, The Cyber Coach(tm), former CISO, Barclaycard & The Economist, CISO, Artemis Fund Managers & Expert on Cyber Aware Culture.
David Prince, Head of Cyber Security Consulting, Baringa Partners.
Rob Dartnall, Head of Intelligence Provision, Security Alliance.
Senior Representative, Regulated Financial Institution.
3:00 pm
Q&A from the audience
3:30 pm
Moderator's closing remarks