Description
---
As part of European Cyber Security Month, the CHERISH-DE Centre is hosting a conference and accompanying exhibition Cyber Security: Threats and Opportunities.
The informative, engaging event has an over-arching theme of how organisations should align their skills and infrastructure with Cabinet Office advice with regards to cyber security (The UK Cyber Security Strategy).
Sessions include:
Achieving cyber resilience

Profiling victims of cybercrime in Wales

Live hacking demonstrations

Cyber Security in healthcare

Security into systems architecture
---
Speakers include:
Morning keynote: Andrew Boyce, Assitant Director, Cyber Research and Innovation Europe, Data, Digital & Security Directorate, Department for Culture, Media and Sport
Andrew is the UK Government's policy lead on cyber security research and innovation in the Department for Culture, Media and Sport. His role involves developing a range of initiatives to foster innovation in cyber security, including the commercialisation of academic research, as part of the Government's National Cyber Security Programme. Andrew has held a number of roles in government including with the Home Office's Office for Security and Counter Terrorism and the Northern Ireland Office.
---
Afternoon keynote: Andrew Greene, Chief Information Security Officer, Aprose Risk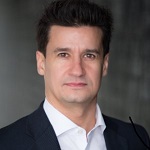 Andy is Chief Information Security Officer at Aprose Risk, a specialist Cyber Risk and Resilience Consultancy. He advises senior stakeholders at public and private sector organisations on effective strategies to reduce the risk and impact of cyber-related incidents. Aprose Risk is an AXELOS Certified Partner and utilises the innovative RESILIA Pathway Tool to assess organisations' exposure to Cyber threats and provide recommended roadmaps for improvement.
Andy has advised on Cyber Security for high profile organisations across multiple industries including Financial Services, UK Government and Defence. He is a Fellow of the British Computer Society.
---
Dr Siani Pearson
Principal Research Scientist, Hewlett Packard Enterprise
Siani is a principal research scientist in the Security and Manageability Lab. She has been the technical lead on a number of different research projects, wtih a focus on privacy-enhancing technologies, accountability and the cloud.
Siani received an MA from Oxford University in logic, a PhD in Artificial Intelligence from the University of Edinburgh and was a Research Fellow at Cambridge University before joinign HP in 1994.
---
Kelvin Jones, Accelero
Kelvin has 23 years' experience in information technology primarily within development related roles. His particular expertise is in the areas of application architecture and security. He is a Fellow of the British Computer Society, and as well as being a CESG Certified Professional holds CISSP, ECSP, TOGAF, and SCRUM certifications. He has a MSc in Software Engineering with Distinction from The University of Oxford.
Kelvin has worked on numerous projects where security of the data has been critical. These include the design and implementation of projects for Heathrow Airport, The Passport Service, and The Home Office along with numerous applications for both commercial organisations and local government.
His security expertise includes access control and authentication, implementation of cryptographic algorithms, integration with biometric systems and securing data both in transit and at rest. His recent work has been on designing an application and security architecture to enable secure messaging between energy companies and the smart meter grid.
---
Sara Correia, Swansea University
Sara's Ph.D research is focused on cybercrime and on-line fraud victimisation in Wales, working in partnership with industry and law enforcement. Alongside this, Sara has been a tutor on a third year law module (Cybercrime) and she is a Co-Investigator on a pilot project which aims to profile cyber offenders in the region, funded under the Cherish-DE Escalator Funding. Sara's academic career started as a Politics undergraduate student at Cardiff University. Since then she has completed a Graduate Law Conversation and obtained a MSc by Research for her thesis project on the impact of counter terrorism policing on Cardiff's Muslim Communities at the University of South Wales. In addition, Sara has worked in a research-roles for a number of years in student engagement and empowerment within Student Unions' and the HE sector. Her research interests include Cybercrime, Communication and Media, Social Theory, Civil Liberties, Social Justice and Mixed Research Methods. You can follow Sara on twitter @SGCorreia
---
Peter Jopling, IBM
@PeterJopling
Peter has over twenty-nine years experience in the enterprise security market and is widely regarded by his peers as a thought leader in Cyber Security, Risk & Compliance business solutions. He joined IBM in 1999 and has held a number of senior security leadership positions. He is currently the Deputy Director WW Security Tiger Team responsible for advising Forbes 2000 Companies on Cyber Security business issues. Prior to this he was the IBM UKI CTO Security Software Executive specifically harmonising Software and Services to meet clients Cyber Security challenges. Prior to this he was the Business Unit Executive UK&I, responsible for the second largest WW Security P&L outside of North America.
Peter regularly speaks at public engagements and has had numerous articles published and actively participates in social media.
---
Damon Rands, Wolfberry and Kelvin Jones, Accelero will be carrying out live hacks
---
TARIAN, South Wales Police Cyber Security Unit
---
Professor Harold Thimbleby, Cyber Security in Healthcare
---
Exhibitor speed talks including GSW Connections, ABMU Healthboard and DVLA
---
Programme
9.00 Arrival & Welcome
9.25 Welcome from Professor Matt Jones, Head of Science, Swansea University
9.30 Keynote: Andrew Boyce, Assistant Director, Cyber Research & Innovation Europe, Data, Digital & Security Directorate Department of Sport, Media and Culture
Cyber Security: Opportunities and Threats - The Government Perspective
09.55 Siani Pearson, Principal Research Scientist, HP Labs Bristol
Ethics, Accountabilty and the New IT
10.30 - 11.00 Exhibition & Networking
11.05 Kelvin Jones, Accelero
Moving towards a culture that fosters a more secure architecture and working practice
11.40 Peter Jopling, Deputy Programe Director, WW Security Tiger Team, IBM Security Business Unit
The Cyber Security Immune System
12.10 Lunch
12.55 Keynote: Andrew Green, CISO, Aprose Risk
Cyber Resilience for Organisations
13.35 Eddie May, TARIAN (South Wales Police Cybercrime Unit) & Sara Correia, Swansea University,
Profiling Victims of Cybercrime and Fraud in Wales: A Partnership Approach
14.15 Exhibition / Networking / Coffee
14.45 Damon Rands, Wolfberry
The Big Bad Wolf
15.15 Prof. Harold Thimbleby, Swansea University,
Cyber Security Problems in One Hospital (and probably all of them)
15.35 Close