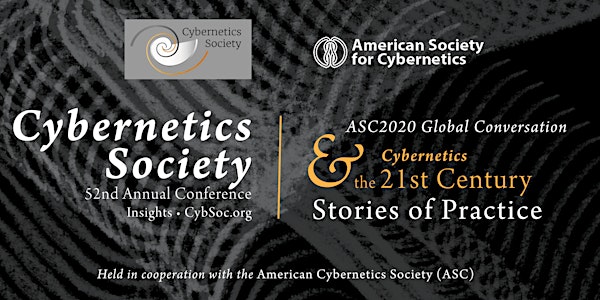 Cybernetics Society Annual Conference: 21st Century Stories of Practice
Refund policy
Contact the organiser to request a refund.
Eventbrite's fee is nonrefundable.
A magnificent lineup of inspirational speakers and their 'Stories of Practice' our 52nd Annual Conference, held in partnership with the ASC
About this event
Cybernetics plays into and strongly influences many scientific and practice fields including design, epistemology, ecology, biology, psychology and living behaviour, technology and engineering, social policy, and business practice, amongst others. Many feature in this wonderful set of aware and successful designers and thinkers.
Cybernetics offers a distinct "go" — techniques — to address local and global challenges of the 21st century, the theme of the conference. Speakers share stories about achieving (the right) goals in complex situations in better ways. These create the new or resolve vulnerabilities – from acts of nature to those of humans, deliberate or by ignorance.
They include redesigning auto production, providing national food resilience, enhancing design practice itself, making technology human, managing enterprise, better architecture, self-adaptive healthcare, and eco-interventions.
Cybernetics Society – a learned society
The Cybernetics Society promotes and offers education and research opportunities in the rich field of cybernetics. In this, the 52nd Annual Conference of the Cybernetics Society, we share and exchange in "Global Conversations" with the American Society for Cybernetics, ASC, American Society for Cybernetics Annual Conference 2020 . The Cybernetics Society – http://CybSoc.org – is a specially authorised learned society regulated by the FSA and established by a 1974 Act of Parliament. To join visit our membership system or pick the Join ticket.
Anyone can attend. Members of both Societies may attend FREE. It is also easy (price and process) to join or attend and give a voluntary donation.
SPEAKERS AND PROGRAMME
The theme this year is Cybernetics & the 21st-Century: Stories of Practice.
There is a significant design focus, partly thanks to the Conference curator, Paulo da Costa, and architect and Cybernetics Society Council Member. The aim is to mix deep knowledge with demonstrations of its practice in various stories. The roster of speakers for the 52 Annual Conference is both diverse and interestingly different from some recent years. There is less focus on the purely technical sciences and more on the arguably more complex fields of social design, ecology, and designs for living. Our speakers have experience in Asi and Europe (particularly) and cross the gamut of business, consulting, design, architecture, and academic research and education. They speak about doing and learning and learning while doing. The mood is creative, the insights deep, the rigour as would be expected.
This year we have more room for conversation and more focused keynote sessions. Participants can — if they book for both — attend both the ASC and CybSoc programmes. The programmes run across Saturday and Sunday with 2-hour sessions swapping between CYSOC and ASC. See the summary at the end. Here are the details!
Introduction and Keynote
The introduciton begins with the Cybernetics Society giving and overview and guidance. Speakers (15m total) include the Secretary, Angus Jenkinson, the President, John Beckford, and the Conference Curator, Paulo da Costa. The link to the ASC Keynote event will then be shared enabling everying to enjoy that.
Session 1, Saturday Morning 11am BST
Dr Susu Nousal • Carola Roll • Dr Michael Hohl
Dr Susu Nousala – cultural conservation design
—Terraperformance: Creative designs and adaptive learning in urban, peri-urban and rural-scapes
About creative design interventions: Designing worlds that work for us in shifting contexts is a perennial need. Groups and organizations evolve and change because of individuals, who in turn respond to non-linear knowledge networks. This session explores experience with Terraperformance, a creative-systemic approach to learning communities across the gamut of urban to rural development. It leads to more powerful and longer lasting learning, tools, and methods that take account of tacit and explicit knowledge and relationships between and within these non-linear dynamics. Moving between process and practice is where the creativity arises — the planned process, the physical practice, and their relationships. We have found that the 'between' of physical, social, and cultural layers beneath the urban surface sources creativity.
__Susu Nousala is a distinguished internationally active professor of design and innovation and founding director of Creative Systemic Research Platform. She is based between Shanghai, Helsinki, and Melbourne. Her academic posts as professor or research fellow include Tongji University, Wuhan China, Aalto Finland, GAMUT at the University of Melbourne, and RMIT's Design and Social Context centre. In addition to academic teaching, her art and cultural conservation practice has worked with major institutions in Australia, England, France, Holland, USA, and Singapore. She has chaired or co-chaired numerous international symposia and conferences and is an author or co-author of more than 60 papers or book chapters. She works in the field of cybernetics and social complex adaptive systems.
Carola Roll – enterprise design
—An engine building company on the road to self-organisation: The RoBau-Method®
__Carola Roll is quality management representative responsible for strategic company organisation at JELBA GmbH & Co. KG, Germany, where she is currently working on new combinations of the Viable System Model with other management elements. She specialised in quality management, lean management, management cybernetics, organisational development and design of management systems. She heads the SCiO Practice Group Bavaria since 2019.
Dr Michael Hohl – explores new ways of teaching design
—Cybernetics of practice: Practising design theory and theorising design practice in design education.
Michael will present a structured and evolving approach to teaching design theory to 1st year BA design students. The intrinsically cybernetic approach connects theory and practice in an applied manner. Students are encouraged to locate problems they observe in their environment, at the university, at home or in town. In this process they learn about, both academic and professional, design models and methods, how to apply those, design and test prototypes, reflect and connect their learning experiences to existing design theory. Step by step they also take responsibility, for the seminar such as moderating, giving feedback, and of their own learning process, discovering intrinsic motivation, working together in small groups. This evolving format takes place within a surprisingly structured format, in which practice and theory converge.
_Dr Michael Hohl has a diverse portfolio of practices and research: he is a designer, design researcher and educator, often working with digital media. He enjoys making things, thinking about these things, how we do them and what they mean to us. His research is mostly practice-led and his interests include trying to better understand how technology changes us, while we think we are doing something with technology. At present he explores new ways of teaching design theory and design practice, especially the role of embodiment, emotions, and the perception of space and place in this.
Session 2, Saturday Afternoon 3PM BST
Kate Cooper • Dr Dulmini Perera • Dr Martin Pfiffner
Kate Cooper – protecting the nation
—UK Preparedness for Future Food System Shocks
Designing and building a buffer contingency stock system.
_Kate is currently Executive Director of the Birmingham Food Council and holds a Visiting Fellowship at Aston Business School. She has a career spanning education, publishing, the arts and business, including being a consultant to blue chips for over 35 years.
Dr Dulmini Perera – rethinking how
—Framing to Reframe
Educating design practitioners operating within systems characterized by structural instabilities on frames that lead to reframing the design work.
__Dulmini is an architect and architectural historian at the Faculty of Architecture and Urbanism, Bauhaus University Weimar. She is interested in interdisciplinary design models and methods, rethinking how architecture can be rethought in relation to contemporary wicked problems.
Dr. Martin Pfiffner – management bionics
—The Third Dimension of Organising
Just as neurology controls living organisms in nature, it also controls every kind of organisation in our civilisation. Neurology alone ultimately determines whether the company is viable, not the organizational chart and not the business processes.
_Martin Pfiffner is a distinguished expert in the practical application of the Viable System Model and Syntegration, key cybernetic tools developed by Beer, with whom he has studied. He is author of The third dimension of organising. As leader of Team Syntegrity Europe AG, he has accompanied and brought into shape very many economic, public or private organizations across the world. His doctorate from University of St. Gallen HSG in economics was with professors Peter Gross (sociology, multi-option society) and Fredmund Malik HonFCybS (system-oriented cybernetic management theory). He lectures at the University of St. Gallen HSG and headed the Management Cybernetics & Bionics Division innovation cell, developing management bionics. He was a founding member and curator of the International Bionics Center IBZ based in Munich. Among other things, he initiated the "Cwarel-Isaf-Conferences" for management cyberneticists from all over the world. He is a former board member of the Swiss Society for Organization and Management and is a board member of the Fondation Oroborus.
Cybernetics is a universal science of accomplishment, purposeful activity, design, and reflexive control. It explains manifold phenomena and aids the design and use of technologies and practice related to them.
Session 3, Sunday morning 11AM to 1PM BST:
Markus Orengo • Dr Marie Davidová • Stephen Brewis
Markus Orengo – social systems engineering
—How to apply cybernetic principles in formulating better visions and missions (without mentioning cybernetics).
__Markus leads a social systems engineering firm with deep experience gained from study and practice. He works with the cybernetics of perceptual control theory. His expertise is in linking strategy, organization, and people management, based on cybernetic-systemic approaches including those of Stafford Beer. From a base in electrical engineering at the Swiss Federal Institute of Technology in Zurich, he developed through 12 years in complex, international IT contexts from purely technical to commercial tasks and management. Since 2006, he shifted from technical to social systems as a management consultant, trainer and lecturer.
Dr Marie Davidová – ecosystemic interventions
—Designing within 3rd Order Cybernetics: Feedback Loops in the Systemic Approach to Architectural Performance
Small ecosystemic interventions that are codesigned and redesigned across complex feedback loops in the biosphere. There are many adaptive, generative, and regenerative systems that are codesigned and coperformed by multispecies. These involve living and non-living stakeholders and communities and their members. As indigenous cultures have proved, interventions can interact with these ecosystems in ways that are also generative, regenerative, and adaptive. Such SAAP methods (Systemic Approach to Architectural Performance) seek synergetic landscapes through such methods as multicentred design, feedback loops, and dialogical conversations. In like manner, the talk aims to motivate dialogues and interest.
__Marie Davidová MArch, MNAL, ARB, Ph.D. is a lecturer (teaching & research) at the Welsh School of Architecture and Sustainable Places Research Institute affiliate at the Cardiff University. She is a founding member and chair of Collaborative Collective practice design-research network NGO and a founding member of Systemic Design Association. Marie gained her Ph.D. at CTU in Prague and master's degree at the Oslo School of Architecture and Design. She worked in studios Snøhetta and Expology in Oslo and taught at NTNU in Trondheim. She has been transdisciplinary studio course head at ARCHI Prague and FUA TU of Liberec. All of this in cooperation with the University of Life Sciences in Prague. Marie founded the Systemic Approach to Architectural Performance (SAAP) research by co-design field. It involves Time-Based Eco‐Systemic Trans-Disciplinary Co‐Design by both biotic and abiotic agency. She has held guest lectures, presentations, and workshops in this field across Europe, North America, Asia, Africa, and Oceania, where she is also widely published and exhibited.
Stephen Brewis, Hon Fellow – a business understanding itself
—How do Organisations Amplify Regulative Variety?
A business that creates a value exchange which needs to be accomplished by more than one person faces 2 problems, how to divide up the work and how to coordinate the activities. For this to be done effectively is what lies of the heart of management cybernetics 'the science of effective organisation'. In an organisation of 10,000 people 10,000 business decisions are being made moment by moment and each of these decisions being made within a larger network with other decision makers. Making decisions is at the heart of any business and making the right decision is non-trivial. The business must understand itself well enough to make the right decisions and keep the organisation coherent, responsive and on track. How the organisation organises itself to perform this amazing feat is what lies at the heart of management cybernetics. I will attempt to illustrate the tremendous power of the cybernetic approach to explain how an organisation can achieve this.
_Stephen is an Honorary Fellow of the Cybernetics Society for his work at BT and sessions with MIT and elsewhere. He is Director of Narrative Imaging Ltd and a former chief scientist at BT, who implemented a large-scale Viable System Model system there. He is a a research fellow at Khalifa University in Abu Dhabi . His professional career has been in the Merchant Navy, the National Health Service, and British Telecom . At the NHS, he 'discovered Ashby's Law of Variety'. and won a national award for his work in the field of energy management. At BT, he had several senior management positions before becoming Chief Research Scientist in organisational science.
Session 4, Sunday Afternoon 3PM BST:
Angus Jeninsor • Dr Delfina van Ditmar • Prof Rachel Dunscombe
Angus Jenkinson FCybS - light touch change
Cybernetics of change design — IBM global project
As IBM was planning its centenary a worldwide project was initiated in relation to its Brand System. As a design reviewer of the worldwide project I spent most of the year on it and travelling widely. In ten minutes there is only time to look at one aspect but it is an interesting story that highlights (perhaps) the difference between "systems" and "cybernetics" and how smart or light touch change could shift a whole company by using the natural transmission of change with almost no cost and many benefits. The scientific implications of this way of designing are significant.
Angus is Secretary of the Cybernetics Society. His career includes teaching, executive leadership, tech entrepreneur and systems designer, international consultant, research professor, thinking tools designer, developer of the theory of propriopoiesis (the functional identity of organisations), educator/adviser, photographer.
Dr Delfina van Ditmar, FCybS – wise tech
—Design research: Interrogating 'SMARTNESS'
Investigates the socio-ecological and political implications of technological 'smartness' when applied to human bodies, homes and cities unpacking the tensions between algorithms and socio-spatial structures. In her teaching practice, Delfina encourages and practises reflection on the design process, thinking systemically, and critical analyse of the broader implications of decisions.
_ Delfina is an academic specialising in the field of design and design practice. She is a member of the Cybernetics Society Council. She lectures, tutors and researchs in the School of Design at the RCA and is a visiting lecturer in the Information Experience Design Programme. She also participates in the School of Design's trans-disciplinary modules, including the Grand Challenge, which in 2019 was a collaboration between the Royal College of Art and CERN and this year with Logitech. Her Ph.D. is from the Royal College of Art supervised by Dr. Ranulph Glanville. Her provocative thesis was entitled The IdIoT. It critically analysed the technology of the Internet of Things (IoT). She has further studies in Biology and Fine Arts at Konstfack University. In 2011 Delfina obtained the Heinz von Foerster award from the American Society for Cybernetics.
Prof Rachel Dunscombe – health value chains
—Self-Adapting Healthcare systems
Using system thinking to bring together entitles of all types and sizes to create value chains for viable health, care and wellness systems.
_ Rachel is Founding Partner and Principle at Tektology Health. CEO NHS Digital Academy / KLAS / NCA / Visiting Professor Imperial College / No3 CIO 100 2017 / Most Disruptive CIO - Talent Unleashed 2016/ KLAS Advisory Board member / CHIME Ambassador / ITIL Masters / CHCIO / PMP / APMP.
Summary: The Programme timetable
For the ASC programme see https://asc-cybernetics.org/asc-2020-global-conversation/
Saturday 12th September 2020
10am -Introductions and Link to ASC Keynote by Anthony Hodgson
11am to 1pm - CYBSOC: Prof Susu Nousala • Carola Roll • Dr Michael Hohl.
1pm to 3pm - ASC – see details
3pm to 5pm - CYBSOC: Kate Cooper • Dr Dulmini Perera • Dr Martin Pfiffner.
5pm to 7pm - ASC
Sunday 13th September 2020
11am to 1pm - CYBSOC: Markus Orengo • Dr Marie Davidova • Stephen Brewis
1pm to 3pm - ASC
3pm to 5pm - CYBSOC: Angus Jenkinson FRPS • Dr Delfina van Ditmar • Prof Rachel Dunscombe.
5pm to 7pm - ASC
7pm - Final remarks