About this Event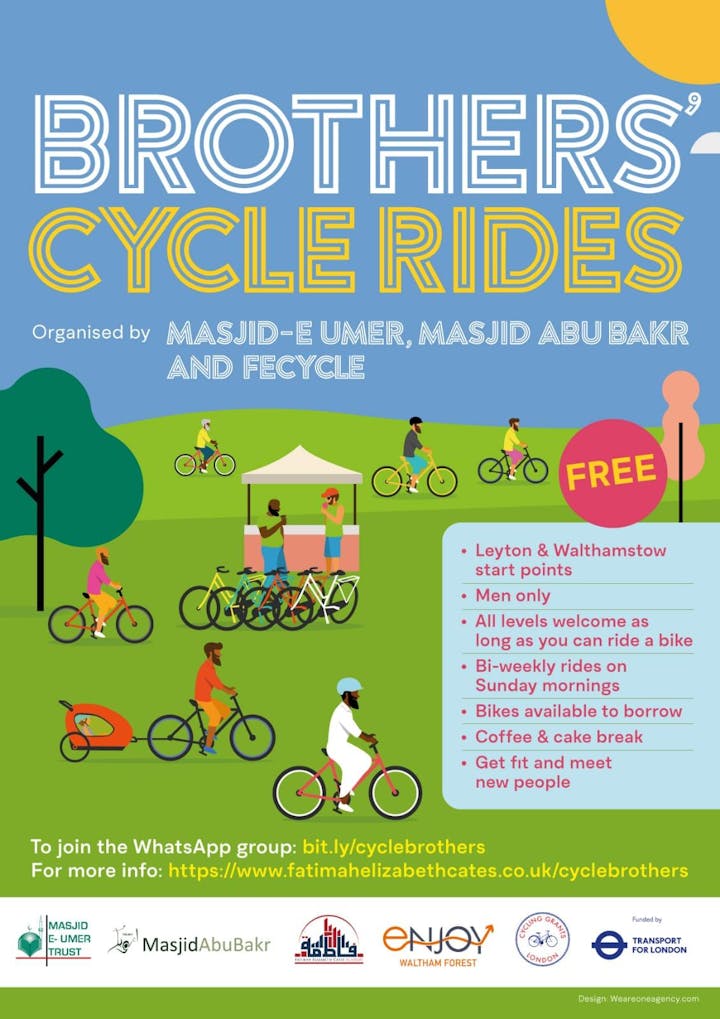 Before riding with us we ask all riders to complete a one-off participant form which can be found here - Cycle Brothers Registration Form
Please join our WhatsApp Group - http://bit.ly/cyclebrothers
Start Point - Leyton Jubilee Park @ 10am
Distance of whole ride - 6.2 Miles (we may increase the distance of the ride on the day depending if all participants are in agreement and time permitting)
Check out this route on Strava: https://www.strava.com/routes/19557264 — Jubilee Park to Olympic Park via Waterworks
Route Description - Mainly off road, via Orient Way, Lea Bridge Rd, Waterworks nature reserve, 'the shady glade', hackney marsh, bridge over the A106 to Olympic Park.
Basic cycling skills (balancing, braking, steering) and ability to maintain a reasonable pace are required (if unsure about the suitability of the route for you, do feel free to DM to discuss further).
Coffee Break Options - Timber Lodge
Bring with you: Water, snacks, money for cafe if you'd like to buy anything, a helmet whether you are borrowing a bike or have your own, bike lock and spare inner tubes (if on own bike).
Riders participate in the ride at their own risk and accept that their safety is a matter of personal responsibility.
Further questions please email: cyclebrothers@fatimahelizabethcates.co.uk
Click Here for the Cycle Brothers Website
*There are a limited number of bikes available to borrow or you can bring your own road-worthy bike. Whilst we always endeavour to ensure bikes are available, there may be circumstances in which we need to cancel a bike booked in the event of unforeseen mechanical issues.
FECycle Club is the cycling club for the students, parents and friends of Fatimah Elizabeth Cates Academy. To find out more about our madrasah please visit our website: FECycle
Alhmadulillah - FECycle Club is about promoting healthy and strong individuals. FECycling is about developing cycling confidence; learning new routes; keeping fit and healthy; social activity - building the FEC community and discovering new places to visit.
"A strong believer is better and more beloved in the sight of Allah than a weak believer"
~ Prophet Muhammad (PBUH)