Description
Start your Wilderness weekend in style with a 2 day ride through the pretty Thames-side towns of beautiful Berkshire and the picture-perfect villages of rural Oxfordshire...
DETAILS OF THE RIDE
Start Date : Wednesday 31st July 2019
Start Point : Richmond Station, London
Start Time : 10:30am
Number of miles : 93
Hours of cycling per day : 5-6
Arrival Date : Thursday 1st August 2019
Arrival Time : 5pm
End Point : Cornbury Park, Oxfordshire
Ride Grading : Moderate
You'll need to be moderately fit and capable of cycling approximately 46 miles per day.
WHAT'S SO GREAT ABOUT THIS TRIP?
Imagine arriving at the festival with friends old and new, relaxed after a gentle 2-day ride through beautiful Berkshire and the quiet country lanes of rural Oxfordshire. Our route takes in the glorious Thames-side towns of Royal Windsor, Eton and Marlow, Oxford with its famous colleges and striking architecture and charming Cotswold villages. We'll camp overnight in a woodland retreat in the Chiltern Hills, getting to know each other around the campfire or over dinner in a quaint village pub. Our guides and support van will journey every mile with us, providing food, mechanical support and plenty of encouragement. We can even bring you and your bike back to Richmond after the festival. All you need to do is turn up and have fun.
PERKS OF THE RIDE
Exclusive perks for our Wilderness Riders:
Tickets available for the reduced price of £158.50 (+£5 booking fee) when bought together with a ride.
THE ROUTE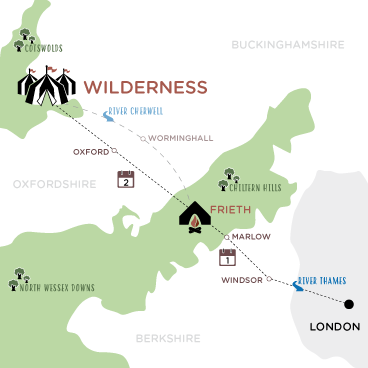 WHAT'S INCLUDED? (Outward ride only price £80)
We'll create the route and guide you

We'll carry your bags and camping equipment in our support van

We'll provide lunch each day and breakfast after our overnight camp

We'll reserve a pitch in a beautiful campsite for our overnight stay

We'll keep you nourished and hydrated with delicious snacks and water

Storage of your bike on the Shambala festival site
OPTIONAL EXTRAS (Available from www.redfoxcycling.co.uk)
Pre-pitched tent airmat and travel pillow (bookable from April 2019) From £10

We can bring you and your bike back to the start point after the festival £22.50 return

A Wilderness 'Adult General Camping' Festival ticket (frozen at Lazy Bird price) £163.50 (includes £5 booking fee)