Blood Road follows the journey of ultra-endurance mountain biker Rebecca Rusch and her Vietnamese riding partner on the Ho Chi Minh Trail
About this Event
This is a rescheduled running of the event which should have taken place in April. Note the change of location, originally Decathlon in Sheffield, now the Garden Centre in Bamford. We hope those who had already booked can make the new date and venue. Please get in touch if not.
Blood Road follows the journey of ultra-endurance mountain bike athlete Rebecca Rusch and her Vietnamese riding partner, Huyen Nguyen, as they pedal 1,200 miles along the infamous Ho Chi Minh Trail through the dense jungles of Vietnam, Laos, and Cambodia. 
Their goal: to reach the crash site and final resting place of Rebecca's father, a U.S. Air Force pilot shot down over Laos some 40 years earlier. 
During this poignant voyage of self discovery, the women push their bodies to the limit while learning more about the historic 'Blood Road' they're pedalling and how the Vietnam War shaped their lives in different ways.
Certificate 12A
Trailer - https://www.youtube.com/watch?v=XCzVqiN950M
The Event Details
The film will start at approximately 19:15 and last for around 92 minutes, we may play a few short films (approx. 10mins) before this screening. You can arrive any time from 18.15.
This is our second genuine "Cycle to the Cinema" at this new venue in the Hope Valley. We're screening this film at the Hope Valley Garden Centre, where we screened the previous drive in cinema, but using a different location at the Garden Centre that we feel is more appropriate to the Cycle to the Cinema needs.
Due to this being a new location and on-going requirements for social distancing, we're going to restrict the number of tickets on sale for this event to 40. Equally, as we find our feet at new outdoor screenings, we ask attendees to BRING THEIR OWN SEATING (whether blankets, cushions or folding camp chairs). We're working to reinvest income from these events into further equipment and facilities as we screen more films and will endeavour to continue to improve the screening experience event by event.
We're going to be using radio transmission sound technology to broadcast the soundtrack to you. You will be handed a sterilised audio receiver on arrival at the venue. This can be used with regular headphones (NOT Apple lightening connector) and/or a headphone splitter to allow multiple headphones to be connected to a single unit.
We will supply the receiver and can supply a 3.5mm to 3.5mm cable. We will NOT supply headphones nor a headphone splitter, these will need to be brought to the event by yourselves.
Update re the government's latest rules re a maxium of six people gathering socially: our interpretation of this is that if pubs and restaurants can remain open whilst ensuring that groups are 6 or fewer, then logically so can cinemas and film events. We will ensure we follow safety hygiene measures to enforce this.
We'll have Sunshine Pizza in attendance again. They will be on site from 18.30
Any questions relating to this screening, please get in touch with us - info@cycletothecinema.co.uk
Matt & Ed
Here are some FAQs which cover the above and a few more bits and pieces to boot.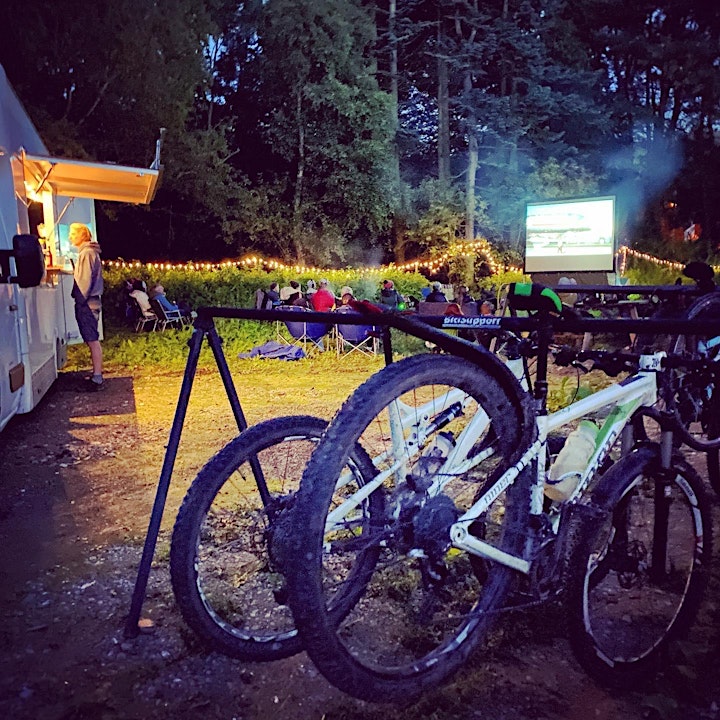 Image above from August screening of Bikes of Wrath at Hope Valley Garden Centre