Description
Somewhere in a German forest 200 years ago, during the darkest, wettest summer for centuries, the story of cycling began. The calls to ban it were more or less immediate.
Re:Cyclists is the tale of the following two centuries. It tells how cycling became a kinky vaudeville act for Parisians, how it was the basis of an American business empire to rival Henry Ford's, and how it found a unique home in the British Isles. At this exclusive event, cycling champion Michael Hutchinson and respected cycling journalist James Witts discuss how cycling evolved into a globally recognised competitive sport, how it nearly expired and where to next! For cycling fans everywhere, professional or amateur, come and join a talk on your favourite two-wheeled sport.
There will be plenty of time afterwards to ask your own questions about cycling's colourful history. We hope to see you there. Tickets are £10 and include a complimentary wine (or two) before the talk, and the opportunity to have books signed by Michael and James. If you buy a copy of RE:Cyclists with your ticket, please send your postal address to Institute@Bloomsbury.com to have your copy dispatched by post.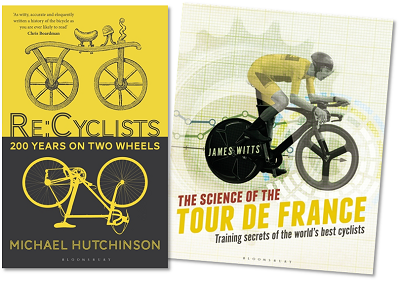 Follow @BloomsburyInst for updates and share this event with interested friends and family.
***
Michael Hutchinson is a former professional cyclist. He has won multiple national titles in both Britain and Ireland, and represented both countries internationally, as well as Northern Ireland at the Commonwealth Games of 2002, 2006 and 2010. He is the principal columnist for Cycling Weekly and a regular broadcaster on the sport.
James Witts has a background in sports science, and is a writer for a number of magazines, including Cyclist, 220 Triathlon, Runner's World, Men's Health and GQ.
***
Tickets will sell out fast so we encourage you to book early to avoid missing out.
WHERE?
Bloomsbury Publishing, 50 Bedford Square, London WC1B 3DP

WHEN?
Thursday, June 29th
6.00pm: Doors open and complimentary drinks served in Bloomsbury's conservatory
6.30pm: Michael and James in discussion, followed by Q&A
7.45pm: Ends

This event is hosted in the Bloomsbury Room and Conservatory at Bloomsbury Publishing.