Event Information
Refund policy
Refunds up to 7 days before event
Eventbrite's fee is nonrefundable.
Cyflwyniad i werth cymdeithasol - sesiwn hyfforddiant hanner diwrnod / Introduction to social value - half day training programme
About this event
Please scroll down for English version
Cyflwyniad i Werth Cymdeithasol (cynhelir y sesiwn yma yn Saesneg)
Rhaglen hyfforddiant hanner diwrnod
• A ydych wedi clywed am werth cymdeithasol neu Adenillion Cymdeithasol ar Fuddsoddiau ond ddim yn siŵr beth mae'n ei olygu?
• A ydych yn gwybod bod eich mudiad yn creu effaith ond nid yn siŵr sut i'w fesur?
• A hoffech gael aelodau o'r tîm i feddwl am sut mae eich gwaith yn cael effaith ar nifer o randdeiliad gwahanol?
Os ydych wedi ateb 'ydw' ar gyfer o leiaf un o'r cwestiynau yma, mae hyfforddiant yma gan Social Value Cymru ar eich cyfer chi.
Mae ein gweithgareddau yn sicr yn creu effaith ehangach na rhai ariannol. Gall fod yn newid i lesiant ac iechyd pobl, cymunedau cryfach, neu leihau pwysau ar wasanaethau cyhoeddus, ac mae'r rhain yn ddeilliannau pwysig o'n gwaith. Fodd bynnag, anaml yr ydym yn mesur a chyfathrebu'r rhain yn fewnol ac i eraill mewn ffordd ddefnyddiol. Term eang felly yw gwerth cymdeithasol sydd yn cael ei ddefnyddio i ddangos gallwn gofnodi gwerth thu hwnt i rai ariannol.
Gallwn ddarparu hanner diwrnod ymarferol i aelodau eich mudiad: yn cynnwys staff, gwirfoddolwyr, ymddiriedolwyr, cyfarwyddwyr ac eraill – a gallwn ei deilwra i'ch anghenion chi.
Cynnwys Rhaglen
• Cyflwyniad i werth cymdeithasol
• Deall beth yw gwerth cymdeithasol
• Sut i fesur gwerth cymdeithasol
• Deall pwysigrwydd gwerth cymdeithasol
• Gweithio drwy'r deg cwestiwn effaith a gall eich helpu i ddeall effaith eich gwaith
• Ymarferion ymarferol er mwyn sicrhau dealltwriaeth am sut i fesur gwerth cymdeithasol gweithgareddau eich mudiad gan gynnwys mapio rhanddeiliaid a mapio theori o newid
Introduction to Social Value (This session will be held in English)
Half day training programme
• Have you heard about social value or Social Return on Investment (SROI) but aren't quite sure what it means?
• Do you know that your organisation creates social value but are unsure how to measure it?
• Would you like your team members to think about how their work creates social value for a range of stakeholders?
If you answered 'yes' to at least one of these questions, then the training from Social Value Cymru could be just what you need.
Our activities undoubtedly create impacts other than financial returns. Whether it is changes to people's health and wellbeing, strengthened communities, or reducing the pressure on public services, these are important outcomes of our work. Yet, we rarely measure these impacts and communicate them for ourselves and others in a way that is meaningful and helpful. Social value is therefore a broad term that is used to illustrate that we can capture value beyond just financial returns.
We can provide a practical half-day in-house introduction for members of your organisation: including staff, volunteers, trustees and directors – with the session tailored to your specific requirements.
Programme Content
• Introduction to social value
• Understanding what social value is
• How to measure social value
• Why is social value important
• Work through the ten impact questions that can help you to understand the impact of your work
• Practical exercises to facilitate understanding on how to measure the social value of your organisation's activities, including mapping stakeholders & mapping the theory of change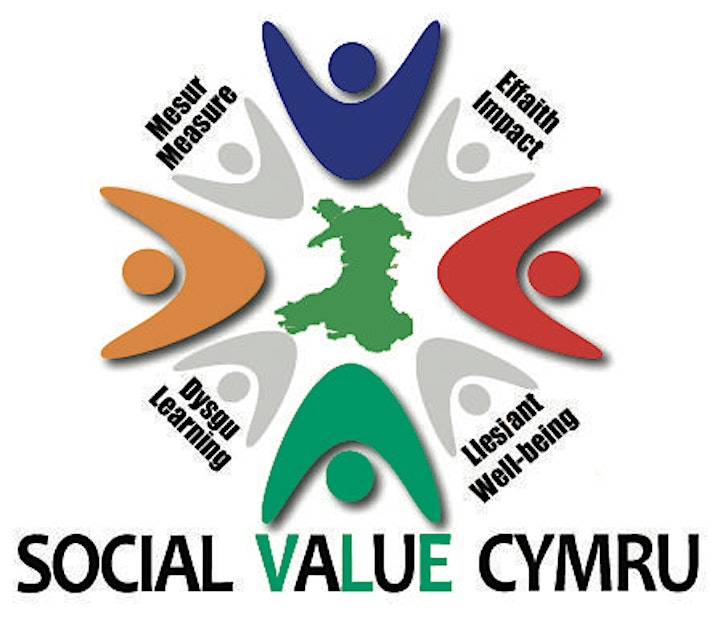 Date and time
Location
Refund policy
Refunds up to 7 days before event
Eventbrite's fee is nonrefundable.
Organiser of Cyflwyniad i Werth Cymdeithasol / Introduction to Social Value