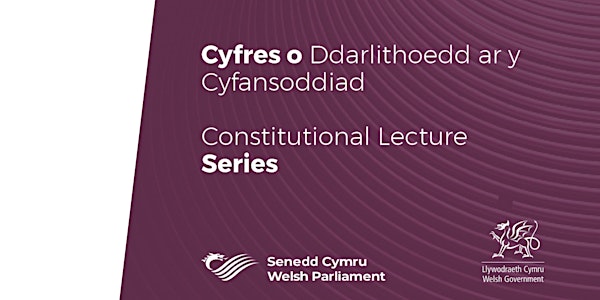 Cyfres o Ddarlithoedd ar y Cyfansoddiad | Constitutional Lecture Series
Darlith yn trafod cyfansoddiad y Deynas Unedig | A lecture discussing the constitution of the United Kingdom
About this event
Mae dyfodol cyfansoddiadol y Deyrnas Unedig o dan y chwyddwydr yn fwy nag erioed o'r blaen.
Gan gydweithio mewn partneriaeth rhwng Llywodraeth Cymru a'r Senedd, rydym am greu llwyfan i gysylltu meddwl yng Nghymru â meddwl gwleidyddol ehangach ledled y Deyrnas Unedig.
Felly, rydym yn lansio cyfres o ddarlithoedd gan ffigyrau blaenllaw, yn bennaf o'r tu allan i Gymru, er mwyn cyflwyno amrywiaeth o safbwyntiau ar ddyfodol y Deyrnas Unedig.
Mae'r rhain wedi'u cynllunio i ategu'r comisiwn annibynnol, a sefydlwyd gan Lywodraeth Cymru, i archwilio opsiynau ar gyfer dyfodol cyfansoddiadol Cymru. Rydym am ysgogi deialog ar y materion hollbwysig yr ydym yn eu hwynebu ar hyn o bryd ac annog cyfnewid syniadau ar draws y sbectrwm gwleidyddol.
Bydd y ddarlith yn cael ei thraddodi gan yr Athro Ciaran Martin, cyn Gyfarwyddwr Cyfansoddiad yn Swyddfa Cabinet Llywodraeth y DU a chyn Brif Weithredwr y Ganolfan Seiberddiogelwch Genedlaethol; bellach yn Athro Ymarfer mewn Rheoli Sefydliadau Cyhoeddus yn Ysgol Lywodraethu Blavatnik, Prifysgol Rhydychen.
-
The constitutional future of the United Kingdom is under the spotlight almost like never before.
In a joint approach developed in partnership between the Welsh Government and the Senedd, we are creating a platform to connect thinking in Wales to wider political thinking across the United Kingdom.
We are therefore launching a series of lectures given by key figures, primarily from outside Wales, to offer a breadth of perspectives on the future of the United Kingdom.
These are designed to complement the independent commission, established by the Welsh Government, to examine options for Wales' constitutional future. We want to stimulate dialogue on the critical issues we currently face and facilitate the exchange of ideas across the political spectrum.
The lecture will be delivered by Professor Ciaran Martin, former Constitution Director at the UK Government's Cabinet Office and former Chief Executive of the National Cyber Security Centre; now Professor of Practice in the Management of Public Organisations at Blavatnik School of Government, Oxford University.