Cylch Sir / Shire Circle - 1st Session - Eddie Ladd (dance) + Discussion
Dance session with Eddie Ladd followed by Discussion facilitated by Tiago Gambogi & Maggi Swallow.
About this event
Cylch Sir ("Shire Circle") has now partnered with Intercultural Roots and we will be holding this session via their Zoom room.
You can now get your ticket direct via this link:
https://www.interculturalroots.org/product/cylch-sir-shire-circle-1
Cylch Sir ("Shire Circle") is an artist-led project that will investigate how performing arts professionals and non-professionals are feeling, how the Covid-19 pandemic has affected you, professionally and personally, what your needs are and how we can collectively address those needs. Cylch Sir proposes to create a new network in Carmarthenshire and beyond for professionals and non-professionals of all ages, providing a centralised hub of information and support for those involved in the performing arts.
The project consists of 4 sessions (one per month) to discuss resources, creative work, share skills and personal experiences from this year's pandemic. The sessions will include a practice-based element, "artistic speed dating" and a mapping exercise to reflect artists locations. The discussions will be held using an Open Forum structure with creative exercises to introduce people, facilitate conversation and gather information.
To feed into that we invite you to complete the questionnaire below with as much or as little information as you would like. The answers will help us with information for the session and, as we would like to share some of the info on our social media channels, would assist in introducing each other's work and encouraging reflection. Please complete it as soon as you can as that will help us to consolidate the information before our meeting. Thanks for your time and see you there!
Questionnaire: https://forms.gle/ZkcP7XgMXAcCPAbC6
If you're a dancer, actor, physical performer, Morris dancer, community practitioner, live artist, circus performer or just want to see what's it all about, please book your free ticket here.
1st session (online - via Zoom)
Saturday 6th March
3pm - 4pm
Eddie Ladd (movement session)
Eddie Ladd about her session:
"Every now and again I do HIIT training (high-intensity interval training) and Tabata is one form of training in this way. In it, you do an exercise for twenty seconds and rest for ten before starting again. In our class, I'd like to follow this pattern to make a series of improvised dances. We'll also be making pieces about the homes in which we live and work during these strange times."
Eddie Ladd has spent at least thirty golden years in showbusiness.
She started making her own work in about 1989. Some have been staged in theatres (though sometimes on turf, a running machine and in flour) and have toured all over Europe. Others have been site-specific, in terrace houses, farmyards and fields. She has used new technologies from the very beginning and received a NESTA fellowship in 2002 to develop this element in her work.
4pm - 5pm - Discussion
facilitated by Tiago Gambogi & Maggi Swallow
About us:
Tiago Gambogi (UK / Brazil) is an award-winning Brazilian / British performer, dancer, actor, choreographer and director who has been working in contemporary dance, theatre, site-specific environmental performance, clowning, artivism and pole dance internationally for more than 20 years . Co-directs the dance-theatre group f.a.b. - Detonators and worked with several artists, including Nigel Charnock, Earthfall, Ben Duke, Angela de Castro, Grupo Oficcina Multimédia and The Institute for Crazy Dancing. He created 25 works, 11 films, directed 10 shows, performed in 15 countries and is a workshop facilitator. https://www.facebook.com/tiagogambogi2 / https://www.instagram.com/tiagogambogi/
Maggi Swallow is co-artistic director of dance theatre company f.a.b. – The Detonators and resident choreographer and artistic director of They Don't Care, the in-house dance troupe for art house cabaret Screaming Alley.
Graduating from art school in the 1980s she has been performing and devising for over 20 years – in the UK, San Francisco, Brasil, France and Czech Republic. She blends an eclectic mix of dance, theatre, text and song – with influences as broad as silent film, vaudeville, 1960s folk music, Czech animation, Russian dance and Chinese metal to produce vital and raucous work, with an occasional dash of the comic.
She is currently developing a contemporary version of Morris Dance; mixing the traditional form with contemporary dance, poetry and text to augment the form and create contemporary rituals.
https://www.screamingalley.co.uk/they-dont-care.html
Dyma gyflwyno Cylch Sir
Prosiect a arweinir gan artistiaid yw Cylch Sir, sydd am ystyried pa hwyl sydd ar berfformwyr proffesiynol ac amatur; pa effaith mae pandemig Cofid-19 wedi ei gael ar eich gwaith a'ch ysbryd; beth yw'ch anghenion; a sut y gallwn fwrw ati gyda'n gilydd i'w trin a'u trafod. Mae Cylch Sir yn bwriadu creu rhwydwaith yn Sir Gâr a thu hwnt ar gyfer perfformwyr proffesiynol ac amatur o bob oed fydd yn cronni gwybodaeth a chefnogaeth ar gyfer y sawl sy'n ymwneud â'r celfyddydau perfformio.
Cyfres o bedair sesiwn yw'r prosiect (sef un y mis) lle gellir trafod adnoddau a gwaith creadigol, rhannu medrau a sôn am brofiadau'r pandemig eleni. Ym mhob sesiwn ceir elfen o hyfforddiant, ychydig o "glico clou artistaidd" ac ymarfer mapio i gynrychioli cynefinoedd y sawl sydd yn mynychu. Bydd y trafodaethau ar ffurf Fforwm Agored gydag ymarferion creadigol i'ch cyflwyno i'ch gilydd, hwyluso'r sgwrs a chywain gwybodaeth.
I gyfrannu at hyn rydym yn eich gwahodd i lenwi'r holiadur isod
gyda chymaint neu cyn lleied o wybodaeth ag yr hoffech chi. Mi fydd yr atebion yn helpu ni efo gwybodaeth ar gyfer y sesiwn a, gan ein bod ni am rhannu ychydig o'r wybodaeth ar ein cyfryngau cymdeithasol, mi fydd yn helpu wrth gyflwyno gwaith ein gilydd ac annog myfyrio.
Cwblhewch cyn gynted ag y gallwch gan y bydd yn ein helpu i grynhoi'r wybodaeth cyn ein cyfarfod. Diolch am eich amser a gweld chi yna!
Holiadur: https://forms.gle/ZkcP7XgMXAcCPAbC6
Os ydych yn ddawnsiwr, actor, perfformiwr corfforol neu'n ddawnsiwr gwerin, yn ymarferydd cymunedol, artist celf byw, perfformiwr syrcas, neu ond am gael cip olwg ar y miri, archebwch docyn yn rhad ac am ddim yma:
Y sesiwn gyntaf,
Dydd Sadwrn Mawrth 6ed
3yp tan 4yp
Eddie Ladd - sesiwn symud
Eddie Ladd am ei sesiwn:
"Bob hyn a hyn rwy'n gwneud ymarferion HCDU (sef hyfforddiant cyfnodau dwysedd uchel) ac mae Tabata yn un dull o hyfforddi fel hyn. Mae dyn yn gwneud ymarfer am ugain eiliad a chael saib o ddeg cyn dechrau eto. Yn ein dosbarth ni, hoffwn ddilyn y patrwm a chreu cyfres o ddawnsfeydd byrfyfyriol. Byddwn hefyd yn gwneud darnau am y cartrefi lle rydym yn byw a gweithio yn ystod y cyfnod rhyfeddol hwn".
Mae Eddie eisioes wedi dathlu trideg o flynyddoedd eiraidd yn showbusiness.
Dechreuodd greu ei gwaith ei hun tua 1989. Cynyrchiadau theatr mewn theatr oedd rhai o'i sioeau (weithiau ar borfa, ar beiriant rhedeg ac mewn blawd serch hynny) tra llwyfannwyd eraill mewn safleoedd arbennig megis tai teras, closydd fferm a meysydd. Bu rhai ar daith ledled Ewrop. Bu'n defnyddio technoleg newydd o'r dechrau a derbyniodd gymrodoriaeth gan NESTA yn 2002 er mwyn atgyfnerthu'r elfen hon yn ei gwaith.
4yp tan 5yp - trafodaeth
Noddir gan Gyngor Celfyddydau Cymru - Cydrannu
Hwyluswyr: Tiago Gambogi a Maggi Swallow
Amdanom ni
Yn hannu o Brasil, mae Tiago Gambogi yn berfformiwr, dawnsiwr, actor, coreograffydd a chyfarwyddwr sydd wedi gweithio ledled y byd am fwy nag ugain mlynedd ym meysydd dawns gyfoes, theatr, clownio, celf ymgyrchol, gwaith amgylcheddol ar safleoedd arbennig a dawnsio polyn. Mae'n gyd-gyfarwyddwr ar gwmni theatr ddawns f.a.b. - Detonators ac wedi gweithio gyda nifer o artistiaid megis Nigel Charnock, Earthfall, Ben Duke, Angela de Castro, Grupo Oficcina Multimédia a The Institute for Crazy Dancing. Mae wedi creu 25 darn, 11 ffilm, cyfarwyddo 10 sioe, perfformio mewn 15 gwlad ac yn hwyluso gweithdai.
https://www.facebook.com/tiagogambogi2 / https://www.instagram.com/tiagogambogi/
Mae Maggi Swallow yn gyd-gyfarwyddwraig ar gwmni theatr ddawns f.a.b - Detonators ac yn goreograffydd preswyl a chyfarwyddwraig artistig ar They Don't Care, criw dawns y cabaret art house Screaming Alley.
Ar ôl graddio o'r ysgol gelf yn yr 80au mae wedi perfformio a dyfeisio ers dros 20 mlynedd yn y DG, San Fransisco, Brasil, Ffrainc a'r Weriniaeth Tsiec. Mae'n cyfuno dawns, theatr, testun a chân - ac yn nyddu dylanwadau ffilmiau mud, vaudeville, canu gwerin y 60au, gwaith animeiddio Tsiecaidd, dawns o Rwsia a cherddoriaeth metal o Tseina i greu gwaith nwyfus ac aflafar - a digri o bryd i'w gilydd.
Mae wrthi'n datblygu fersiwn gyfoes o Morris Dance gan ymetsyn y dull traddodiadol wrth blethu dawns gyfoes, barddoniaeth a thestun iddo er mwyn creu defodau cyfoes.
https://www.screamingalley.co.uk/they-dont-care.html
Funded by:
Arts Council Wales - Sharing Together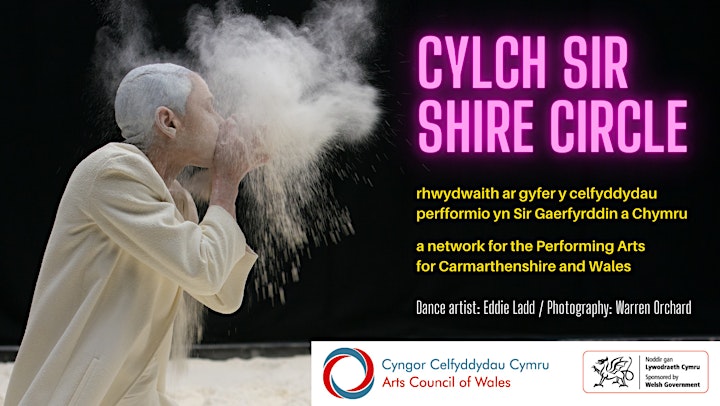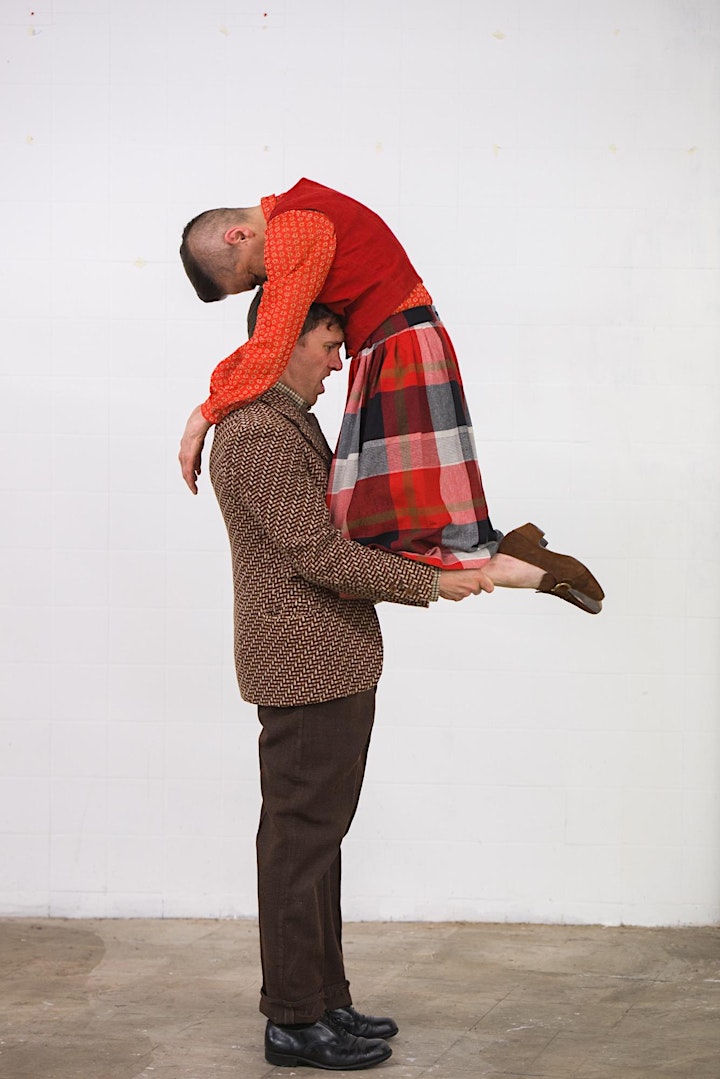 Eddie Ladd and Gwyn Emberton "Caitlin", a duet about Dylan Thomas' wife, Caitlin. Photography by Warren Orchard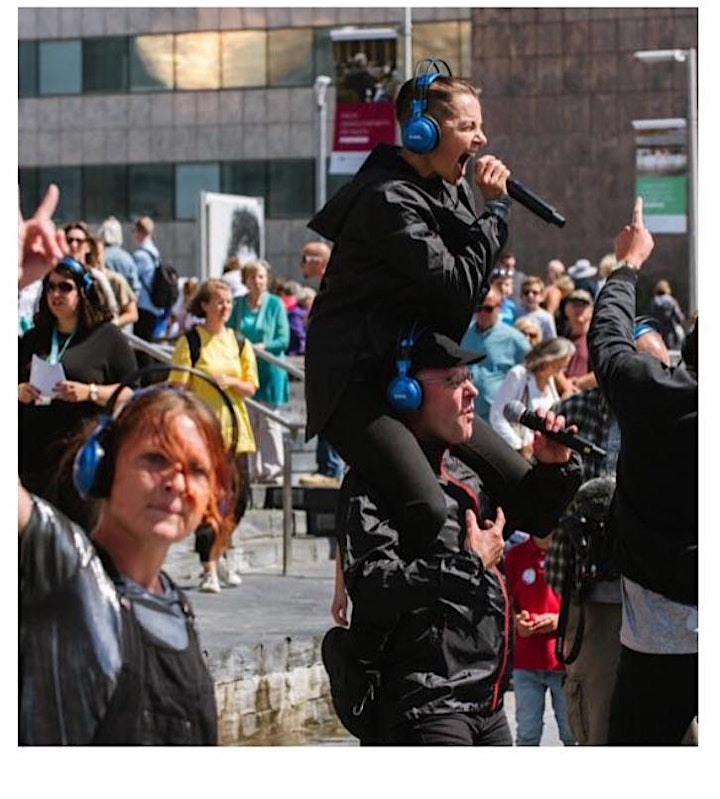 Photography by: Warren Orchard
Video links of Eddie Ladd's work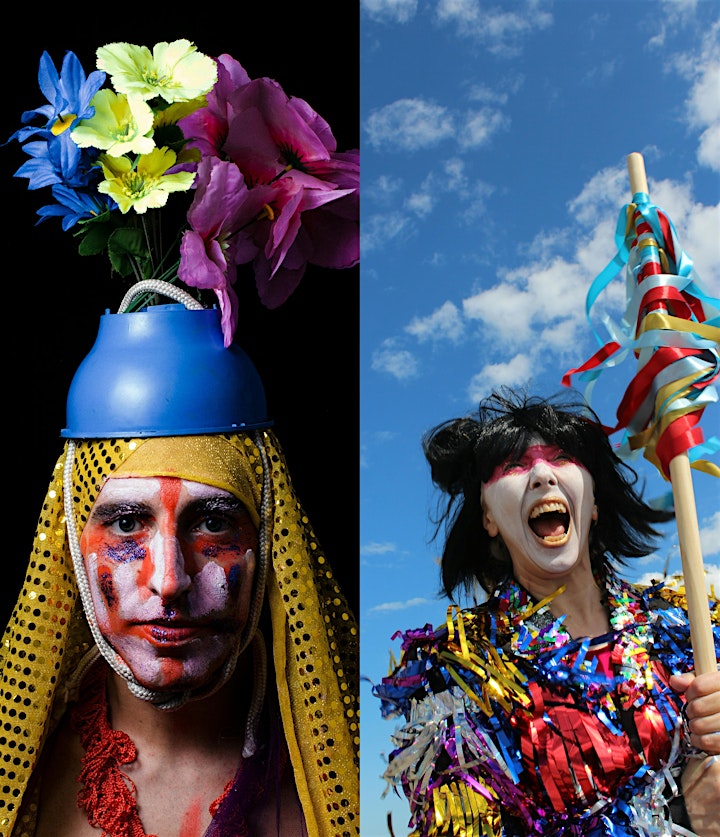 Tiago Gambogi & Maggi Swallow - dance/theatre artists - Cylch Sir Coordinators
Photos: Lucas Brito & TGF