CyNam 20.3 : Staying Ahead of Cyber Criminals (Virtual Event)
About this event
Cyber Cheltenham (CyNam) brings together the cyber community for our last event of 2020, exploring the theme of how the cyber-crime threat is being fought on technical and operational levels.
With headline speakers from Microsoft, RipJar and others, the evening is set to be another fast-paced, stellar event, full of content and insight. We'll also hear the latest on local and national initiatives including a student showcase and content from exciting local cyber scale-ups.
With new improved virtual discussion sessions that you can access on-demand during the break, covering technical topics to diversity and inclusion, these will provide a real opportunity to engage in discussions with other attendees.
Whether you're a cyber professional, a student or just have an interest in cyber security - this event is for you!!
Keynote Talks and Panel Sessions Include:
Transforming Cyber Threat Intelligence - RipJar, Jeremy Annis, CEO Ripjar& Don Smith, Director Counter Threat Unit, Secureworks
Exploiting a Crisis: How Microsoft disrupted the cybercriminals - Sarah Armstrong-Smith, Chief Security Advisor & Matt Lundy, Assistant General Council
Ransomware's Perfect Storm - James Muir, Threat Intelligence Research Lead, BAE Systems Applied Intelligence
Student Showcase - Lauren Bennett, CyberFirst Student Ambassador (GCSE Student) and Ben Heathfield, Apprentice Bamboo Technology / Gloucestershire College
Breakout discussions led by:
Transforming Cyber Threat Intelligence - Under the Bonnet, RipJar
Security Through Diversity - Dr Nathalie Cole and Jenny Seaborne, Ladies of Cheltenham Hacking Society
Moving Forwards: The importance of apprenticeships in our cyber industry - Julie Tegg, Gloucestershire College
The Psychology of Crisis Management - Rakhee Porter, Sopra Steria
The broadcast will be live from 16.45 via our broadcast portal at https://broadcast.cynam.org/
Come and join our Slack channel for this event - just email info@cynam.org and we'll send you an invite!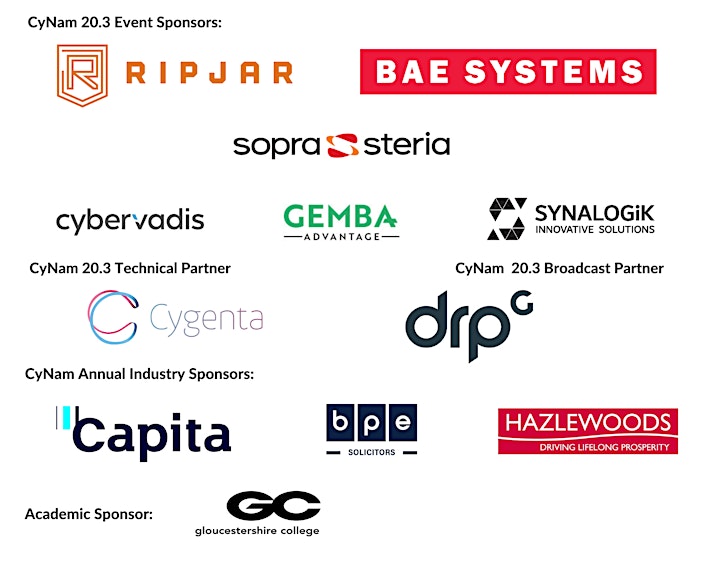 If you would to see what we got up to at CyNam 20.2 - The Changing Scene of Cyber (broadcast in June 2020), check out the video below.