Cynhadledd Gwir Fwyd a Ffermio Cymru/Wales Real Food and Farming Conference
Sales Have Ended
Ticket sales have ended
Diolch | Thank you
Event Information
Refund policy
Contact the organiser to request a refund.
Eventbrite's fee is nonrefundable.
Sales Have Ended
Ticket sales have ended
Diolch | Thank you
Dechrau newydd i fwyd a ffermio yng Nghymru - a new start for food and farming in Wales. Cynhadledd rithiol. Virtual conference
About this event
[scroll down for English]
Y DRYDEDD CYNHADLEDD GWIR FWYD A FFERMIO CYMRU
Mae'r Gynhadledd Gwir Fwyd a Ffermio Cymru yn ôl! Y tro yma, byddem yn ailadrodd fformat ar-lein llwyddiannus iawn y llynedd - ond yn cynnal digwyddiad mewn-person cyn gynted ag y gallwn.
Unwaith eto, bydd sesiynau yn archwilio bwyd a ffermio cynaliadwy yng nghyd-destun yr holl system fwyd yng Nghymru. Ein prif siaradwyr eleni fydd Tim Lang, Athro Emeritws mewn Polisi Bwyd yn City, Prifysgol Llundain; Lois Mansfield, Athro Tirweddau'r Ucheldir ym Mhrifysgol Cumbria; ac Adam Jones o Sir Gaerfyrddin, sy'n fwy adnabyddus fel "Adam yn yr Ardd".
Bydd y Gynhadledd yn dwyn ynghyd ffermwyr, tyfwyr, pysgotwyr, busnesau bwyd, cadwraethwyr natur a phobl sy'n ymwneud ag iechyd y cyhoedd, diwylliant, treftadaeth wledig a sgiliau.
Gyda'n gilydd gallwn lunio dyfodol bwyd a ffermio yng Nghymru ac rydym yn mawr obeithio y byddwch chi'n rhan ohono. Gweler www.cgfffc.cymru.
Gwybodaeth Archebu
Rydym wedi cael cefnogaeth hael gan nifer o noddwyr, ond er mwyn talu am ein holl gostau a bod mewn sefyllfa dda i ailadrodd y gynhadledd y flwyddyn nesaf, rydym yn codi tâl am docynnau.
Rydym yn gwahodd i chi ddewis pris eich tocyn, fel a ganlyn:
Tocyn cefnogwr - £35 + ffi archebu eventbrite. Dyma eich cyfle i fuddsoddi yn y Gynhadledd a chadw'r pris lawr i bobl eraill.
Tocyn safonol - £20 + ffi archebu eventbrite.
Tocyn consesiwn - £5 + ffi archebu eventbrite.
Mae'r tocynnau yn ddilys am yr holl gynhadledd. Does dim tocynnau diwrnod sengl i gael.
Noddir y gynhadledd gan Fwyd a Diod Cymru (Llywodraeth Cymru ), Organic Farmers & Growers, Cynghrair Gweithwyr y Tir Cymru, Hybu Cig Cymry, Rhwydwaith Ffermio er Lles Nature, Soil Association a Real Seeds. Mae lle i eraill!
THE THIRD WALES REAL FOOD AND FARMING CONFERENCE
The Wales Real Food and Farming Conference is back! This time, we are repeating last year's very successful online format - but will return to an in-person event as soon as we can.
Sessions will again explore sustainable food and farming in the context of the whole food system in Wales. Our keynote speakers this year are Tim Lang, Emeritus Professor of Food Policy at City, University of London; Lois Mansfield, Professor of Upland Landscapes at the University of Cumbria; and Adam Jones from Carmarthenshire, better known as "Adam yn yr Ardd".
The Conference will bring together farmers, growers, fishers, food businesses, nature conservationists and people involved in public health, culture, rural heritage and skills.
Together we can shape the future of food and farming in Wales and we very much hope you will join us. See www.wrffc.wales.
Booking information
We have been generously supported by a number of sponsors, but in order to cover all our costs and be in a good position to repeat the conference next year, we are charging for tickets.
We invite you to choose the price of your ticket, as follows:
Supporters' ticket - £35 + eventbrite booking fee. Here is your opportunity to invest in the conference and keep the price down for others.
Standard ticket - £20 + eventbrite booking fee.
Concession ticket - £5 + eventbrite booking fee.
Tickets are valid for the whole conference. There are no single day tickets.
The Conference is kindly sponsored by Food and Drink Wales (Welsh Government), Organic Farmers & Growers, Land Workers' Alliance Cymru, Meat Promotions Wales, the Nature Friendly Farming Network, Soil Association and Real Seeds. There is room for more!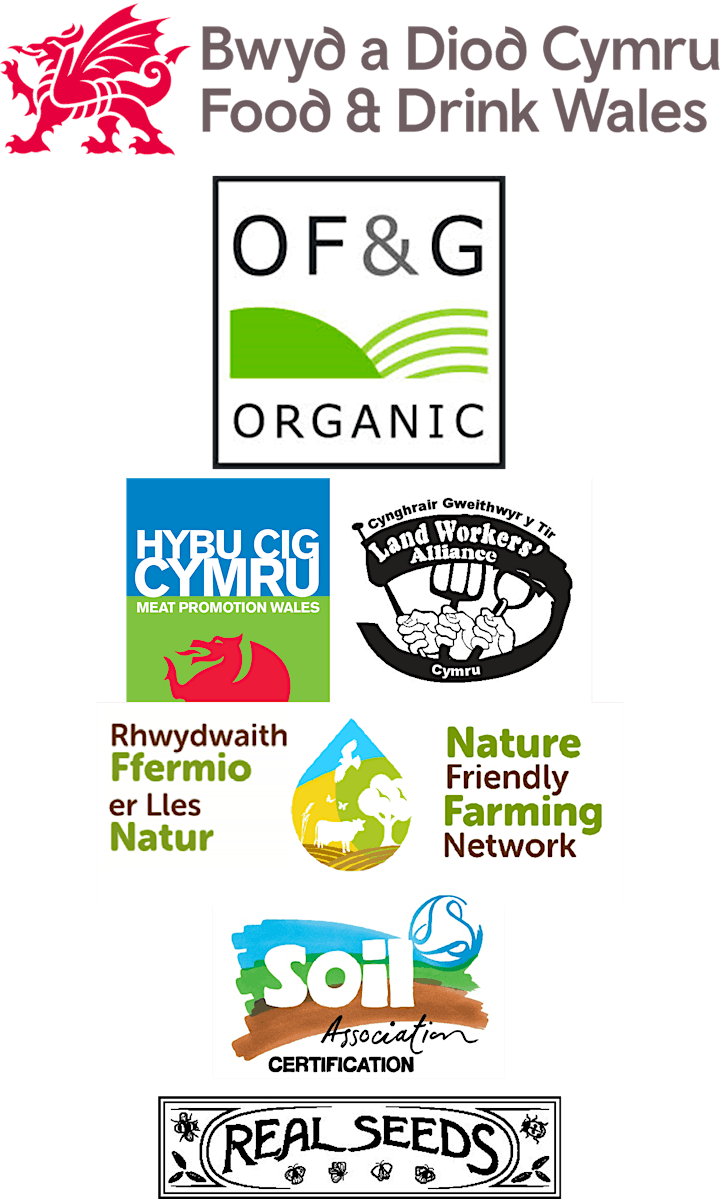 Date and time
Location
Refund policy
Contact the organiser to request a refund.
Eventbrite's fee is nonrefundable.
Organiser of Cynhadledd Gwir Fwyd a Ffermio Cymru/Wales Real Food and Farming Conference
This conference welcomes anyone who is interested in fresh approaches to farming, growing and eating in Wales.
We want farmers and growers to thrive, to be appreciated by their local communities, to be rewarded for what they do, and get the support they need to produce healthy food for everyone, in a fair and responsible way that builds biodiversity and human culture. We want everyone in Wales to have healthy food to eat. We invite anyone with an interest in this, to join us – suggest a workshop or a speaker, join the organizing team, and of course, buy a ticket and come along for a whole new event in Welsh food and farming.
For more information contact info@wrffc.wales neu gwybodaeth@cgfffc.cymru.