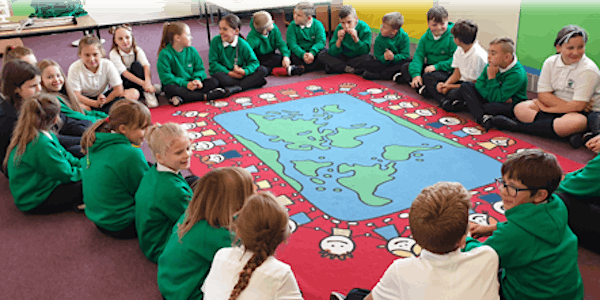 Cynhadledd Ysgolion Heddwch / Wales Peace Schools Conference, 2021
Digwyddiad i ysgolion sydd yn frwd dros heddwch a newid hinsawdd! An event for schools passionate about peace and climate change!
About this event
PLEASE SCROLL DOWN FOR ENGLISH
Mae gan gynhadledd Ysgolion Heddwch Cymru eleni dau amcan. Yn y bore, byddwn yn ffocysu ar thema Cyfiawnder yn yr Hinsawdd. Cawn glywed gan banel o siaradwyr am sut mae newid yn yr hinsawdd yn effeithio ar boblogaethau'r byd mewn ffyrdd sydd yn dwysáu anghyfartaledd ac yn tanseilio hawliau dynol. Caiff plant a phobl ifanc sydd yn mynychu'r gynhadledd gyfle i holi'r siaradwyr ac yna i gymryd rhan mewn gweithdai rhyngweithiol lle byddant yn edrych ar y themâu'n feirniadol ac yn archwilio datrysiadau. Yna, down at ein gilydd i rannu syniadau am yr hyn medrwn ni ei wneud fel pobl ifanc.
Y nod fydd sicrhau bod y sesiwn hwn mor rhyngweithiol â phosibl fel ei fod yn addas i ddisgyblion cynradd ac uwchradd.
Ffocws y prynhawn fydd dathlu cyflawniadau Ysgolion Heddwch a rhannu arfer da. Bydd hyn yn cynnwys cyflwyno tystysgrifau i'r ysgolion sydd wedi cyrraedd Lefel nesa'r Cynllun.
Cynhelir y gynhadledd ar lein eto eleni, yn y gobaith y cawn ddod at ein gilydd wyneb yn wyneb yn 2022!
Edrychwn ymlaen at eich croesawi i'r Digwyddiad blynyddol cyffrous hwn!
Os oes angen gwybodaeth ychwanegol arnoch, Medrwch gysylltu â: janeharries@wcia.org.uk
This year's Wales Peace Schools conference has a dual purpose. In the morning, we will focus our attention on the issue of Climate Justice. We will hear from a panel of speakers about how climate change is affecting the world's populations in ways that further accentuate inequalities and undermine human rights. Children and young people attending the conference will have the opportunity to ask questions of our speakers and then to engage in interactive workshops examining the issues critically and exploring solutions. We will then come together in a plenary to share ideas of what we can do as young people.
We will aim to make this session accessible and interactive, so that it is suitable for both primary and secondary pupils.
The focus of the afternoon will be celebrating the achievements of Peace Schools and sharing good practice. This will include virtually presenting certificates to the schools who have reached the next Level of the Scheme.
The conference will take place online this year, in the hope that in 2022 we will be able to come together face to face!
We look forward to welcoming you to this exciting annual event!
If you require further information, don't hesitate to contact janeharries@wcia.org.uk
Organiser of Cynhadledd Ysgolion Heddwch / Wales Peace Schools Conference, 2021