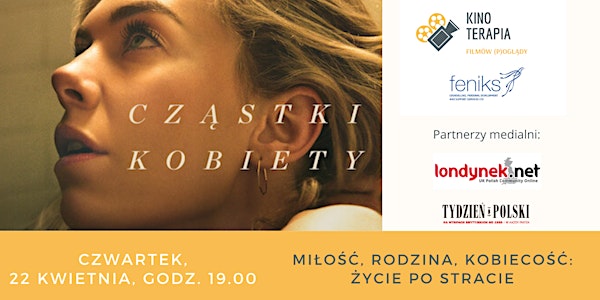 Cząstki kobiety: Miłość, rodzina i życie po stracie
Wspólne oglądanie fragmentów filmu "Cząstki kobiety" i rozmowa o związku, miłości, relacjach rodzinnych i kobiecości w żałobie
About this event
Martha i Sean to oczekująca dziecka para, której życie nieodwracalnie się zmienia, kiedy poród domowy kończy się tragedią. Dla Marthy oznacza to początek trwającej rok gehenny, w trakcie której musi uporać się z żałobą oraz odnaleźć w napiętych relacjach z mężem i apodyktyczną matką. Czeka ją też sądowe starcie ze znienawidzoną przez opinię publiczną położną.
W czasie ostatniego roku wielu z nas musiało się zmierzyć ze stratą. Jest to temat trudny, delikatny, ale też bardzo ważny. Dlatego w ramach projektu KinoTerapia zapraszamy do wspólnego oglądania fragmentów filmu "Cząstki kobiety", bardzo osobistej, przenikliwej i przejmującej historii o kobiecie, która uczy się żyć z bólem straty. Wraz z psycholog Magdaleną Kosmalą i dziennikarką Magdaleną Grzymkowską zastanowimy się nad różnymi sposobami radzenia sobie z żałobą, postawami wsparcia dla osób w żałobie oraz na tym, czego unikać w rozmowie z osobą cierpiącą po stracie.
KinoTerapia to klub dyskusyjny, który wykorzystuje kinowe hity jako pretekst do wymiany poglądów na tematy z obszaru psychologii. Spotkania są bezpłatne i mają charakter warsztatowy, a każdy z uczestników jest zachęcany do aktywnej rozmowy. W czasie zamkniętej sesji uczestnicy oglądają fragmenty filmów (bez ujawniania szczegółów fabuły), a następnie w podgrupach debatują o przedstawionym problemie. Nad przebiegiem dyskusji czuwają ekspertki ds. psychologii i komunikacji społecznej.
Projekt jest skierowany do Polaków i osób polskojęzycznych mieszkających w Wielkiej Brytanii, a w szczególności w Szkocji i działa pod auspicjami edynburskiej organizacji Feniks – Counselling, Personal Development and Support Services Ltd. W czasie lockdownu spotkania odbywają się online za pośrednictwem platformy Zoom. Link do sesji otrzymują zarejestrowani uczestnicy.