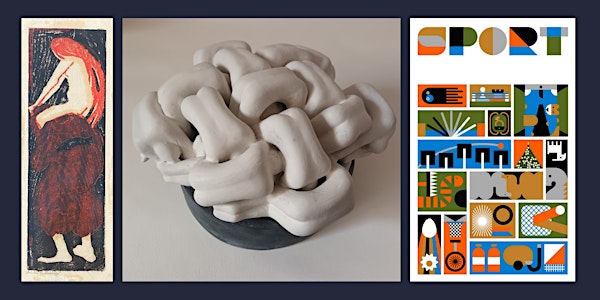 CZECH AND SLOVAK ART FOR UKRAINE - Art exhibition and Fundraising auction
Location
Embassy of the Czech Republic
26-30 Kensington Palace Gardens
London
W8 4QY
United Kingdom
Czech and Slovak art exhibition and online fundraising auction for Ukraine. Workshops, debates, concert and screening of the art film.
About this event
CZECH AND SLOVAK ART FOR UKRAINE
Czech and Slovak school Okénko in London with the artists Tereza Bušková and Lucia Húsková invite you to an Art Exhibition & Fundraising Auction at Embassy of the Czech Republic, London on Sunday 22 May 2022, 2pm - 7pm.
Featuring artworks created by children as well as original pieces donated by the modern and contemporary Czech and Slovak artists who inspired them.
Online viewing and bidding available from 15 May 2022 at:
https://app.galabid.com/okenkoauction/items
Online auction will end at 4.30pm on 22 May 2022!!!
100% of sales to Ukraine crisis appeal Člověk v tísni SOS Ukrajina and Czech National Committee Ukraine
Programme on the day include (Details below):
- Dialogues and workshops with well known Czech and Slovak artists Patrik Antczak, Veruška Bobeková, Alex Brychta, Marek Dutka, Zuzana Lukáčová, ˇˇSárka Radová and curator of modern and contemporary art Katarína Bajcurová.
- Performance by pianist Daniel Balatkin with saxophonist Tom Smith
- Screening of the art film Hidden Mothers by Tereza Bušková
We collected art from the following Czech and Slovak artists:
Patrik Antczak, Veruška Bobeková, Alex Brychta, Jan Brychta, Lída Brychtová, Tereza Bušková, Marek Dutka, Renáta Fučíková, Pavel Fuksa, Míla Fürstová, Petr Horáček, Lucia Húsková, Eva Končeková, Viera Kraicová, Fero Kráľ, Pavol Kráľ, Rudolf Letko, Zuzana Lukáčová, Minka Podhajská, Pravoslav Rada, Jindřiška Radová, Šárka Radová, Rudolf Sikora, Miroslav Šašek, Katarína Ševellová-Šuteková, Ester Šimerová-Martinčeková
This exhibition is the culmination of the International Czech-Slovak Art Workshops, which we have organized since March 2021. In the workshops, we were inspired by the work of Czech and Slovak artists from different eras and different artistic styles.
The International Exhibition of Czech and Slovak Art in London aims to present Czech and Slovak art not only to the Czech and Slovak community, but also to the general English public. - We bring a valuable and unique collection of original works of art and art objects by renowned Czech and Slovak artists, which inspired us.- Visitors to the exhibition will have a unique opportunity to get acquainted not only with the works of art at the exhibition, but also to meet several artists who will take part in the exhibition. - We are preparing debates and art workshops with artists during the exhibition and concert and screening of the art film- We will exhibit and thus celebrate the work of our students from art workshops