Description
If you're a SME* (Small, Medium Enterprise) based in the Nottingham city area the D2N2 Growth Hub can help your business to grow!

If you're ready to take the next step towards growing your business but are wondering where to start why not take your first step by getting to know your local D2N2Growth Hub team?
We hold regular (and FREE) business surgeries and 'drop-in' sessions at the Business & IP Centre (BIPC) Nottingham to help you 'cut through the noise' and guide you to find the right support products for your business.
Each session is tailored to your needs so whether you are looking for grants for growth or to improve your digital connectivity, support to innovate, opportunities to network or advice on trading internationally (and MORE!) we can give you the support you need.
At around 45 minutes long you're able to get the help you need and then get back to your business so come along to meet one of our friendly and well-connected business advisers to find the right support and advice for you. Together we can make your business a success.
All the support the D2N2 Growth Hub provide is funded through European funding called ERDF.
---
Book your session.
Surgeries will run on a fortnightly basis on Thursday's with sessions lasting for around 45 minutes long, running between 10am to 4pm. Please use this page to choose which day and book your surgery slot now.
---
Drop In
There will also be 'Drop In' sessions available every Tuesday on a fortnightly basis which will last for as long as needed, running between 10am to 4pm. Please turn up on the allocated days shown below but note this will be a first come first serve basis with limited availability:
'Drop in' Sessions Days:
October - 9th, 23rd
November - 20th
December - 18th
All sessions are held at the Business & IP Centre (BIPC) Nottingham, 2nd Floor, Nottingham Central Library, Angel Row, Nottingham NG1 6HP.
---
Contact Info
For any general enquires about surgeries or 'drop in' sessions or for booking changes, then please conatct:
Tracey Hylton Burrows - 07740 745150

Ashreen Seethal - 07939 979425
---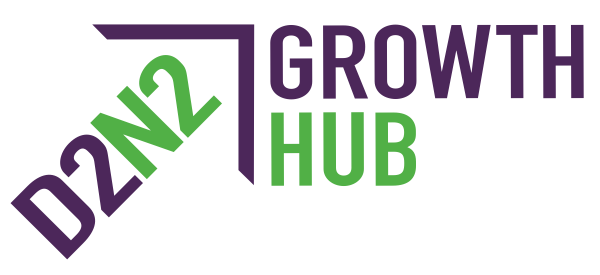 About the D2N2 Growth Hub:
The D2N2 Growth Hub aims to power up your business by providing signposting, information and contacts for business services across Derby, Derbyshire, Nottingham and Nottinghamshire. Our priority is to engage with business service providers (both public and private) to help small and medium sized pre-start-ups, start up and established businesses to grow.
Find out more on the D2N2 website.
---

*Eligibility:
In regulation with ERDF, the D2N2 Growth Hub can support your business if:
The business has fewer than 250 employees.

The business is based in either Nottinghamshire or Derbyshire.

Not more than 25% of the business is owned by an organisation that in itself is not an SME.

Annual turnover is below £45 million.
For new business enquiries who have not currently engaged with the D2N2 Growth Hub, we require that an enrolment form is completed and signed. This is used as a record of support for auditing purposes as our project is fully funded under ERDF.
---