On the day we'll be running six sessions, from 10am to 4pm. Each session lasts 45 min. Click REGISTER to book yours now!
About this Event
If you're an SME (Small, Medium Enterprise) in the Life Sciences or Food & Drink sector and based in the Nottingham city area, the D2N2 Growth Hub can help your business to grow!
If you're ready to take the next step towards growing your business but are wondering where to start why not take your first step by getting to know your local D2N2 Growth Hub team?
Our adviser Ashreen, is holding online business surgeries on:
Monday 26 October - Life Sciences
Tuesday 27 October - Food & Drink
Each session is tailored to your sector needs so whether you are looking for grants for growth or to improve your digital connectivity, support to innovate, opportunities to network or advice on trading internationally (and MORE!) we can give you the support you need.
At around 45 mins long, you will be able to get the help you need and then get back to your business. Our friendly and well connected adviser will help to find the right support and advice for you. Together we can make your business a success.
All the support the D2N2 Growth Hub provide is funded through European funding called ERDF.
Please note to be eligible for the D2N2 Growth Hub programme to gain business support, your business must be at least incorporated or trading.
__________________________________________________________________________________
Book your session:
The sessions on 26 October for Life Sciences and 27 October for Food & Drink will run between 10am and 4pm. Please pre-book using the 'Select Date' button at the top of the page.
All sessions will be done using Microsoft Teams which after booking a session, an email invitation will be sent to you direct to access the online meeting for your chosen time.
Please don't forget to let us know if you book a session and then can't make it for any reason.
__________________________________________________________________________________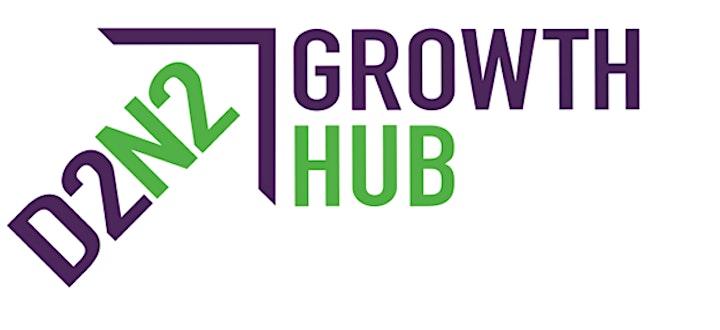 About the D2N2 Growth Hub:
The D2N2 Growth Hub aims to power up your business by providing signposting, information and contacts for business services across Derby, Derbyshire, Nottingham and Nottinghamshire. Our priority is to engage with business service providers (both public and private) directly for you to help small, medium and fully established sized businesses to grow and prosper.
Find out more on the D2N2 website.
__________________________________________________________________________________

Eligibility:
In regulation with ERDF, the D2N2 Growth Hub can support your business if:
The business has fewer than 250 employees.
The business is based in either Nottinghamshire or Derbyshire.
Not more than 25% of the business is owned by an organisation that in itself is not an SME.
Annual turnover is below £45 million.
Prior to attending, you will need to submit an SME enrolment form providing details of your business. If you haven't already done so, you can complete this now by downloading the form HERE.
Please fully complete the form, wet sign it and return it by email to danny.sneddon@nottinghamcity.gov.uk. We must receive the completed SME Enrolment form prior to the event date in order to confirm your booking.
This is used as a record of support for auditing purposes as our project is fully funded under European Regional Development Fund (ERDF).
________________________________________________________________________________________________