A Daata panel discussion featuring prominent collectors of digital art, curators and writers. Hosted by Tyler Woolcott.
About this event
How do collectors display digital and video art within their own homes? Daata presents a panel discussion featuring leading collectors of digital art, curators and writers, including: Haro Cumbusyan, Darryl de Prez, Bernardo Faria, Pamela Kramlich, Barbara London, Pau Waelder. The talk will be moderated by Tyler Woolcott, Director and Founder of Studio Visit.
This is the first in a series of talks which aim to demystify, explore and understand collecting and supporting digital art. The talk launches Daata Fair Miami (December 1st - 13th), our online art fair that is dedicated to showcasing the very best in contemporary artists video from leading art galleries around the world.
Media Partners:
Art in America
The Bass
CURA.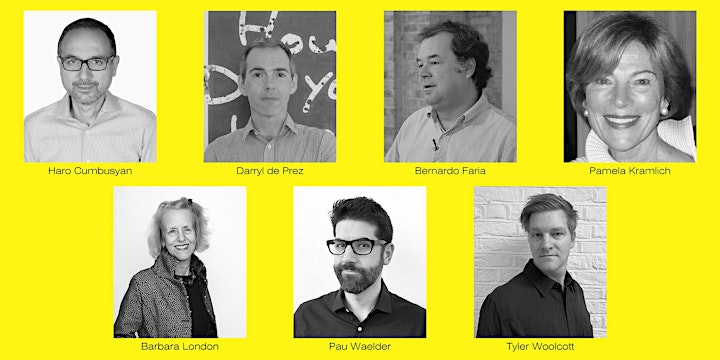 Panel:
Haro Cumbusyan
Haro Cumbusyan is a social entrepreneur and a collector of media art currently based in Zurich. Between 2010-15, he was the Founding Director of collectorspace. Haro is a member of the Board of Directors of Council (Paris) and SAHA (Istanbul), the Board of Advisors of Protocinema (Istanbul/New York), the Selection Committee of LOOP Moving Image Fair (Barcelona), and the Acquisition Committee of Media and Performance at MoMA (New York).
Darryl de Prez
Darryl de Prez is Head of Development at Brixton House, London and has collected work by early career artists for nearly fifteen years. He is a Patron and supporter of several arts organisations, including the Whitechapel Gallery, New Contemporaries and Artangel.
Bernardo Faria
Bernardo Faria is a Brazilian entrepreneur and art collector based in New York and São Paulo. His collection is focused on the intersection of art and technology and its impacts.
Pamela Kramlich
Pamela Kramlich is the Founder/Director of the Kramlich Collection, a pioneering collection of video, film and media installation artwork dating from the mid-1960's to the present. In addition to co-founding New Art Trust and the Kramlich Art Foundation, Pam serves on the Media Accessions Committee for MoMA and the Boards of Trustees for SFMOMA and New Art Trust and is a member of the Tate International Council.
Barbara London
Barbara London is a New York-based curator and writer who founded the video-media exhibition and collection programs at the MoMA. Her current projects include the book Video/Art: The First Fifty Years (Phaidon, 2020), the podcast series "Barbara London Calling," and the exhibition "Seeing Sound" (ICI).
Pau Waelder
Pau Waelder is a contemporary art curator, lecturer, and writer. Based in Palma, Spain, Waelder regularly curates exhibitions and writes about digital art. He is the author of You can be a wealthy/cash-strapped art collector in the digital age (Printer Fault Press, 2020).
Tyler Woolcott (Moderator)
Tyler Woolcott is a British American curator, writer and founder of StudioVisit, an online platform enabling the public to book studio visits with acclaimed artists. Tyler is the Chair of the Artangel Development Committee.
We look forward to having you join the conversation!
Organiser of Daata presents Demystifying Digital Art: Collecting and Displaying at Home