Description
Bringing hand-made, chef-concocted Damascus delicacies to Good Hope Cafe on Friday evenings.

If you'd like to reserve a table & pay on the night instead, just shoot us an email on chef@damascuschef.com. Have a browse of our four course January menu and get thinking about which mains you like the look of now.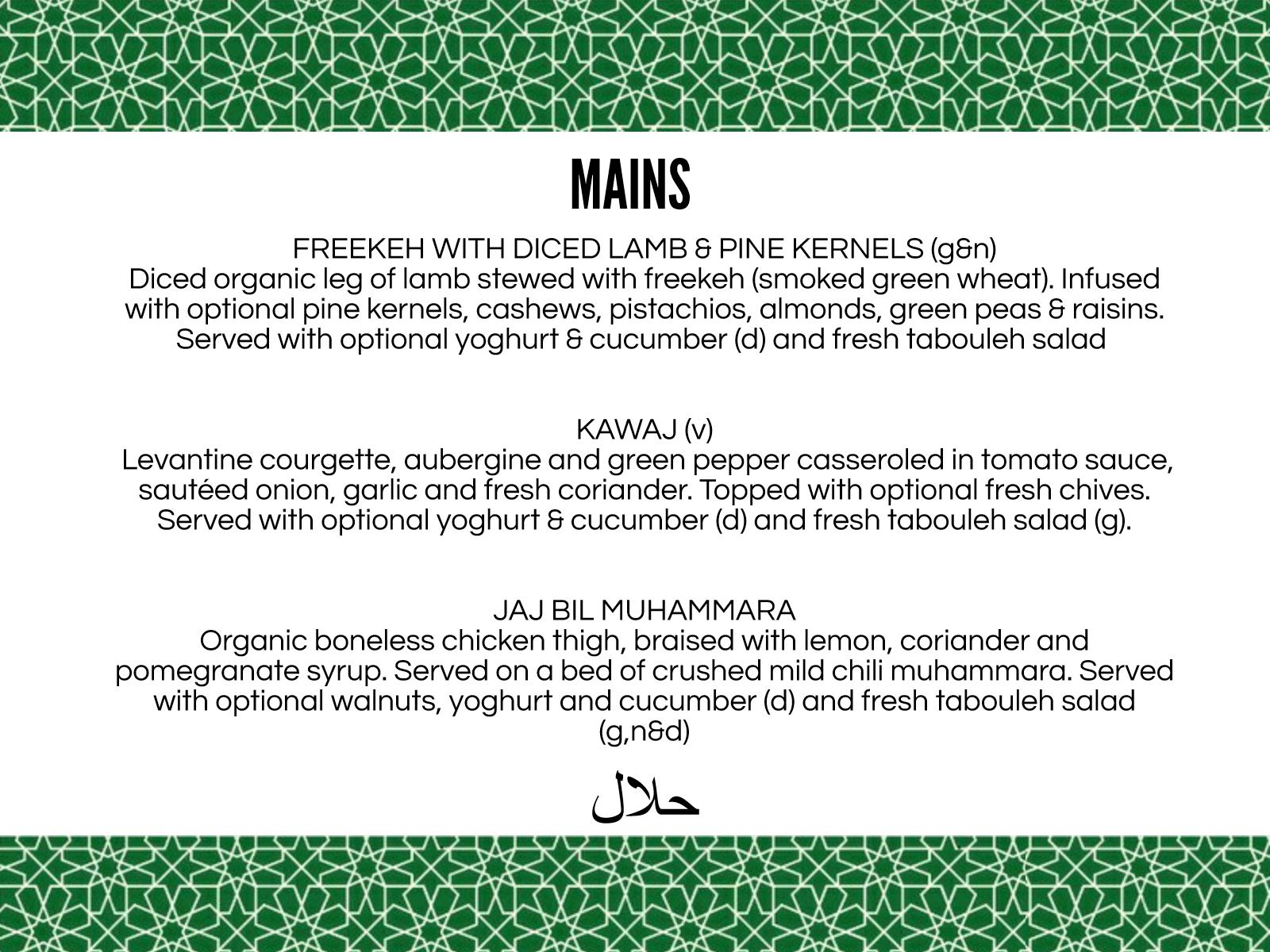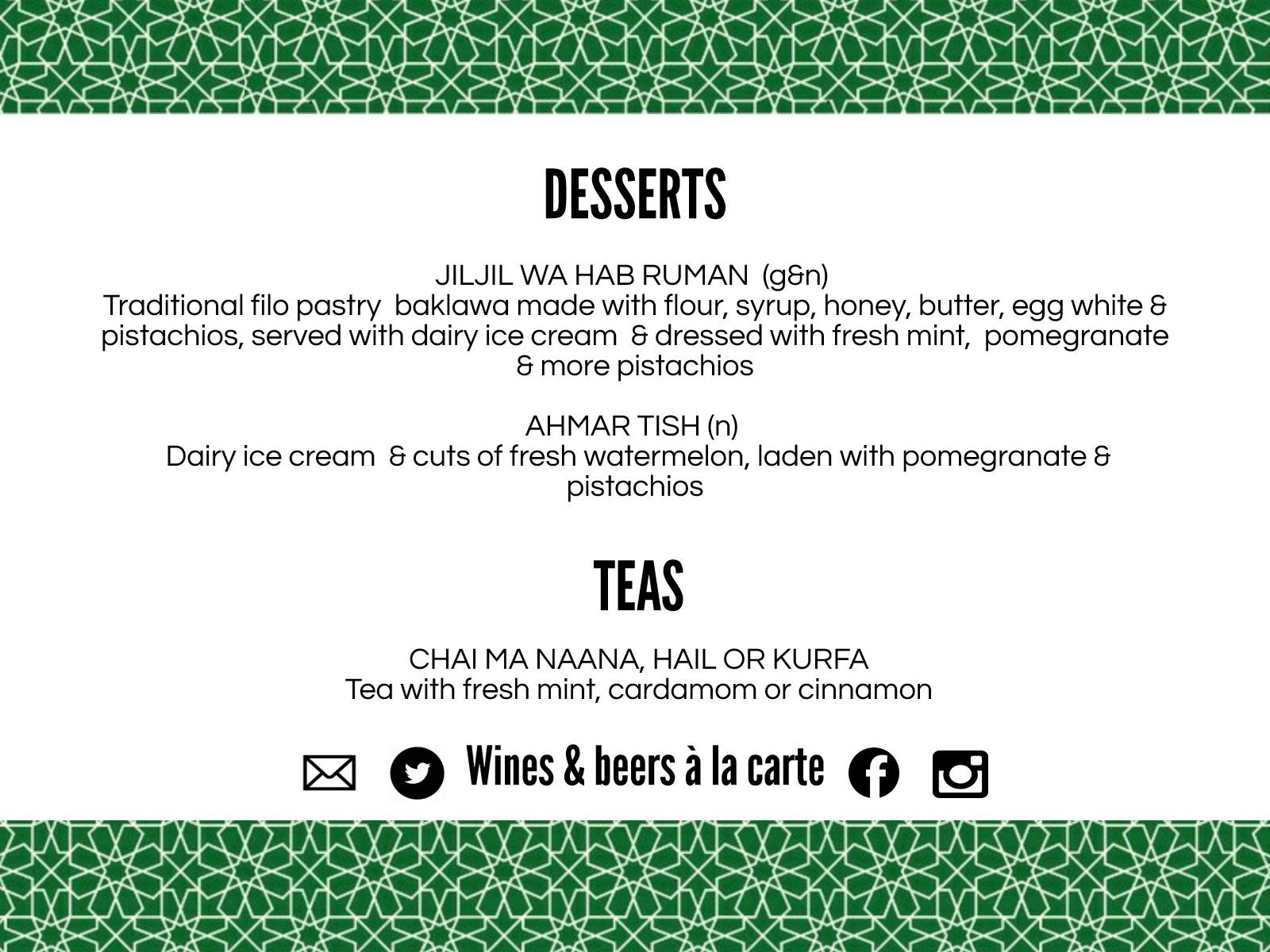 FAQs
What's the vibe like?
A great date spot - if you like a whimsical, dreamy, off-the-wall feel. We don't just attract couples though - a mixed bag of foodies young and old flock in from across South London and beyond.
Do we select our dishes?
Everyone eats our four course menu, which includes all four fresh meze dishes, soup, one main dish, dessert and a selection of fresh teas. Choose your main dish when booking to make sure we have what you want. Pick your dessert on the night. If you end up changing your mind about your choice of main, we can normally accommodate.
Can we bring kids?
Kids are welcome - they eat the same menus as adults for half price (with smaller portions).
And drink?
We sell an array of wines and beers on the night. Keep in touch with us on Twitter or Facebook, give us a call on 07884936910, or drop us an email for a drinks menu. The selection of fresh teas is part of the menu.
Do you do take away?
Yes we do! Booking is only for sit-down guests - so if you're up for takeaway, just turn up on the night. Get in touch if you're more than six, or you want your order ready super quick, via social media, chef@damascuschef.com or on 07884936910.
Is it halal?
Yes, our lamb is both organic and halal! Hurray! Not very easy to find, we know.

What about allergies?
All our nut, dairy, sesame and wheat-based dishes are prepared separately. That said, please give us a call on 07884936910, or email us on chef@damascuschef.com to discuss severe allergies before booking.
All dishes, apart from the freekeh main and the "Jiljil ma Ruman" dessert are gluten free. That said, the meze are served with optional bread, and all the dishes come with optional Tabouleh salad which is made with cous cous. Just let us know on the night if you'd prefer not to have the salahd, or if you want your meze served with gluten free crackers.
Do I have to print my ticket?
No need, we'll have a list of bookings to hand on the night.
I want to come, but don't fancy booking just yet...
If you don't fancy booking now, you can always try your luck turning up on the night for a table.
When shall we turn up?
We normally have free tables at 6.30, but often sell out at 8.30 pm - so don't worry about turning up a little late for your booking - but bear in mind that you may need to wait if you turn up early. For general questions in the run up to the night call the chef on 07455172017 or drop us a line at chef@damascuschef.com.
I want to taste the meze, but don't know if I can manage a whole meal..
Drop by any time from 9 - if we have space, we can grab you a table and you can while the evening away over wine, beer or juice and meze. An unlimited supply of all four meze dishes plus as much bread as you need is £10 a head...
Parking?
The Good Hope doesn't have a dedicated parking area- but parking is free in the local area after 7pm.
Trains?
The nearest stations are Hither Green or Ladywell (Southeastern Railways). Lewisham (DLR, Southeastern) is a brisk 15 minute walk away.
I just realised I can't make it on the night I booked for..
No problem, just shoot us an email and we can book you in for another time.
Organiser of Damascus Chef @ Good Hope Café, Hither Green
Damascus Chef, also known as Abdullah Alawayed, grew up on a farm, surrounded by kitchen lore, in the North east of Syria - right in the heart of what archaeologists call the Fertile Crescent. He learned his trade in Damascus, fine tuned it in Amman, and started adding twists here in the UK.
With an eighteen month long residency at the Good Hope, Hither Green Lane, and one-off residencies in Shoreditch, Kings Road, Clapham, Lee and Peckham, we've built up a strong, predominantly South London-based following. Our aim is not to condemn any of our customers to categories: be that based on the way they dress, their tastes, food habits or diets, or what they do all day. Let's just say we're great for vegans and carnivores alike, the gluten free and the hardcore gluten guzzlers, nostalgics, travellers and people who live in the here & now. 

Not only are we part of the rare few that use organic (& halal meat), cook our baba ganoush on real wood and hand strain our own lebneh; but we also juxtaposition rural and urban Syrian ingredients in a completely original way. This reflects Abdullah's upbringing in a Bedouin farming village and his knowledge of Damascus' Ottoman-inspired cuisine and lays waste to the idea that Syrian cuisine isn't innovative or stray from tradition.
We always strive to create immersive experiences for our guests by linking our dishes up with stories, folklore and modern culture that gave rise to them. We see the act of eating as an experience in itself, and the need to revive and celebrate (yep, we prefer those words to "preserve") dwindling rural cooking practices, working with local & seasonal ingredients inspired by Abdullah's Bedouin upbringing and doing away with any lingering stereotype that might deem Syrian or Levantine cuisine to be greasy, fatty, veg-free indulgence that you regret the morning after.
We tick lots of foodie boxes: we give prominence to ancient grains like freekeh & bulger, and are big on pulses from across the spectrum - from lentils to chick peas and fava beans to fresh broad beans.
We don't subscribe to borders. While our food is firmly rooted in the Middle East, Abdullah also uses the bedrock of knowledge he acquired growing up, working in restaurants in Damascus, and catering in Amman to inspire new creations with ingredients he got to know in London. Fish is a great example, absent from any traditional Shami cooking repertoire, you'll find his fish dishes popping up throughout our rotating seasonal menus.
We hand make everything we serve - barring bread, sweets and ice cream. We grind our own herbs, mix our own sauces, squeeze all our own lemons, peel all our own garlic, and un-shell our pomegranate, chargrill, hand string and crush all our own meze dishes  - which certain knowledgeable sources have deemed "the best in London". You better come and check if that's actually true..