Description
We (Nikhil, Emma and Mariana) are excited to invite you to DANCE.CLUB#2.
DANCE.CLUB is a new type of event that is at the intersection between a CLUB night, a dance CLASS and a dance SHOW.
We believe passionately in the power of dance to engage the mind, body and soul - our mission is to Inspire Through Dance.
DANCE.CLUB (beta)
Sunday 27th September, 5.30pm - 7pm
@ TripSpace, Haggerston, London E8 4EA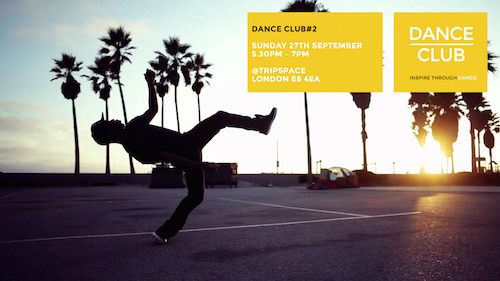 ---
ABOUT DANCE.CLUB
DANCE.CLUB is a collaboration between Nikhil Shah (Mixcloud, ManMakeMusic) and Mariana Marquez + Emma Zangs (Marquez&Zangs). The format will be a dj set with "guided" rather than "taught" dance instruction.
Our aim is to push the boundaries of what you would typically hear in club sets whilst encouraging you to explore the way you dance and move.
DANCE.CLUB takes place in spaces that lend themselves to creativity and self expression. not typical clubs. We will create an environment that is trusting and non-judgmental, allowing you to express yourself without feeling self-conscious.
---