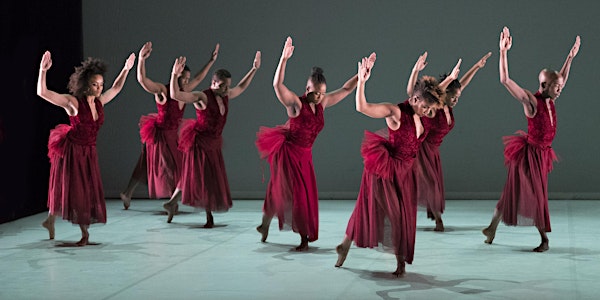 Dancer and Choreographer Dada Masilo in Conversation
Description
Creative Conversation: choreographer Dada Masilo explores performance, dance making and leadership in dance
Join us for a creative conversation with South Africa's internationally renowned choreographer Dada Masilo. Dada will discuss her approach to dance making, choreography and leadership in dance. Chaired by award-winning choreographer Rosie Kay and ACE Dance and Music performer Iona Waite. This creative conversation is designed to connect choreographers, dance artists and producers who want to share experiences and be part of an ongoing, open conversation about making dance.
This FREE event runs 5.15-6.30pm. Pre-booking is advisable but not essential. Carry on the conversation and networking at the evening performance of ZooNation's Some Like it Hip Hop at Birmingham Hippodrome. Event bookers can access tickets for ZooNation's hit show at a special rate of £5.
About Dada Masilo & Giselle
At just 34, Masilo has earned an international reputation for creating fresh and fearless choreography. She is known for lightning fast footwork and choreography vocabulary which blends contemporary, ballet and African styles. As well as creating a Giselle for the 21st century, Dada's work also moves away from the traditional barriers that exist between dance forms. Dada explains: "My approach is to show that contemporary African dance and ballet can co-exist by finding an innovative way of fusing the two. I believe that we need to collapse barriers that exist between them because they are restrictions, and as dancers we don't need restrictions."
See Dada Masilo's Giselle at Birmingham Hippodrome on Tuesday 15/Wednesday 16 October or on the UK tour until 2 November www.danceconsortium.com. Bookers for this Creative Conversation will be emailed a code to access £5 tickets for Giselle.
"The intention in the story telling is crystal clear, the impact is tremendous" **** The Times
"An exciting work that is socially relevant, politically up to date, and theatrically innovative." ***** The Upcoming
FAQs
Can I just turn up or do I need to book in advance?
It's fine to turn up. Those who book tickets will be eligible to access £5 tickets for Some LIke It Hip Hop.
How can I contact the organiser with any questions?
Please contact us with specific queries and we'll do our best to answer. You can email us at learning@danceconsortium.com, call us 0121 689 1055 or text to 07976 216138.
Who is this event aimed at?
Dancers, choreographers, producers and anyone curious to be part of an ongoing, open conversation about making dance.
Where can I find out more about Dada Masilo?
Click here to watch Dada Masilo explain to the BBC why it is difficult for her issue-based work to tour in Africa
Click here to go behind the scenes with Dada Masilo in the studio
Click here to watch the Giselle trailer
When can I see a Dada Masilo performance?
Catch Dada Masilo's unmissable Giselle at Birmingham Hippodrome on Tues 15/Wed 16 October. Details here.

If you miss the Birmingham performances, see the show as part of the UK tour at Salford, Milton Keynes, Brighton or Canterbury. Full tour listings at the Dance Consortium tour website.
How do I access the £5 ticket offer for Zoonation's Some Like It Hip Hop?
You will be emailed a code with the event confirmation. Join us for an interval reception.
Where is the event?
Dance Hub Birmingham Studio. Access the studio via Birmingham Hippodrome Stage Door entrance on Thorp Street. The Studio on is level 3.
Is the event accessible?
Yes, we strive to make events as inclusive as possible. Please contact learning@danceconsortium.com with any specific access needs.
I am a professional dancer. Can I take a dance class with Dada Masilo?
Yes. Dada Masilo is teaching the weekly Birmingham Pro-class at DanceXchange on Thursday 17 October, 10am - 11.30am. Bookings via DanceXchange.
Organiser of Dancer and Choreographer Dada Masilo in Conversation